Students of all ages are turning to Google and YouTube as they gear up for the coming academic year.
Back to School is an important time for students, and a crucial retail moment for businesses. In 2016, the period is expected to garner a retail value of £580m1, making it one of the biggest revenue opportunities of the year after the Christmas season. As the focus of such strong consumer attention, Back to School provides businesses with both commercial and brand-building opportunities, so here are a few tips and insights for anyone looking to capitalise on the start of the new school year.
Preparing for life on campus with YouTube
While younger students are gearing up for another round of classes, lunch breaks, and homework, for older students, this time of year represents the start of a new chapter. Attending university for the first time can be nerve-wracking, and increasing numbers of students are turning to halls of residence video tours on YouTube to get a feel for their future home. Viewing figures for this kind of content have risen by 30%2 year on year, while consumption of uni-related DIY videos has shot up by 118%3 over the same period.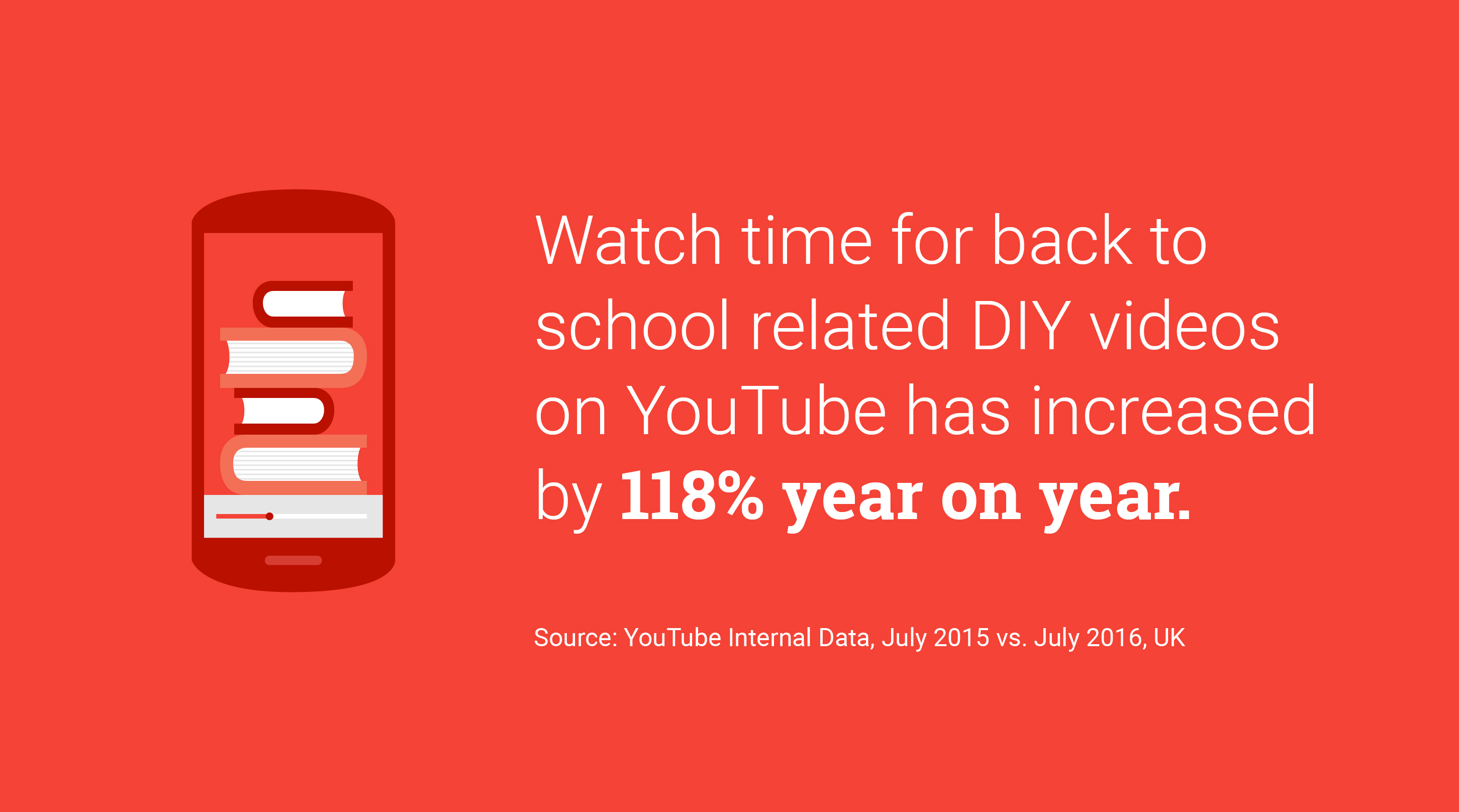 As smartphones are increasingly ubiquitous among students of all ages, it's perhaps no surprise that mobile accounts for a high percentage of these topics' watchtime, with 86%4 of related DIY content being consumed on mobile devices.
By harnessing the work of influential creators like sunbeamsjess, whose 'Uni Room Tour' video has been viewed over 150k times, advertisers have a great opportunity to establish meaningful relationships with a group who are likely to become the high value customers of the future. But it's worth remembering that it isn't just 18 year olds who are about to begin their further education, with searches for 'adult courses' seeing a huge spike during July.
Search is for more than just school supplies
Search activity around Back to School starts early (before the previous school year has even ended in some cases!) and peaks towards the end of August as the start of the new term approaches.5

Although search terms cover the expected territory of 'back to school supplies', the list also strongly reflects the concerns of students themselves, with 'back to school outfits' and 'back to school hairstyles' demonstrating a desire for self-expression. Device usage in this category reflects the prevailing shift in user behaviour, with 49%6 of relevant searches occurring on mobile devices. Additionally, our data shows that Back to School is also a growing search term on YouTube, with activity fueled in part by a 36% increase in searches from smart TVs and consoles.7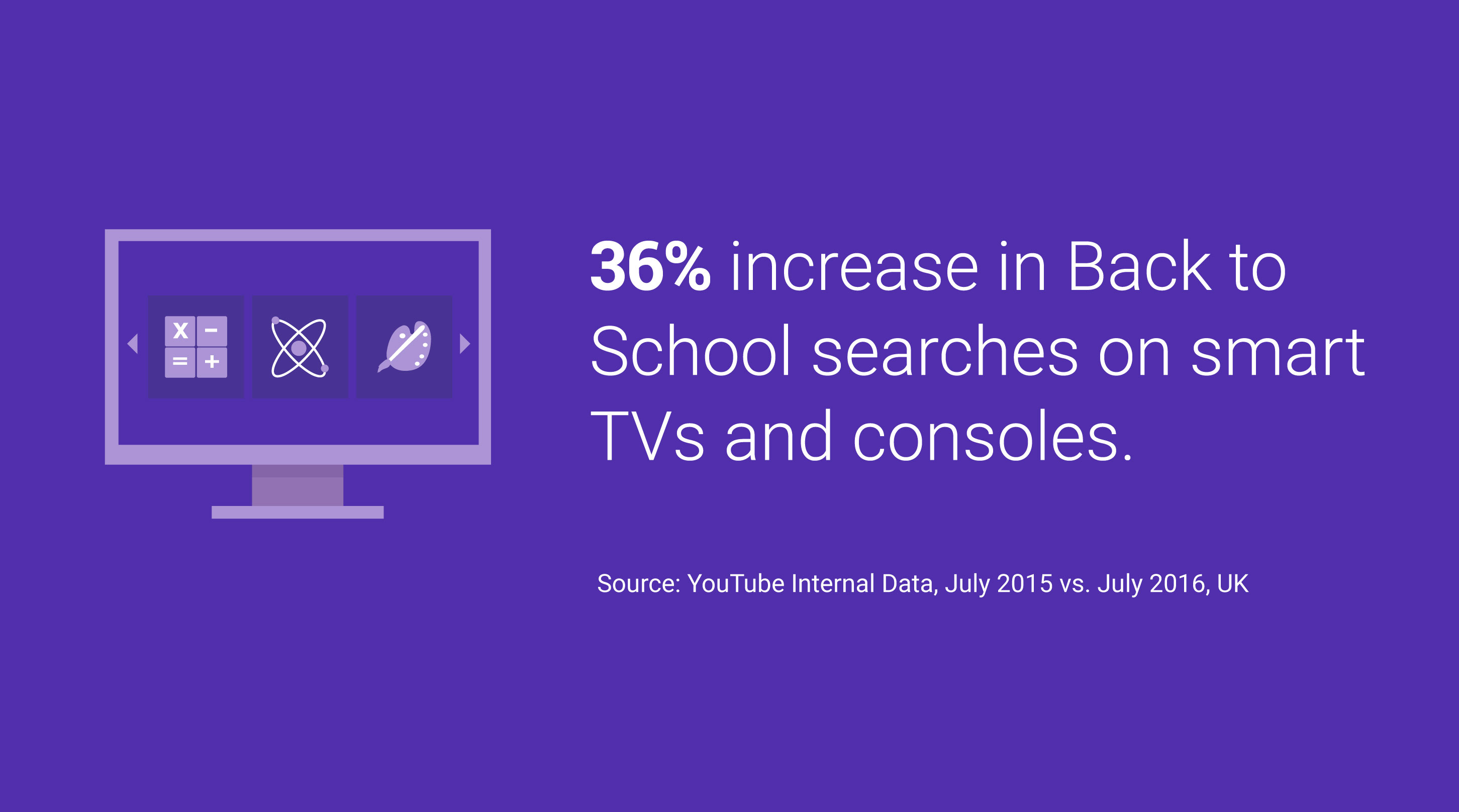 For the younger generation, information doesn't reside on any one device, so advertisers looking to communicate with this audience should aim to have a presence on as wide an array of devices and platforms as possible.
With everything from stationery, to laptops, to digital recorders on the shopping list (that last one a life-saver for anyone whose mind wanders during early-morning lectures) the potential for brands is significant. Between 20-25%8 of University students fitting out their new rooms will be making some of their first independent purchases of home, decor, and technology products, presenting brands with the chance to forge customer relationships that could last a lifetime.
Beyond Back to School
Of course, students' needs don't end when they're waved off at the school or college gate, and both Search and YouTube have become popular study resources. Data shows that more than 20% of 16-24 year olds9 access YouTube while at school or college, while searches for study tips have increased by 43%.10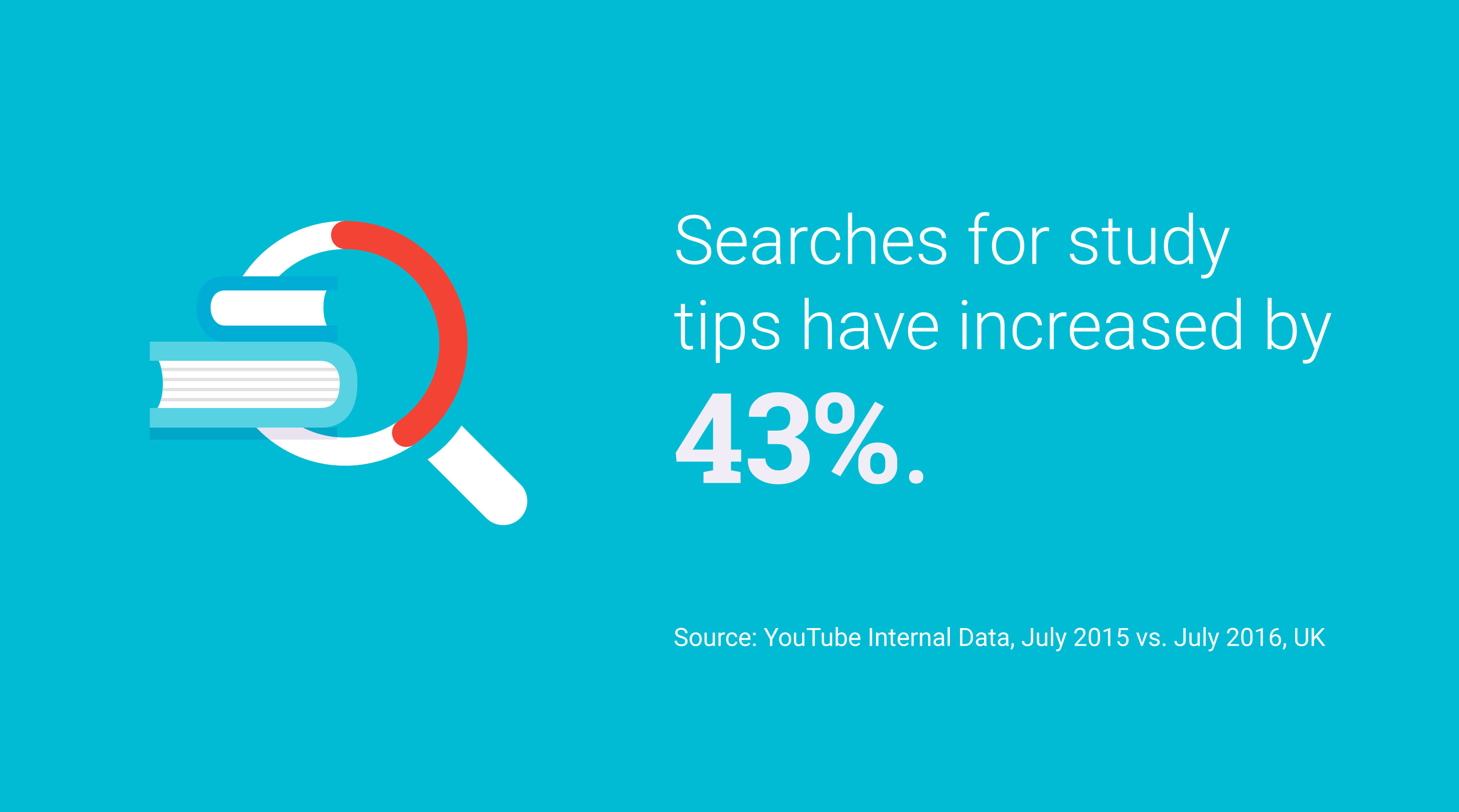 Whether it's study guides, university tours, or a video to watch on the bus ride home, students are already turning to Google and YouTube in the moments that matter to them. For advertisers wanting to make connections with the next generation, doing just a few pieces of homework at this time of year could pay dividends:
Be online (and be early). More and more students are using the web to research back to school purchases, and they're starting earlier every year. Use this opportunity to influence decisions, so you're top of mind when they head to offline and online stores.
Be mobile. At this time of year students have countless demands on their attention. Providing a great mobile web experience, and using mobile-specific ads, location extensions, and local inventory ads, will give you a presence when and where they need you, easing the transition from research to purchase.
Be helpful. The back to school season presents a great brand building opportunity. Use this time to connect with students on YouTube with useful and relevant information as they prepare for the new academic year.