This Christmas, 40% of people will fake joy at unwanted presents and two-thirds are set to open at least one gift they don't like. For consumers, the pressure to get gift giving right is already on — in fact 20% start their Christmas shopping in September! But as Santa's elves would attest, success doesn't happen overnight. Here are four top tips brands can embrace now to unwrap the Christmas opportunity.
Forget what the calendar says — Christmas starts in September.
A few years ago, turning on the Oxford Street lights heralded the start of the Yuletide season. But search data shows that Christmas appears to be starting earlier and earlier, with the volume of searches getting larger and larger. By October, 40% of Britons will have commenced their Christmas shopping3. This adds up to a not-to-be-missed opportunity for businesses to start talking with consumers now and building relationships with people who are already seeking Christmas advice and inspiration.
Get in gear for the year's biggest day of browsing and buying.
Last year, the sheer size and scale of Black Friday took the UK retail industry a bit by surprise. An estimated £810 million was spent online, the biggest day for UK online sales ever4. Black Friday customers spent 8% less time in shops, but almost 10% more money. Retailers offering discounts saw an average sales uplift of 180%, and even those that didn't saw an uplift of 24%5.
Mobile played a significant role in the frenzy. Google analysis of the UK's search queries for apparel on Black Friday last year shows mobile represented 55% of all queries6. IBM meanwhile shared that almost half of the online purchasing during Black Friday in the UK was on mobile — outperforming the US.
But many businesses were not set to handle the volume — leading ecommerce sites went down and some retailers asked online shoppers to join a queue. Imagine the disappointment — it's the digital equivalent of a lump of coal in the Christmas stocking. This year, there should be no excuse for tech failures — brands must make sure web and mobile sites can handle Black Friday traffic.
The festive season is hectic, so don't expect shoppers to sit still.
Christmas sales via smartphones and tablets were up 55% last year, while 37% of online sales are made on a mobile device — representing an estimated 8.9% of total retail sales7. But the rising importance of mobile doesn't end there — these are extremely valuable consumers. In 2014, those who shopped across multiple channels and devices spent four times as much money as those who didn't8.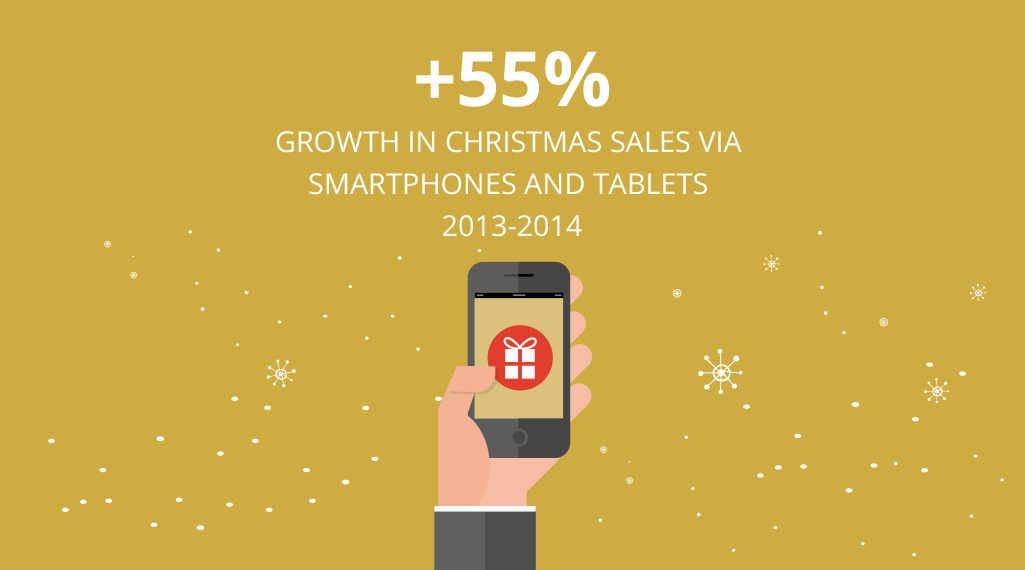 But despite all the evidence showing mobile's role in purchase funnel, many businesses are still failing the consumer: globally, 40% of top retailers don't have a mobile site and less than 10% have a truly responsive site9. It's also worth remembering that mobile isn't just about sales. Most people on their phones are looking for local information when they're out and about. Santa's advice for reaching mobile users? Every asset should be optimised for the mobile consumer, and surfacing local inventory is a great way of reaching that consumer in the moment that matters.
The battle for hearts and minds now unfolds on online video.
Online views of Christmas ads in 2014 were up over 3,000% year on year10. Agencies and clients are producing more and more sumptuous emotional pieces of content. Like the Super Bowl in the US, the race is on to top the Christmas ads leaderboard.
Increasingly, the place where people go to watch these ads is online — and on YouTube in particular. With YouTube watch time increasing 60% year on year, it's important to ensure that your ads are seen on the platform. Consumers are demonstrating that they're happy to spend more time with branded content, provided that it's entertaining and relevant. In fact, Christmas ads in 2014 were approximately 57% longer than previously, averaging 2.8 minutes in length11. Gone are the days when 30 or 60-second films were the norm, or when online ads were merely repurposed TV ads.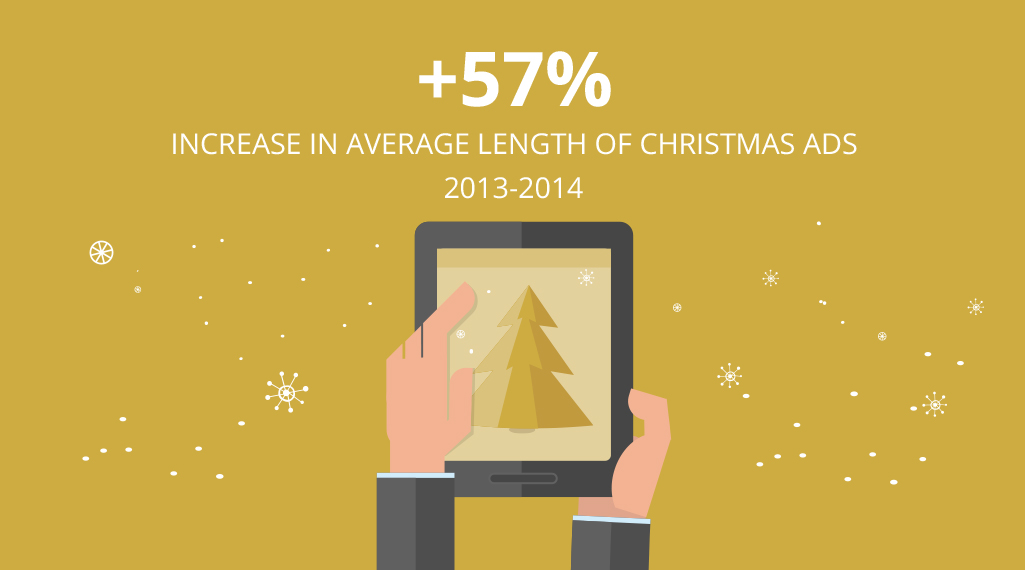 If anything, brands should consider repurposing their online video for TV, not just the TV ad for online. Then, additional content should be offered to deepen the experience and make the most of the creative possibilities of digital. Look to John Lewis for an example; the brand's wildly popular video ad featuring Monty the Penguin invited users to click through to the website and continue the story by buying a book, downloading a storytelling app, ordering a stuffed Monty or exploring his home in-store with a 360-degree virtual reality visit to Monty's world using Google Cardboard. To wake up to a wonderful Christmas morning, marketers should take a page out of this penguin's book: the festive season's winning businesses will go online earlier than ever with content that captivates consumers.