Bank holidays are a big deal for British consumers, who traditionally make the most of them by investing in their homes and gardens. Brands can sow the seeds of success by being visible on mobile, featuring product information via product listing ads and setting up home on YouTube.
While bank holidays are a big moment for family time, they also give people a much-needed chance to catch up on household tasks and home improvement projects. Garden centres and DIY stores are as much a bank holiday tradition as traffic jams, and your customers are just as likely to be up a ladder with a screwdriver as braving a drive to a chilly beach.
It all kicks off in Spring, the traditional time for freshening things up, clearing things out and generally putting our houses in order. Home and garden searches jumped by 15% year-on-year in the Spring Bank Holiday weekend in 2015 and by 21% in the early May Bank Holiday as people seek answers for their home & garden-related searches over the bank holiday weekend.1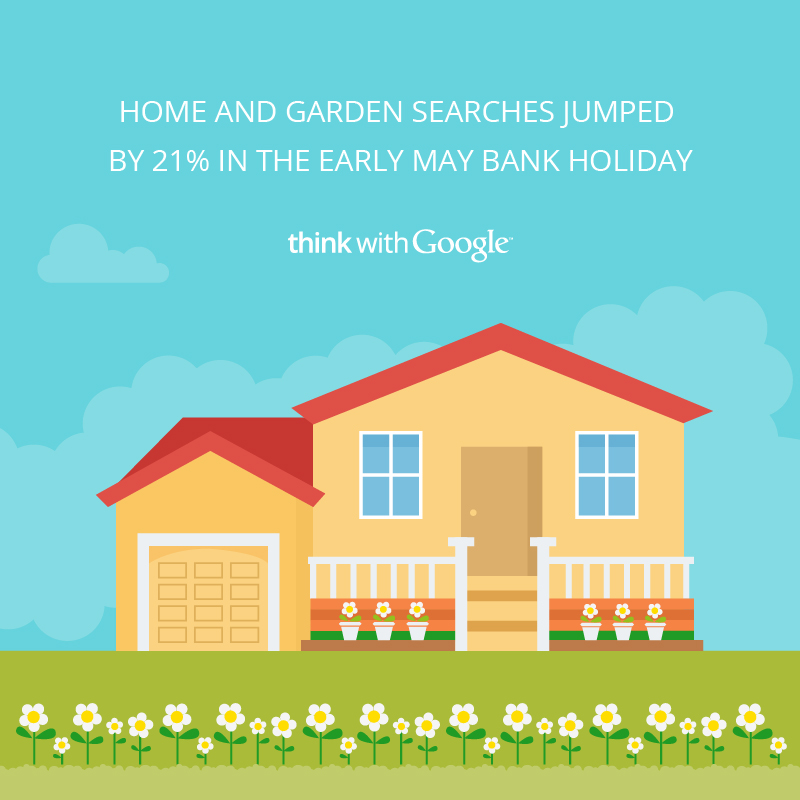 Mobile homes (and gardens): the ABC of DIY searches
Mobile searches usually overtake desktop over the weekend, and on bank holiday weekends this effect rolls into the Monday. Over the Spring bank holiday weekend, four in every ten home and garden searches were on a mobile device and this is likely to happen again in the upcoming August bank holiday. So brands need to make sure they're fully opted into mobile and appearing in top positions to capture the greater mobile traffic over the bank holiday weekend.2
And don't forget the power of promoting your products with Product Listing Ads. Providing details such as picture, price and merchant namehelps customers bewildered by thousands of choices by cutting through the clutter and making it (almost) painless to buy.
YouTube is the go-to for how-to
DIY can be as much pain as pleasure, as anyone who's ever wrestled with a flat-pack desk can testify. So once consumers have found the product they want, they try to avoid the pain by learning how to use it.
And in these 'I-want-to-do' moments they turn to YouTube, where "how-to" searches have doubled in the last 12 months. Brands can capitalise on this by finding out what consumers are searching for and creating engaging content to match those searches.3
Tips for brands on YouTube
Brands need to be ready in good time; consumers look for inspiration on YouTube early, with interest in home-related videos on YouTube picking up two weeks before the Bank Holiday weekend.4
Additionally, they should try to:
Answer questions: 2 in 5 UK consumers seek out YouTube videos to help them with everyday tasks at least once a month.
Be discoverable: 61% of consumers search on YouTube to find how-to videos (35% use a search engine while 13% go directly to a specific YouTube channel).
Drive sales: 44% of UK consumers would be likely to buy a product they saw in a how-to video.5
As consumers gear up to knock their homes into shape this bank holiday weekend, it's time for brands to do the same with their strategies – focusing on mobile search, Product Listing Ads and YouTube videos to ensure a sunny business outlook for the bank holiday weekend.