Holiday planning starts as soon as the Christmas high fades. And as only 24% of travel insurance purchasers start out knowing exactly what they want to buy, there's a big opportunity for brands who get their marketing right. Here we share some lessons learned from this summer's travel insurance buyers.
Winter is coming and so is holiday planning 
For many people, holidays mean sun, sea, sand and travel insurance. It may not be the most exciting bit of the pre-holiday preparations, but it's all part of the package.
Although summer represents the most important holiday season - of course - Google search data shows that as soon as that Christmas high fades, Brits are off planning their next trip. And advertisers need to be there to help.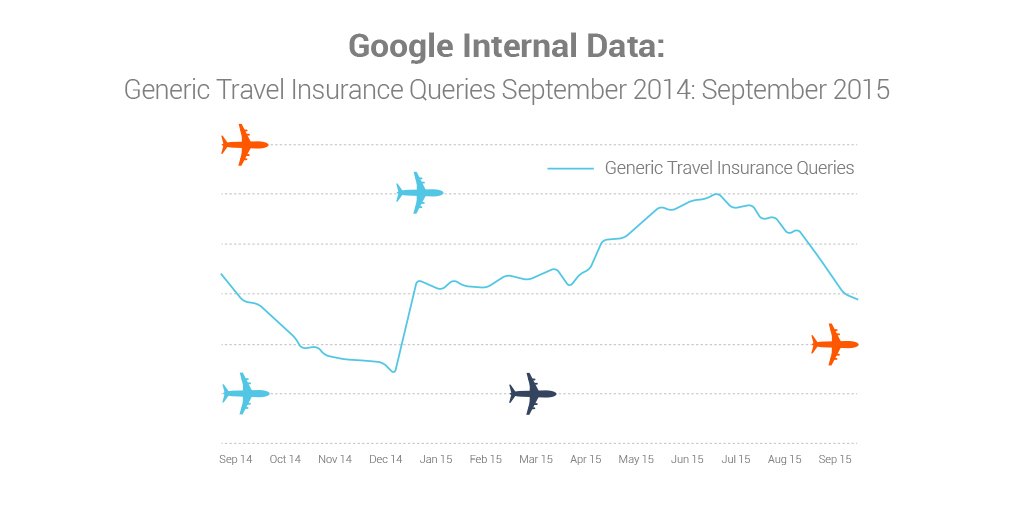 Destination: online 
So how and where do consumers research and buy this insurance? Google and TNS partnered to learn from this summer's travel insurance buyers. We surveyed 1000 travel insurance buyers to understand the online and offline touchpoints used in their path to purchase.
The main port of call for travel insurance seekers is the World Wide Web: online research dominates, with 82% carrying out online research at some point, 71% actually starting it online and 67% using online to complete their purchase.
Consumers see price comparison websites (PCWs) as the most useful source of travel insurance information, with 98% saying they found them helpful. Word-of-mouth came second, (92%), closely followed by people's own previous experience (91%).
However, by far the most used research tool is search, leading the field with 73%.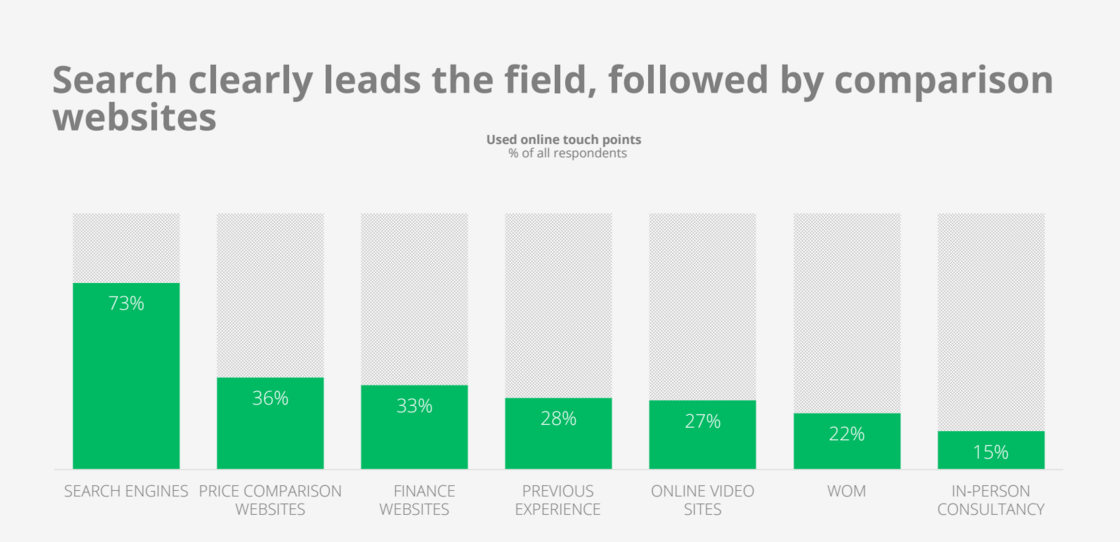 Although people do search for PCWs directly, these specific queries make up only 13% of the total under the generic head-terms 'Holiday insurance' and 'Travel insurance'2 . This suggests that although PCWs are an important part of the overall process, consumers are heading to search engines for ideas on where to go for their policy or which PCW to use. 
Unsure consumers opt for generic searches
In order to win the moments that matter, brands need to be present both when consumers know what they're looking for and when they don't. 60% of travel insurance buyers have no previous awareness of the product, and this summer only 22% said they searched for a specific provider.
What's more, the query volume for the generic term 'travel insurance' is 4x larger than that of the next most popular keyword.2 Not only do generic terms dominate the search queries; they're also growing faster than brand queries, with 9% YoY growth in 2015 while brand queries dropped by 3%. For advertisers, it's essential to be present against generic searches.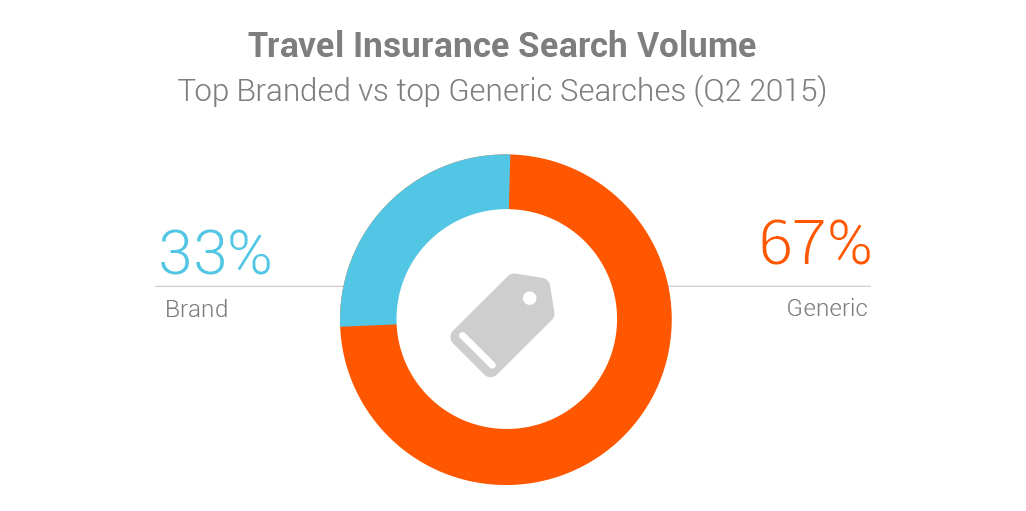 Making the most of offline, online 
Offline still has a role, with a third of the people surveyed making the final purchase offline. However, brands need to know that online activity is still involved; nearly 1 in 5 of those who used a search engine in their research searched for contact information online, and nearly 1 in 5 did smartphone research while in the office of a travel insurance provider.
Mobile is flying high
Marketers should also make the most of mobile, which has seen exponential growth. Mobile device queries for travel insurance have been growing by 32% YoY since June 2012 and now account for almost half of all queries — 23% on smartphones and 24% on tablets.2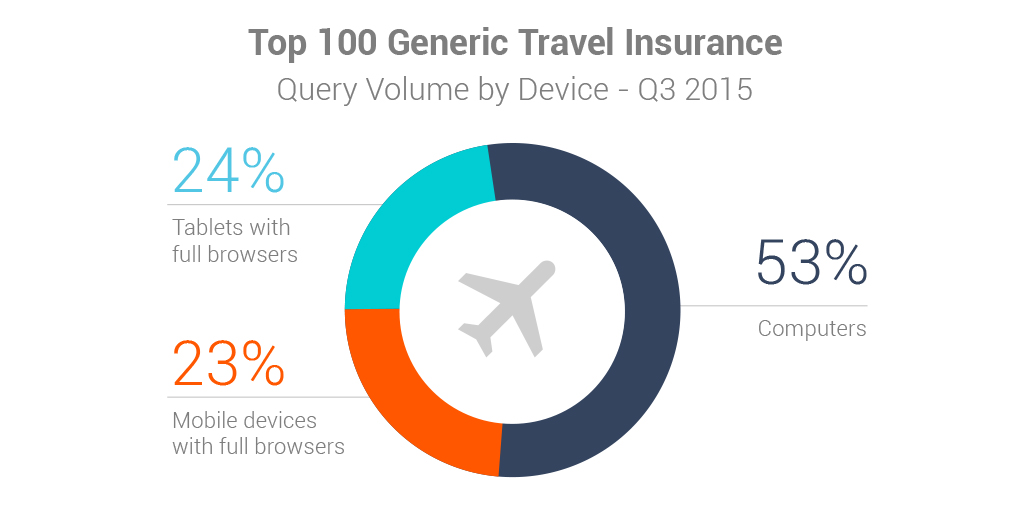 Our survey also showed that one-third of all travel insurance buyers this summer used a smartphone during their research, with a quarter of these spending more than half their total research time on a smartphone.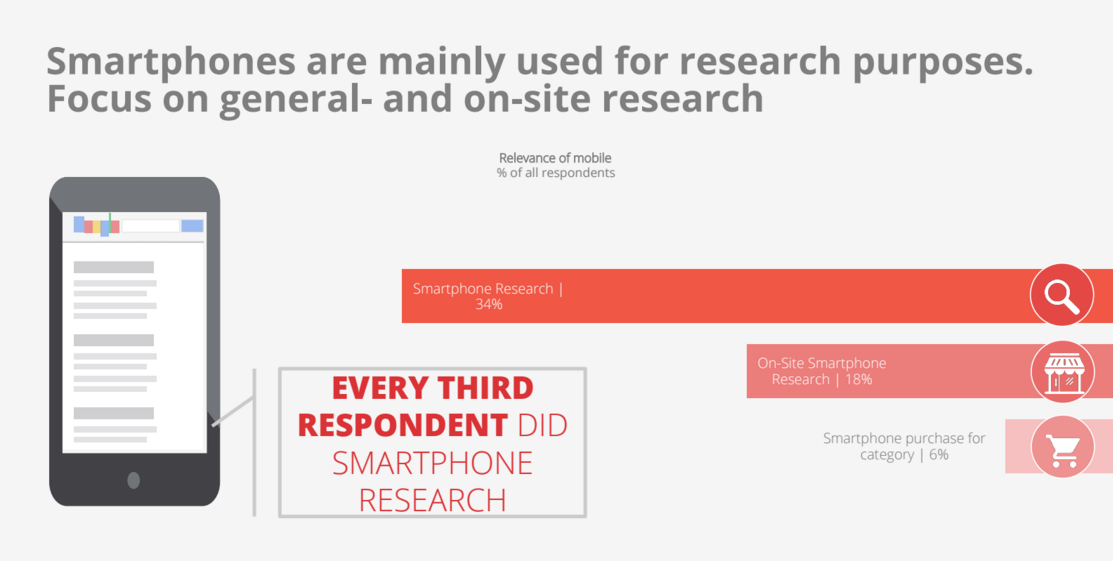 Smartphone usage was even higher among 18-24 year olds: 6 in 10 did smartphone research and 41% used their phones for more than half of their total research time.
Mobile searches have a higher proportion of destination-specific queries and (interestingly) searches for quotes2: it may be that mobile helps consumers compare prices later in the purchase process.
Top tips for travel insurance brands
The data shows that all the main moments in travel insurance purchasing are highly digital, right from initial research to ultimate purchase. Consumers' main pain point is to compare and find the right deal, while their main mission is to find the offer that really helps in critical situations. People are looking for guidance and a provider they can trust.
The key takeaways for brands are:
Be present in all the moments consumers are looking for information; don't lose out on generics.
Convey transparency, trustworthiness and ease of use with appropriate wording in content and ads.
Develop a customer-driven mobile strategy that helps consumers grasp and compare complex information easily.