Halloween generates over £275m and kicks off the autumn/winter shopping season. Here's how advertisers can grab more eyeballs this year. From pumpkins and pranks to party food, we get more into Halloween each year. Decorations are full-on and video tutorials have turned makeshift makeup into the real deal. Last year, Halloween online searches shot up by 49% . And it's not just for kids — their parents are also searching for ways to make Halloween special.
Thrilling start to shopping season
Move over Guy Fawkes, it's Halloween that's hot. Autumn's star event used to be Bonfire Night, but now it seems more the support act as Brits embrace the American-style Halloween and set out to make it a thrill.
This enthusiasm means big business; all those zombie masks and sweets add up. UK Halloween spending hit an estimated £275m last year2, as kids and adults alike satisfied their taste for terror. Not a bad way to mark the start of the autumn/winter shopping season.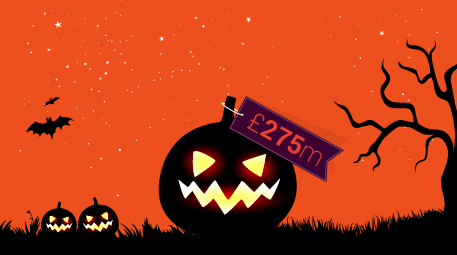 Search habits unmasked / Dressed to thrill
Many a Halloween happening starts online - and search interest here has rocketed by 49% since last year. Brands should bear in mind that people's thoughts turn to Halloween early; interest starts in September and ramps up from the first weekend in October, culminating in 11m Halloween-related searches during the month.1
These searches for all things spooky range from fancy dress and decorations to party food and sweets. (It's a brave homeowner who answers the door empty-handed — although these days, they're often as dressed to scare as the trick-or-treaters).
These were the biggest-growth searches in the run-up to Halloween last year, with the same trends reflected in purchasing behaviours: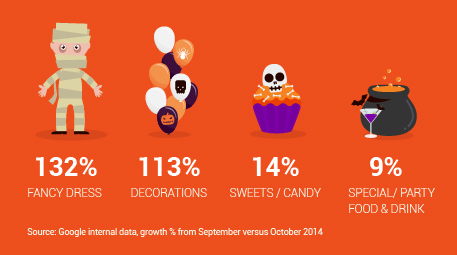 Marketers should note that popular fancy dress searches include 'ideas', 'cheap' 'kids' and 'easy'. But although they may not want to spend too much time or money, consumers still want to look their best, with popular makeup searches including 'zombie makeup tutorial', 'vampire makeup tutorial' and 'skeleton makeup tutorial'.
Costumes and candy are just the beginning. Other popular searches on Google last year included 'pumpkin-carving ideas', 'Day of the Dead', 'Halloween songs' and 'Halloween games for kids', showing that parents as well as children are searching for ways to make the occasion a memorable moment.
YouTube boosts the fear factor / How-to-terrify tutorials
And more and more people are turning to YouTube for inspiration. YouTube Halloween searches jumped 103% year-on-year (6 times more than searches on Google, which still clocked up 16% growth)4 and its Halloween-related videos have been viewed over 2bn times.5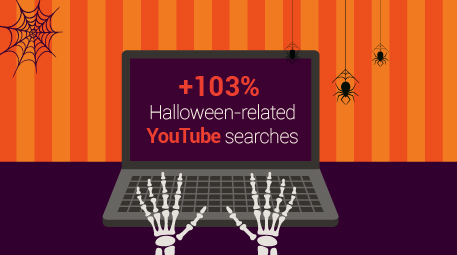 Last year's popular YouTube searches included 'Halloween pranks', 'Halloween music', 'skeleton dance' and 'Zoella Halloween' — Zoella being the fashion and beauty YouTube creator who shares beauty tutorials, style hauls and general tips with her 8.8 million subscribers1.
People also searched for 'how to carve a pumpkin' and 'Halloween tutorial1'. The 'how-to' category is particularly popular on YouTube, as people like having easy-to-follow visual explanations of how they can get something right or make an impact. In fact, the most viewed Halloween videos of 2014 were posted by three channels: Michelle Phan (general makeup tutorials), KittiesMama and dope2111, which both specialise in transformational makeup4.
Other top YouTube creators for brands to consider are Tanya Burr, whose Zombie Halloween Makeup Tutorial got more than 560K views, and PixiWoo, who have had more than 510K views for their Halloween Catwoman Makeup Tutorial4. It looks like online video is the new makeup counter assistant.
Scarily effective tips for brands
For brands hoping for a Happy Halloween, the trick is to treat people to great content and jump out at them online.
Advertisers can amplify that content on YouTube where they should create Halloween-specific search campaigns, optimising them to tie in with other ad activities and showing up against common searches, including makeup tutorials, popular costumes and typical entertainment such as horror movies. Finally, marketers should remember it's not all about the kids — teenagers and parents are also keen Halloweeners.