This April, Prince George will get a brand-new brother or sister and the world will get another member of the Royal Family to coo over and commemorate. Fourth in line to the throne, the bundle of joy is sure to be small but the impact will be huge. How can advertisers get ready for the arrival? Here are three top tips for preparing for the littlest Royal Highness.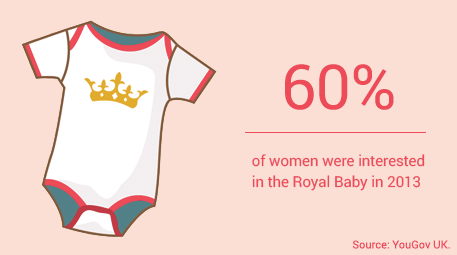 Tip one: When it comes to babies, time is of the essence
Kate announced her second pregnancy in September 2014, and speculation about the new baby's name and gender took off instantly. It's never too early for brands to get involved in the excitement. Take Nissan UK for example – they published a custom Royal Baby creative just seven minutes after the announcement, weighing in on the conversation at the earliest possible opportunity.
Since then, the excitement has only escalated. A survey of 600 UK mums carried out by a babywear brand revealed that Diana and Edward were the most popular names for the Royal Baby. British betting companies are also keen to be part of the frenzy, with Alexandra (grandmother of Queen Elizabeth II) and James (the Duchess' younger brother) reported as the front-runners in the name stakes.
Looking back to the 2013 birth of Prince George, Google searches for "Royal Baby" were elevated for five weeks before and after he entered the world. This time around, advertisers absolutely must move quickly to capitalise. Cooperation among cross-functional teams is essential for getting messaging, creatives, social and media plans in place before the big reveal. Don't delay – preparation for search, display, and YouTube campaigns should begin now.
Tip two: Interest is global, but not all fans are created equal
In 2013, "Royal Baby" was the third most popular UK search on Google, with worldwide interest in the first Royal Baby on par with searches for the Oscars! Apparently though, the pitter-patter of tiny royal feet didn't hold universal appeal; 60% of women ­– but only 29% of men – said they were interested in Prince George. Meanwhile, a majority of people ages 18 to 24 were interested in the newborn (51%), but among the middle-aged interest was much lower.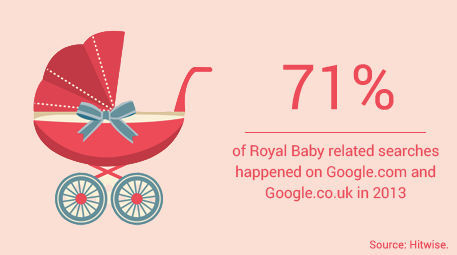 With Google the leading search engine for Royal Baby searches, 71% of these searches are happening on Google.com and Google.co.uk. Brands should create content that caters to a global audience, but be sure to address interested consumers by using custom creatives and advertising on appropriate platforms.
Tip three: Use video to capture and share iconic moments
In 2013, the BBC, The Telegraph, The Guardian, Sky News and the Royal Family Channel kept users plugged into the thrills and spills of baby Prince George via YouTube. The platform became a hub for iconic footage from the first Royal Baby birth, with news outlets and YouTube creators reaching millions of viewers. Today, there no fewer than 523,000 Royal Baby related videos on YouTube.
Among all industries that received traffic from the "Royal Baby" search term, media and entertainment came out on top (at 55% of traffic combined), followed by print and television. What's the takeaway? Brands must make sure to be where their users are; it's crucial to be available when fans are searching for Royal Baby footage by providing video content they can watch, cherish and share.