As reported mobile internet usage crosses 50% for the first time in all 63 countries covered by the Consumer Barometer Study, we look at how this shift in behaviour is influencing online activity, digital skills and the adoption of new technologies and services.
Google's annual Consumer Barometer Study asks detailed questions about the digital habits of people around the world. This year, the survey polled 79,000 people in 63 countries1*, producing more than 2 million minutes of interviews. Such breadth of coverage allows for identification of global trends, while recognising regional diversity. As a result, it's possible to draw a detailed picture of how adoption of mobile is influencing behaviour across a range of common online activities.
The Smartphone Comes of Age
Although the smartphone is around twenty years old, 2017 represented a tipping point for the technology. Two decades on, for the first time more than 50%2 of the online population in each of the 63 countries surveyed report that they access the internet through their mobile device. The survey reveals that global mobile internet usage now stands at 76%2, with individual markets ranging from 98%2 in Saudi Arabia, to 51%2 in Ukraine. In addition, mobile devices are now users' device of choice: in 62 of the 63 markets surveyed, people say they turn to their mobile device to access the internet more than they turn to their desktop computer.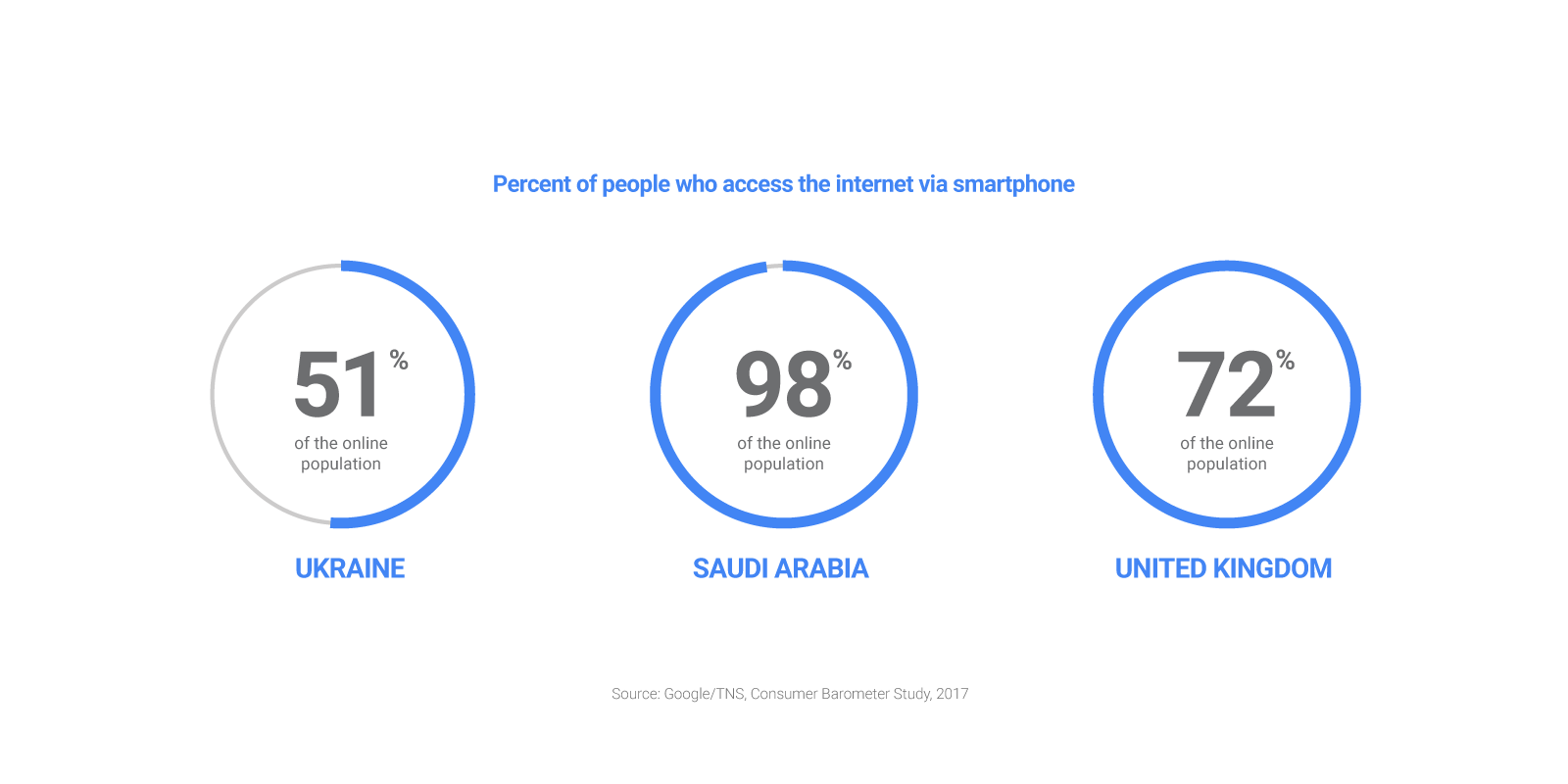 See here for a full market list
Such a shift in the way people access information and connect with each other has profound implications for business leaders, marketers and innovators. An analysis of the Consumer Barometer Study reveals four key trends in global consumer behaviour in 2017.
For country-specific insights and a range of curated analyses and visualisation tools, visit  www.consumerbarometer.com.
Market Maturity - from Mobile Natives to Legacy Desktops
Levels of digital maturity, infrastructure quality and device adoption vary widely within the 63 markets surveyed in the Consumer Barometer Study. In the UK for example, internet usage has almost reached saturation point, with the rate among adults of 16 years and older only increasing from 82% to 84%1 between 2013-2017. However, while this might suggest a somewhat static marketplace, there has been significant growth in other areas of digital. While desktop computers are still popular, over the same period, smartphone usage in the UK increased from 62% to 77%1, while the number of people going online every day has risen from 77% to 90%2. The trend of mobile ubiquity correlating with increased online activity, even in highly saturated markets, is a common occurrence across the survey set.
If the UK represents one end of the spectrum, with a strong 'desktop heritage' and multiplicity of device types, a country like Indonesia presents a very different set of characteristics. With no strong tradition of desktop internet access, between 2013 and 2017, internet usage grew from 29%1 to 56%1, with smartphone usage growing from 14%1 to 60%1 over the same period. During that time, better mobile infrastructure and better devices boosted daily internet users by a large margin, from 49%2 in 2013 to 79%2 in the present day.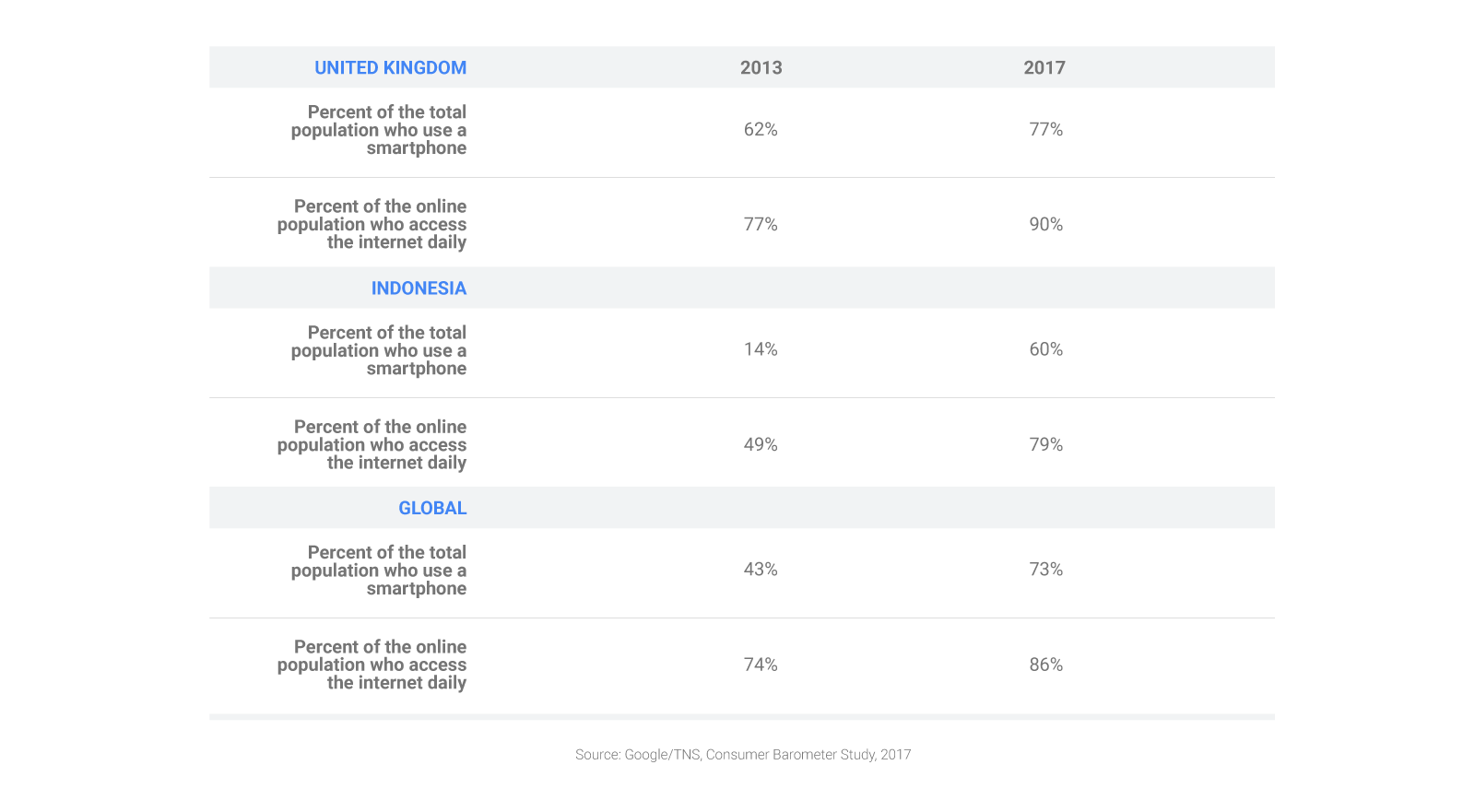 See here for a full market list
Whether you're looking at a country whose digital evolution has run the full course from desktop, to laptops to smartphone, or a developing market where mobile is both the originating point and the driver of digital adoption, one fact remains constant: mobile growth increases both the underlying rates of internet usage and the frequency with which people go online.
The Triangle of Entertainment, Social and Knowledge
The growth of mobile has subsequently influenced several types of online behaviour, with research showing that mobile is now central to almost all kinds of internet activity. Search engine use on mobile is popular across both mature and developing markets, with 65%2 of online users accessing it at least monthly, while social media (64%2) and watching online videos (57%2) show similar levels of engagement. In all markets people turn to mobile to access knowledge, social interaction and entertainment, in that order - global phenomena, albeit with local nuances.
Taking three countries from three continents as examples - Argentina, Nigeria and the Netherlands - there are pronounced differences in activity in these categories. Nigerian users face limited bandwidth, lack of premium devices and experience comparatively expensive data. Despite this, an impressive 67%2 of the online population in Nigeria use social networks on mobile, 56%2 make use of search and 35%2 watch mobile video. Search is the most common mobile activity in the Netherlands, accessed by 65%2 of smartphone users, with social networks (58%2) and mobile video (48%2) close behind. In contrast to the more mature Netherlands market with its greater desktop heritage, Argentinian users are extremely active on mobile. Social networks are used by 78%2 on smartphone, while 68%2 watch video content online via mobile and 69%2 utilise mobile search.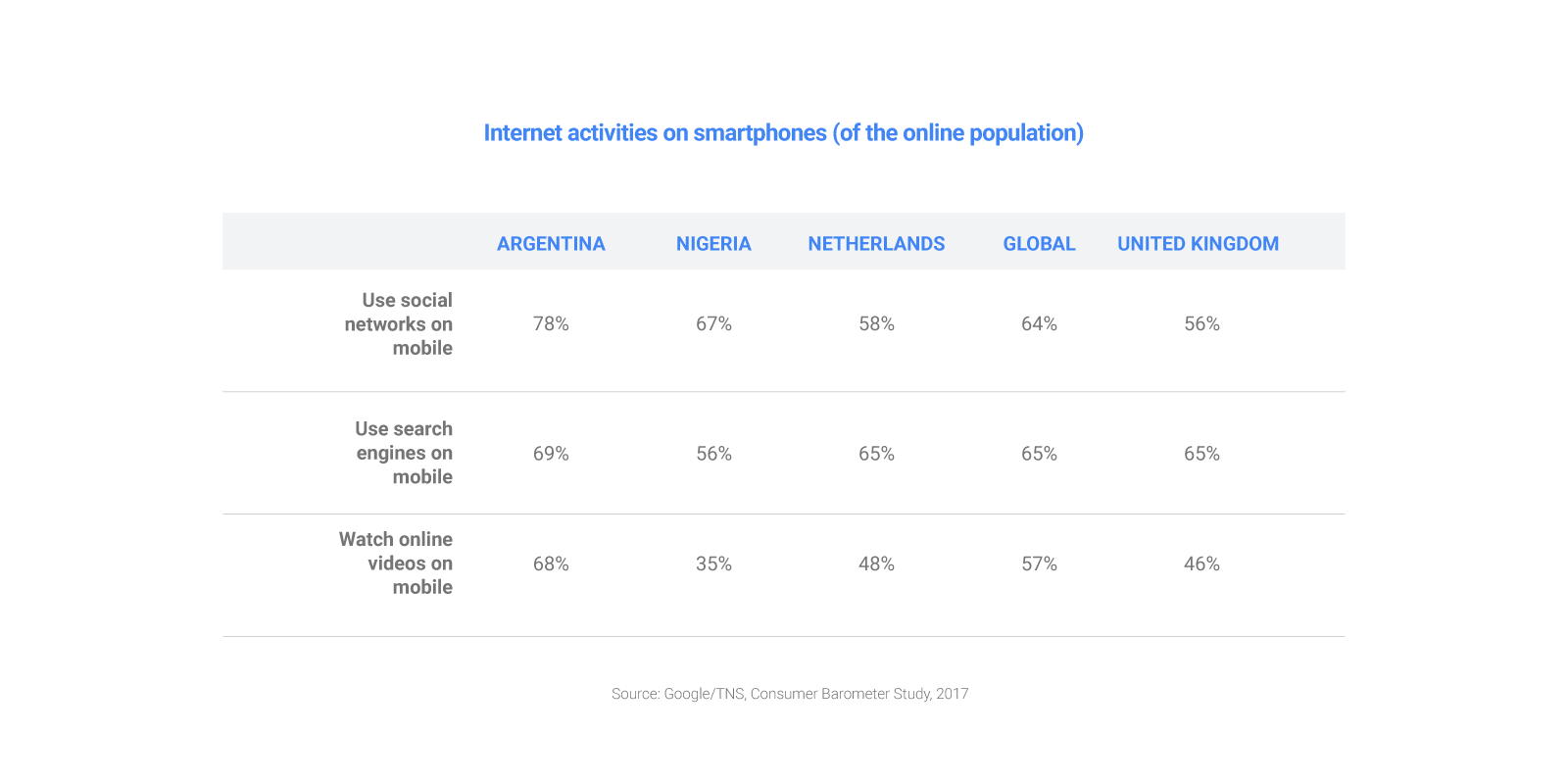 See here for a full market list
Globally, mobile video is growing fast, with usage increasing by seven percentage points between 2015 and 2017. The fastest growing countries that have seen double digit increases in mobile video watchtime over the same period are Egypt (22%2 increase), Vietnam (19%2), and Turkey (19%2). In the case of Turkey, this rate of growth has led to some 83%1 of the total internet population now watching video on mobile. Understanding the relative levels of these key online activities and how they vary country by country, particularly in markets where smartphone use is under- or over-indexed, provides a valuable insight into the profound effect of mobile on our most basic online behaviours.
Digital Skills Drive Adoption of New Connected Devices
While the smartphone is the most common connected device (used by 71% of the total population), the ecosystem continues to grow and the range of available devices is constantly being supplemented by fresh innovation. Globally, people now use an average of 2.51 connected devices per adult, with Sweden, USA, Australia, Netherlands and Norway1 showing the highest levels of connected devices.
In addition to new types of device, this wave of innovation is also introducing new kinds of services. In 2017, 32%1 of people reported that digital assistants - defined as an app or interface that facilitates human-machine interaction, - have the potential to add value to their lives. These rates of agreement increase by 18%4 in cases where people rate their own digital skills highly, suggesting that digital skills help people to recognize the value of new technologies more readily.
Managing an Increasingly Complex Environment
All the developments outlined above show not only the additional possibilities of the modern digital ecosystem, but also its increased complexity. In order to make the most of the internet and succeed in our increasingly digital economy - whether as employees or entrepreneurs themselves - people need digital skills. On this question, 41%2 of the global online population rates their own digital skills as 'poor'. Interest in digital training is expressed by 54%2 of internet users, and of those who are interested, more would subscribe to basic training (46%3) than advanced digital training (36%3). Openness towards digital training tends to inversely correlate with market maturity, with Kenya, Nigeria, Philippines and Chile expressing the highest interest, with an agreement score of 85%2 across these four markets.
The Mobile Majority
With smartphones as the catalyst, online activity is still growing in one form or another across nearly all of our markets. Likewise, key behaviours such as search, social media and online video are all being boosted by our ever-present digital companions. And with multiple-device ownership expanding as markets mature, the contexts in which people are able to access the information, entertainment and communications they want are set to increase further.
From the most developed markets to those that are up-and-coming, smartphones are the hub of people's digital lives. They are the device on which the vast majority already access the web, and through which they'll experience the next wave of innovations such as digital assistants and augmented reality.
If you want to understand more about the connected consumers in your market, visit  www.consumerbarometer.com.
You can also explore these trends in animated 360 degree videos by country on the Consumer Barometer YouTube channel.