As Google's Vice President of Product Management, Jonathan Alferness needs to keep abreast of consumer trends to help marketers, advertisers, merchants and retailers succeed through new marketing technologies. "Mobile has really transformed the nature of business," he says. As internet usage shifts to mobile devices, many of the latest innovations aim to address users' needs in moments of everyday life.
While we've largely been living our lives online for the past decade, mobile has produced enormous transformations in behaviour. "We don't sit in front of our desktop or laptop anymore with 10, 15, 30 minutes or an hour to spend," observes Google VP of Product Management Jonathan Alferness. "We run around in our daily lives and we pull these devices out of our pockets when we have a spare moment, a tiny slice of time. Often those slices of time get interrupted. So we're actually spending more time online, but we're doing it in thinner and thinner slices."
Mobile continues to grow at a phenomenal rate: already more searches take place on mobile than desktop in 10 countries, while mobile voice search more than doubled in past year. This is happening alongside the fact that online is a huge influencer in consumer purchase decisions — over half the people in the UK rely on online research when buying a product. With over 1 billion queries on Google every month, this adds up to a whole lot of moments for businesses to win.
"At Google we're working hard to build the technology to make sure it's as easy as possible for businesses to be there in the moments that matter," Jonathan says. In particular, there are three types of moments he says anyone in marketing or commerce needs to understand: I-want-to-know moments, I-want-to-go moments and I-want-to-buy moments.
To address I-want-to-know moments, Google Shopping Ads offer immediate answers and rich product images for consumers looking to make a decision. And now by swiping these ads, they expand to show further useful info as Product Cards, which cover everything from shipping to availability to reviews. Ultimately, this helps send more qualified traffic to the retailer or merchant's site.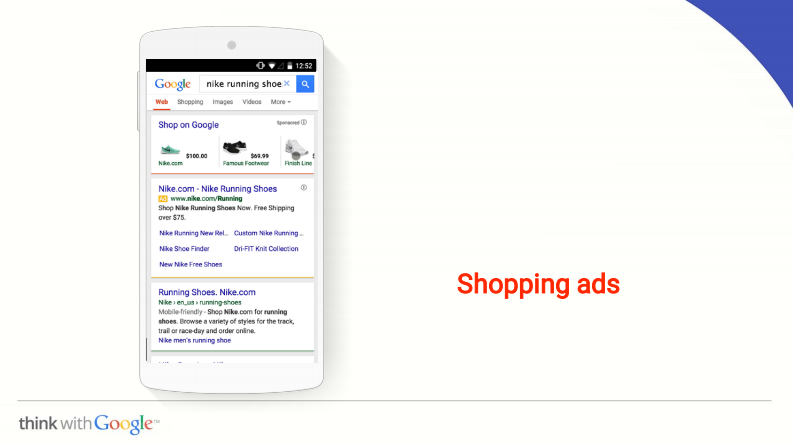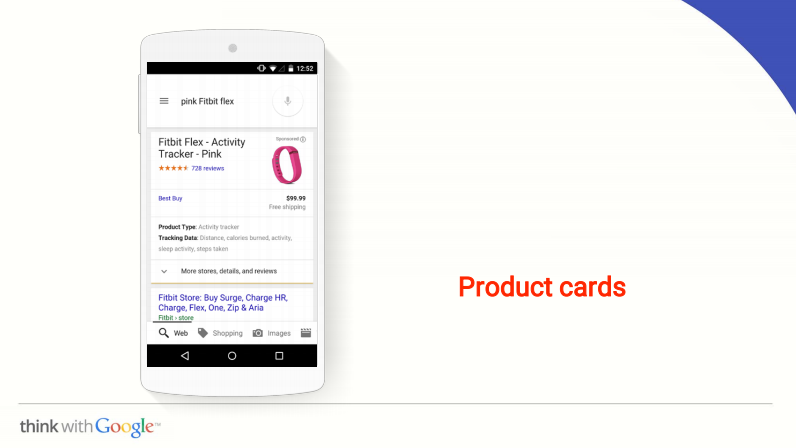 "People are also using Google to help them understand the physical world," Jonathan says. "We're seeing an increase in words like 'near me', 'closest' and 'nearby' in queries." These I-want-to-go queries have grown 34-fold since 2011 and doubled in the last year. In response, Google's Local Inventory Ads show stores that have the user's desired product in stock, as well as distances to these physical stores. To encourage browsing, clicking the ad takes the consumer to a Google-hosted, merchant-branded page for that specific store. Another tool for displaying context-based information is the Google Now In-Store card, which shows maps, opening hours and information on current promotions.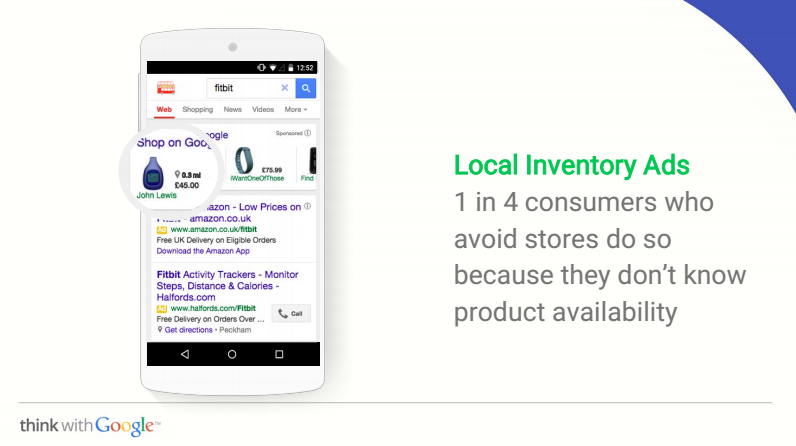 When it comes to I-want-to-buy moments, Jonathan explains, "One of the really fascinating places that we're seeing research happen is YouTube." TrueView for shopping is a recent innovation that allows brands to showcase product details and images in video ads. Retailers can dynamically include products to in-stream videos, customised for each user through contextual and audience signals like geography and demographic info.
With more than 85% of users' time on mobile today being spent insides apps, another new opportunity to intercept consumers in their I-want-to-buy moments comes in the form of search ads in the Google Play store. "By bringing our unique expertise in search to Google Play, we've opened up a tremendous new opportunity for marketers and app developers to drive awareness," Jonathan says of the destination that serves more than a billion active Android users looking to purchase apps, games, movies and music.
"All of these moments are critical," he continues, "but without measurement you're not going to know where to spend your budget. If we look at the fragmented user journey, the path to transactions is no longer simple. Users are weaving paths through myriad devices to complete a single transaction." He recommends businesses use Estimated Total Conversions in AdWords to get a more accurate picture of how investment drives conversions across devices. This tool uses Google signed-in data to provide insight into those conversions that start as a click on a search ad but then end as a conversion on a different device, in a store, within an app or through a call centre. "If you're not able to identify those different points, follow that path and know the value you've added, you're not going to know how to spend."
Watch the presentation below to hear more: