Founded in 1965, Roompot is a leading provider and operator of holiday parks and campsites. The Roompot Parcs brand includes more than 150 holiday parks in Europe, primarily in the Netherlands and Germany.
Goals
Improve user experience on all devices
Increase mobile revenue by 15%
Approach
Designed new website
Tagged webpages using Google Tag Manager
Created advanced segments in Google Analytics
Split traffic to run A/B test of old site against new
Results
Year on year increase in traffic of 70%
Mobile conversion rate leapt by 120%
Mobile revenue grew by 480%
With more and more customers searching and browsing from mobile devices, the company noted big shifts in consumer behaviour. Roompot wanted to focus on building a new website to allow visitors from mobile devices _ as well as traditional desktop computers _ to have the best user experience possible. Roompot also aimed to increase revenue from mobile devices by 15%.
There's absolutely no way you're getting it right the first time, especially with big changes like a complete redesign of a website. Aim for the best you can do with all the knowledge and insights available. Start learning and testing as fast as you can to adapt your website to the observed behaviour. With all the tools available like Google Tag Manager and Google Analytics, there's really no excuse to not perform those tests, even with a complete website.
- Wesley Koolen, Manager Ecommerce, Roompot Vakanties
Test and learn
The launch of a new website provided the opportunity to run a large A/B experiment. Rather than trying to design a "perfect" new site, the team instead adopted a test-and-learn approach in which they would observe user behaviour on the beta site and then make improvements based on feedback and insights.
To begin, Roompot used Google Tag Manager to efficiently implement tags across the two versions of the website, both old and new. The team thought carefully about which data should be captured and then used Google Analytics to set up advanced segments. This would enable Roompot to discover specific user behaviour patterns and measure performance by device type, traffic source and more.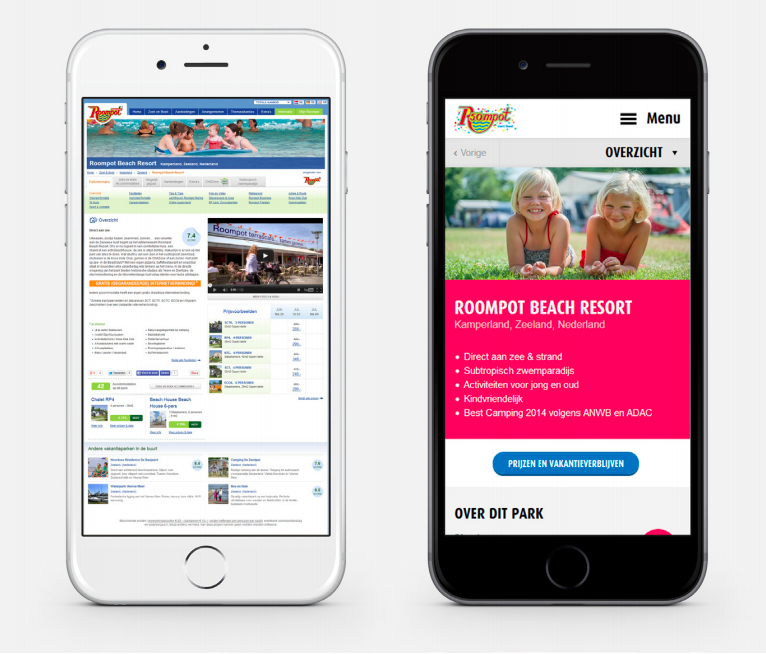 Better by design
Being able to run the A/B test and then measure the impact of each variant in Google Analytics proved crucial in designing the right customer experience. With refinements facilitated by the testing, Roompot's new site launched. Revenue then grew substantially across all devices, including mobile. Compared to the same date range from the previous year, overall traffic increased by 70%, while mobile conversion rate leapt by 120% and mobile revenue grew by an impressive 480%.
Key learnings that other companies can take from this case:
Adopt a test-and-learn approach. Use the launch of a new website as an opportunity to gather insights, rapidly learn from them and adapt to fit users' needs.
Once the A/B test is finished, be sure to perform a segment analysis to discover the differences in behaviour across different segments, such as devices, traffic sources, browsers and so on.
Combine quantitative data (like Google Analytics) with qualitative data (like customer surveys and feedback from call centre agents) to discover motivations behind behaviours.
Looking to the future, Roompot plans to use the same approach in refining the website's checkout process to ensure the booking experience is optimal on every device.