What will advertising look like in five years time? That's a challenge for all of us to develop the tools to help us build new experiences for the digital age that consumers will love, remember and share.
We can't instantly produce what we need five years hence but we can plan and experiment to test, learn, refine and move forwards. And we can challenge received wisdoms that might place hurdles in our way. 
One misconception is that because there is an abundance of media choice for consumers, but still the same 24 hours in a day, people are being overwhelmed and suffering from information overload. I think that's nonsense – consumers are thriving online because they have developed cognitive tools that filter out the clutter. 
They will choose to engage with content and when they do so they will go deep. Look at the evidence: films are becoming longer, people are demanding more work from their favourite authors, and are relishing box-set bingeing. 
Three pillars can help frame a creative strategy in this new environment of choice plus immersion: 
Learn human behaviour – both online and offline. This is not new but now we have tools to examine behaviour and uncover rich insights at scale.
Find your moment to engage where place and context come together. 
Deliver a simple, compelling message – something that invites choice and allows the consumer to go deep into the experience. 
A good example of a successful project that combined the above is the campaign for EA Sports' game Madden NFL, on which we collaborated. It's a venerable gaming franchise but was not perceived to be relevant to the new youth audience the company needed to reach. 
However, we knew young gamers watch real American football and we needed to find a way to tap into that fervent NFL fandom. We took inspiration from the now famous incident when player Peyton Manning during the Super Bowl in 2014 stepped off the field and made a phone call. An avid fan took a photo of this happening on live TV, added a funny caption to it and shared the image online – suddenly the internet exploded with responses and fans started making content, sharing it, commentating and getting involved. 
Interest in memes and shared GIFS is now at an all-time high according to Google Trends data. We figured out that making the Madden video game the visual language of the NFL and, by doing so, helping fans to be creative and taunt their rivals in real time, would provide a compelling brand experience. 
To find the right moment in which to engage these fans, we turned to Search behavior during big TV moments. There, we found that Search activity spikes immediately after key events happen on TV - touchdowns, time outs, etc. - and then drop within 10-15 minutes.. That was the window of opportunity for EA Sports to tap into. 
Using our human insights and knowing the right moment to engage, we created a data-driven animated GIF engine – the 'Giferator' - that allowed us to automatically create display ads that could be seen across the internet seconds after important game moments to draw in fans. We then gave fans the tools so that they could co-create with us. 
We provided collateral that allowed fans to make GIFs for any team, player, or scenario on screen. The Giferator could pull in even more content, like live score updates and dynamic text headlines, and fun elements like replaceable backgrounds of lava, lightning, and fireworks.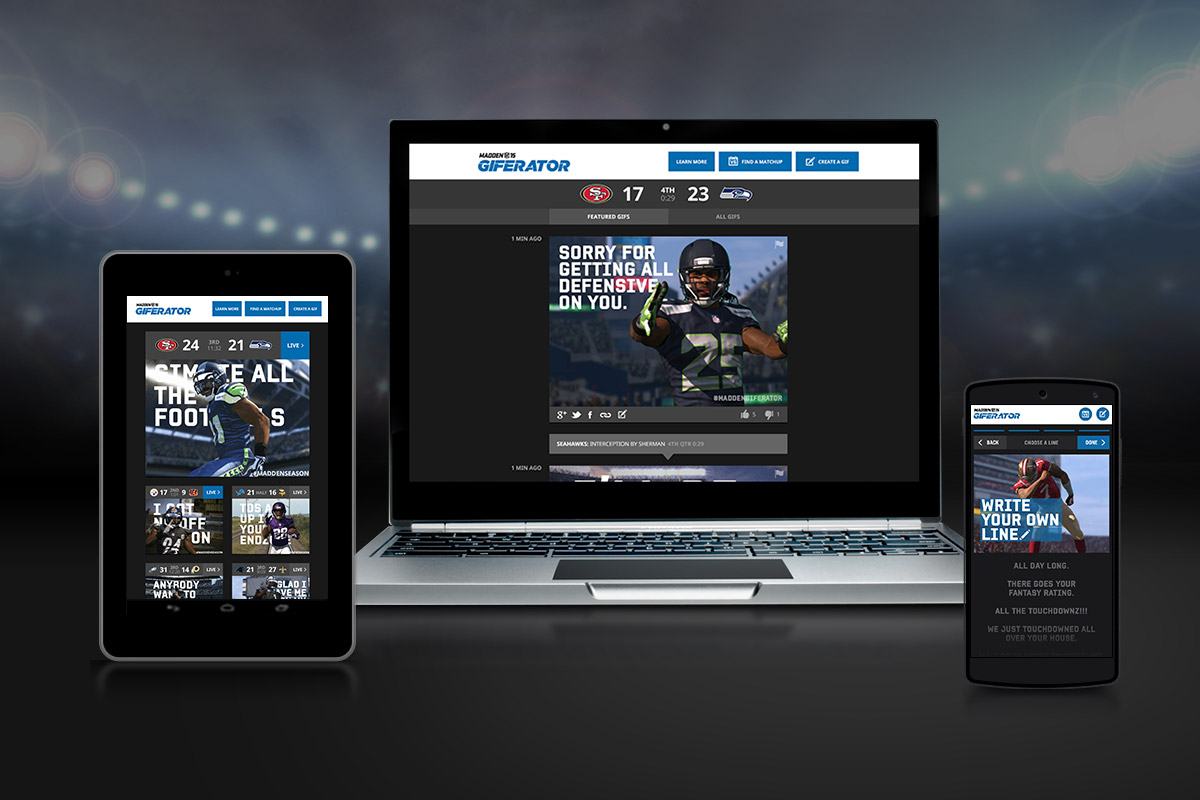 I have been astounded by the reach of the campaign and the imaginative uses to which fans have put the Giferator. Not only did fans create and share more than 400,000 GIFs throughout the season, but they also made music videos on YouTube, fan sites on Tumblr, and even real-life Halloween costumes inspired by the Giferator. 
Madden NFL is just one example of a project that took insights into human behaviour and then found the right moments to deliver a simple but compelling experience. It's a true blend of creative thinking, data and technology and helps shine a light on where we all might be in five years' time. 
For more examples and ideas on how to create the future of advertising, visit Artcopycode.com or watch my presentation below.