With over 30 hours a month now being spent in mobile apps, chances are your organisation (or if you're an agency, your client) has either already developed or is in the process of developing a mobile app. Sadly though, the chances of that app being noticed organically are pretty slim. Recent Forrester research reveals that consumers in the US and Britain use 24 apps per month on average but spend more than 80% of time in only five of them. It's obvious that getting your app discovered in this environment is a challenge.
Fortunately, new and innovative solutions for marketing your app to potential customers are emerging at a rapid rate. Now you can help users discover your app across all mobile channels, whether they're using a search engine to find your app or a related app, watching a related video on YouTube or engaging with other apps similar to yours. Here are three of the top emerging paid channels for marketing your app.
Discovery through search
Did you know that 25% of smartphone users rely on search engines to find new apps? In fact, of the most popular searches of 2015 across the games category, Clash Of Clans – a mobile gaming app for Android and iPhone – came in at number two.
When you search for your app today on a search engine, what's the experience like? Let's say you've got a shopping app and a consumers users Google to search for "best shopping apps". You've now got a chance to ensure that the user discovers your app through app install ads in search. Plus, Google is now testing the opportunity to promote your app within the Google Play store search results page. Alternatively, if your primary goal is driving users to your mobile website but you still want to provide them with the option of downloading your app, use app extensions in search.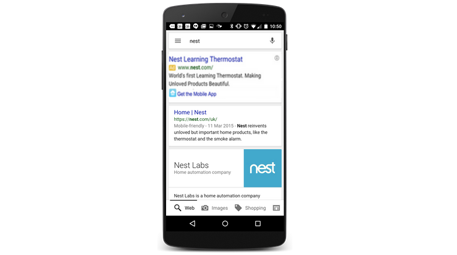 Discovery through other apps and mobile web
With nearly 90% of all time on mobile devices being spent within apps, it's no surprise that the bulk of paid app discovery comes from in-app inventory. It's always worth testing multiple in-app channels to see which work best for you. With the recent upgrades to Google's app promotion formats, it's never been easier to leverage custom app install ad formats across more than 650,000 apps in Google's AdMob app network. For those moments when your potential customer is browsing the mobile web, we've also got you covered – with over 500,000 mobile optimised websites, the Google Display Network is the largest mobile web network in the world.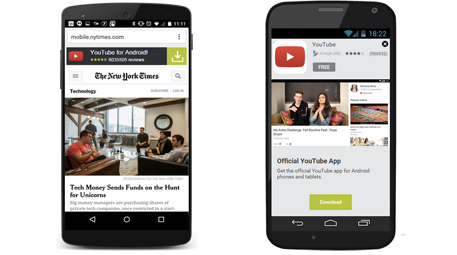 Discovery through video
As mobile video consumption continues to rise, new and exciting channels to promote your app have emerged. For instance, YouTube sees over 50% of all video views come from mobile devices today, which amounts to over 2 billion daily mobile video views. With the recent launch of mobile YouTube app install ads, marketers can now leverage rich video assets to drive installs amongst an engaged and carefully targeted audience.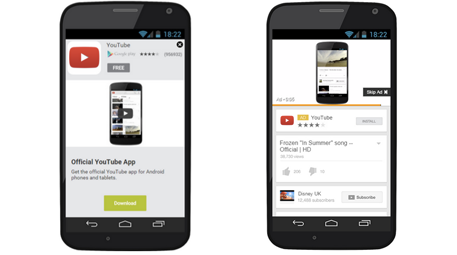 Just as important as leveraging all of the robust channels available to promote your app, it's necessary to ensure that you're driving the right type of user to install your app. Whether you're using a third-party app tracking solution, Google Analytics for mobile apps or anything in between, it's paramount that you optimise your marketing efforts towards acquiring the highest value app users.
Once you have a tracking solution in place, it's easy to set up app promotion campaigns in AdWords. You can specify your target cost per install, then have the Conversion Optimizer bidding tool automatically find the most relevant inventory to serve your ad on.
If you've taken the time and allocated the resources to develop an app, take the time to ensure your existing and prospective customers use it. There are lots of new ways to help promote your app, so make sure to test and iterate. For help on how to market your app across Google's channels, check out our app promotion campaign setup resource here.