I recently had the pleasure of keynoting at the Mobile Marketing Association's Creative Innovation Seminar in London. The focus of my session was on how to win the moments that matter on mobile devices, including some dos and don'ts that I think are worth sharing.
Successful branding is like great user interface design: lightweight and generous, where low investment from the audience delivers high reward. Heavy, immersive experiences are not how people engage and interact with brands on smartphone. On mobile, the goal should always be to maximise that effort-to-reward ratio.
Look at real behaviour
How can brands make this happen? The first step is to look at how people spend their time on mobile based on real behaviour – not the behaviour we wish people would have or hope they'd have. It is well known that the majority of time spent on mobile is within apps, so of course getting your app presence and ad strategy right is essential. But dig a bit deeper and you'll see that most of this time spent in apps goes into games and entertainment. In contrast, commercial tasks largely take place on sites, which means every brand needs a great mobile site and search strategy.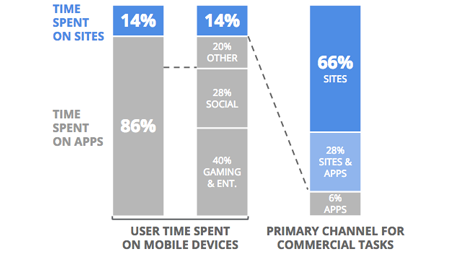 So consumer insights can help define what assets you need, but you should use them to make smart decisions about how you advertise, too. Here's an example of putting insights about real mobile behaviour to work in a successful creative execution. As Boyhood won awards at the Golden Globes this year, searches about the movie, its director and supporting actress immediately skyrocketed. These search spikes lasted approximately fifteen minutes with 65-70% taking place on smartphone. Based on these observations, Google Play created a new campaign to coincide with the subsequent Oscars ceremony. The brand served dynamic creative display ads on mobile congratulating the Oscar winners for fifteen minutes after the announcement, linking to relevant films in the Play Store. The click-through rate increased 19% alongside a 59% increase in searches for "Google Play Movies".
Tell great stories
The second way for brands to win the important mobile moments is to tell great stories. When a company offers a deeply engaging brand experience, it needs to tell people about it. Increasingly, telling great stories means using video. YouTube is the planet's number one destination for mobile video, with 600 million monthly active users and 4 billion daily mobile videos views. That's the current climate – but what about the future? Mobile video will increase 13-fold between 2014 and 2019, accounting for 72% of the world's mobile data traffic by the 2019.1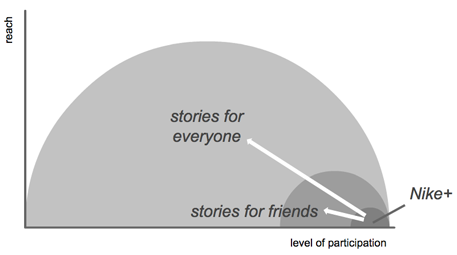 Nike already uses video exceptionally well, they're one of those brands that other brands look up to. You only need to look at the personalised videos they produced for users of Nike+ at the end of 2014. With each video featuring the user's own data, Nike+ fans could share their achievements with friends. But Nike understands that the world is much bigger than the number of people who are runners or the number of people who use Nike+. To broaden the reach of its storytelling, it can't just rely on these subsets of consumers and their friends.
Winning key mobile moments isn't rocket science. Start with user behaviour on mobile and let that help define the creation of your site, app and advertising campaigns. For more tips on how to make this happen, see my keynote here.