Goals
Increase spend and revenue with minimum impact to cost of sale (COS) efficiency
Increase revenue driving campaigns by reducing "short tail" search terms
Use relevant ads to reach new users
Reduce time on manual account tasks
Approach
Work with a GMPP to utilise SA360, formerly DoubleClick Search
Create a sophisticated Inventory Management structure
Utilise SA360's advanced AI machine-learning bid management tool
Results
Campaign-related revenue up 44%, with COS up 5%
53% rise in new sessions, bounce rate down 22%
Additional 3,096 campaigns, 104K ad groups, 3.4M keywords created through Inventory Management
Tajawal methodology significantly increased revenues, maintained scale and efficiency, attracted new website visitors and targeted more engaged users. Moreover, using a single flights data feed, it created keyword coverage for every single flight route available, each origin location and destination.
Merkle Periscopix completed the process in less than two months, from creation to integration of the inventory feed. The whole process takes at least 4.5 months to complete manually given tajawal offers flights to over 15,000 destinations.
"Search Ads 360 saved tajawal time and money by decreasing time spent on manual tasks such as automating their large inventory of hotels and flight routes and using the SA360 machine-learning for bid management tajawal, " said Therese Lundin, sales manager at Google Marketing Platform (GMP).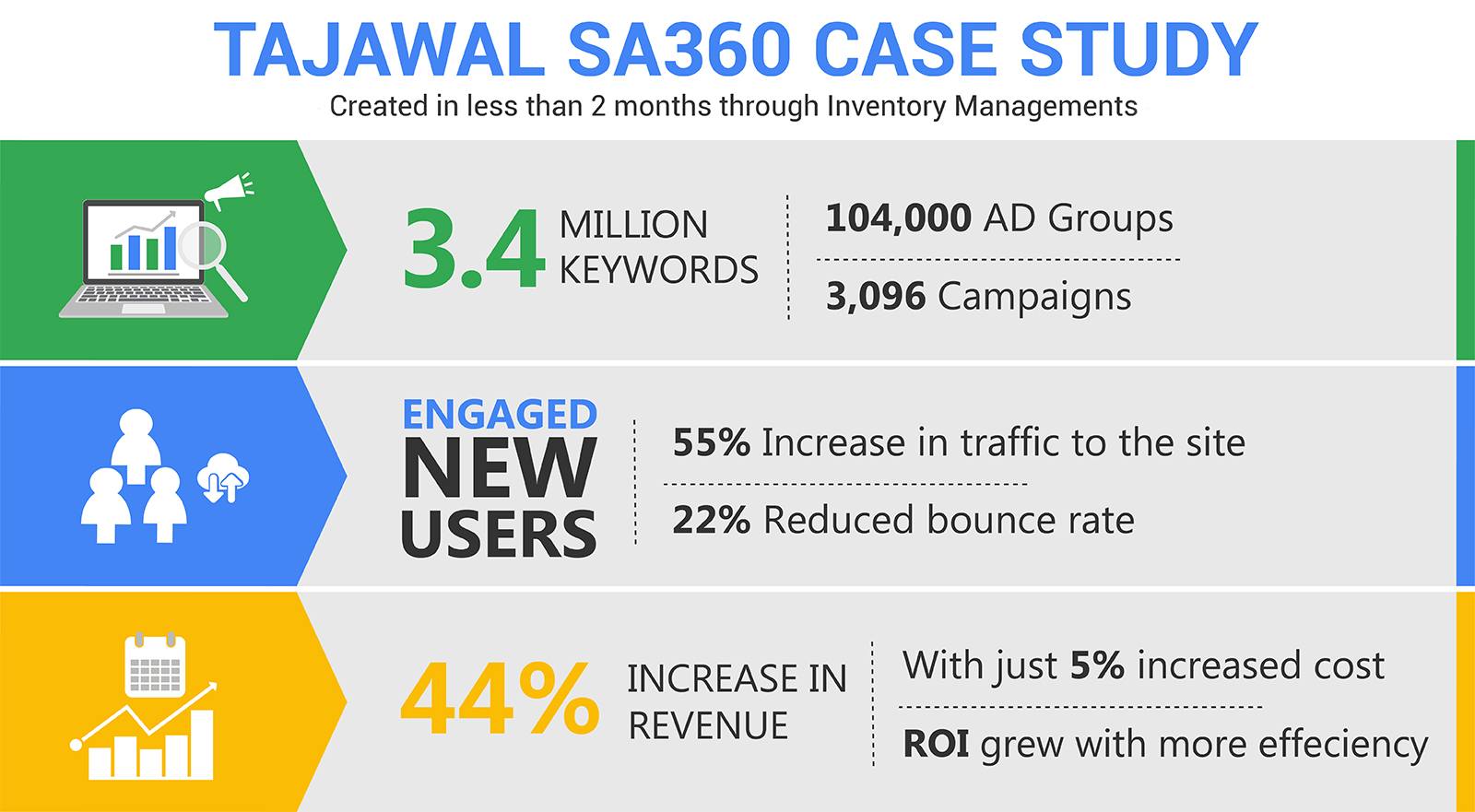 Optimising campaigns faster
Offering over 1 million hotels and thousands of competitive international flight deals, tajawal focussed on Search to target the ready-to-buy audience. Its flights data feed was used to build out highly relevant campaigns through Inventory Management templates, and generate thousands of complete campaigns through a single template structure.
"The Merkle Periscopix team supported our SEM strategy and the utilization of SA360 with their experience and strategic input. They also provided training to ensure our team was confident to use the platform and we are glad to see such positive results so far," said Tarique Khatri, Chief Commercial Officer at tajawal.
The new inventory management generated over three thousand campaigns, 100 thousand ad groups and 3.4 million keywords across multiple search engine accounts in both English and Arabic.
"Getting that number of campaigns created and optimised to target in the space of less than two months would not be possible without the SA360 tools," said Richard Croney, Associate Head of Tech Partners at Merkle Periscopix.
"Keeping on top of such a vast build was not easy to start with, but a combination of SA360 rules and alerts kept it manageable. After 4 weeks, we could transition these campaigns into the existing bid strategies, from which point the system very quickly began to optimise according to overall target," Croney added.