Spring is almost here. Along with better weather and sunshine, the forecast suggests people are turning their attention to getting out and about. Easter is also on the way, and here's how advertisers can tune in to key consumer trends.
Develop outside interests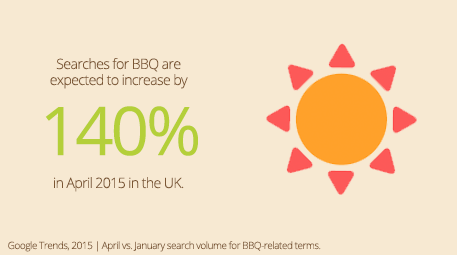 Warmer weather and additional hours of sunshine mean UK consumers are keen to spend more and more time outside. The season's Bank Holidays also provide us with long weekends to get together with friends and family. Inside activities give way to outdoor fun – think sporting events, barbecues and gardening.
Brands need to be where their consumers are, so mobile is a critical channel for reaching audiences when they're on the go. Advertisers should also adjust keywords to keep pace. Compared to January, UK searches for cinemas in April are expected to decrease by 18%, while searches for amusement parks are expected to grow by 33%.1
Join consumers at the first BBQ of the season
Food and drinks is the fastest growing category on YouTube, for both men and women, with 2.4x increase in subscriptions to the top 20 cooking and food channels on YouTube.2
Brands should develop meaningful relationships with your customers by aligning with their passions and become part of their lives and communities, and BBQ will be an increasingly popular activity this Spring, with searches set to increase by 140%.3
Moreover, weekly users of YouTube food channels are more likely to talk to people about adverts they've seen (67% vs. only 37% for non-users), and more likely to share links online to adverts (47% vs. only 9% for non-users).4
Appearing alongside YouTube creators such as Jamie Oliver or the up-and-coming DJ BBQ is a great way to engage with those food lovers.
Sweeten the deal with chocolate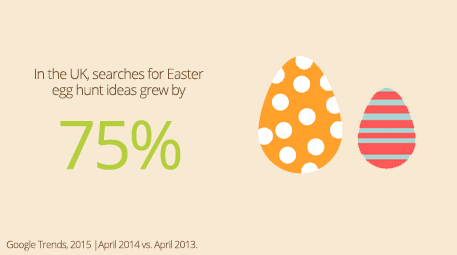 Easter provides the ideal excuse for buying, giving and consuming chocolate. In the run-up to the holiday, people look online to satisfy their chocolate needs. Increasingly, their searches are taking place on mobile. Irrespective of device, searches for chocolates went up 43% from April 2013 to April 2014. Mobile queries for chocolates meanwhile surged 88%!5
For brands that specialise in chocolates and sweets, this makes an online presence absolutely essential. Being available on all devices – smartphones, tablets and desktops – is necessary to reach cocoa-craving consumers at every point along the path to purchase.
"Easter eggs online" is always a popular search around this time of year, but it seems many consumers are looking to go bigger and better. Egg-oriented search terms in the UK in 2014 included "luxury Easter eggs" and "giant Easter egg".6
Play around
Easter is a playful time, so brands can be playful, too. Around this fun family holiday, parents are looking for new ideas for spending time with their kids. Brands can be present here by sharing helpful content. For example, popular content on YouTube includes how-to footage on decorating Easter eggs (more than 240,000 videos) and Easter eggs hunts (over 260,000 videos and counting).
Speaking of egg hunts, these are becoming more and more popular, with UK searches on Google for "Easter egg hunt ideas" growing by 75% from 2013 to 2014. Popular searches include "Easter egg hunt", "Easter egg hunt ideas", and "Easter egg hunt clues". Meanwhile, old traditions die hard: "Easter bonnet" remained a surprisingly popular search term in the UK in 2014!