As the ongoing pandemic accelerates the adoption of online behaviours, consumer decision-making has never been more complex. These changes mark a turbulent time for marketers, but also an opportunity – as automated products offer a way for businesses to simplify decision-making and save time.
Many marketers have questions about 'giving up control' due to automation, its complexity, or how it meshes with their own roles. When implemented strategically, however, automated products can deliver better results, make faster decisions, and unlock time for marketers to deliver more high-value strategic thinking. Automation can help align marketing and business outcomes, especially as it allows engagement with the increasing complexity we see in consumer behaviour.
Automation gives marketers space to focus on their craft and spend less time on lower-value tasks.
Here's what we've learned about the most effective ways to use automation in our increasingly complex world.
Use advanced measurement combined with first-party data
The digital advertising ecosystem is changing dramatically, including Google's Chrome browser removing support for third-party cookies to deliver a more private user experience.
As new privacy regulations come into place, marketers need to consider new ways of using consumer data.
Organisations that have connected their first-party data grew their revenue on average 2X faster
Advanced measurement allows marketers to better attribute their marketing activity to shifting the needle on predefined business outcomes. First-party data — information gained directly from customers via CRM, website analytics, sales, and other platforms — is particularly useful because it's unique to your business and gives clear insights into your customers. For instance, first-party data can help you pinpoint areas of the customer journey where personalisation may assist with conversion, or help you build more robust models for predicting lifetime value.
According to BCG research, organisations that have connected their first-party data grew their revenue on average 2X faster and delivered a 1.5X cost efficiency improvement. This will become increasingly important in the wider regulatory landscape that is shifting away from user-level identifiers.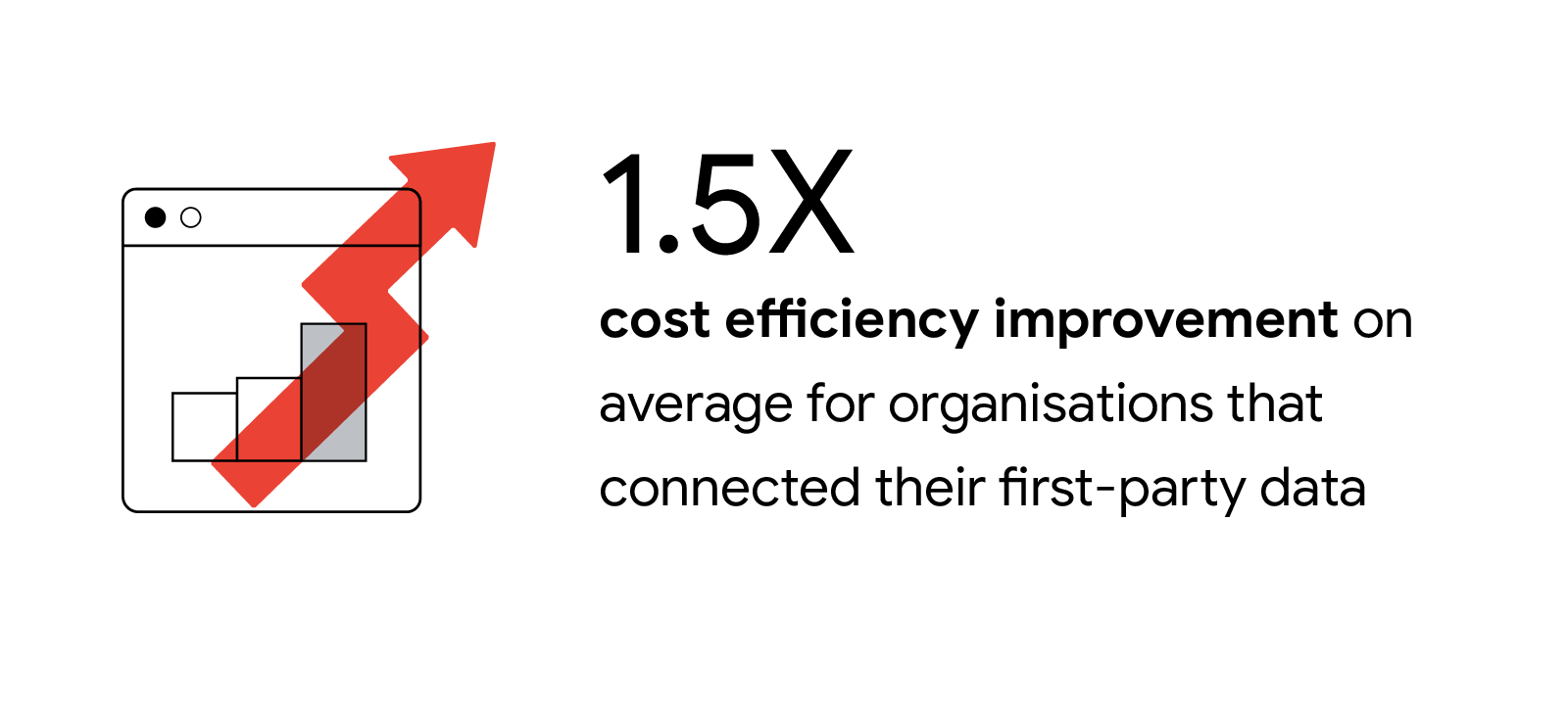 First-party data is key for this, especially when it's collected in a way that is transparent to users.
Apply automation for the full customer journey
As real-time capabilities advance, different tools and products working together can drive even better performance. Technology now allows us to incorporate automation across the full customer acquisition journey — from understanding new trends in consumer demands with insights from Search to delivering the right message with Smart Creatives.
For instance, using Smart Bidding with broad match, which may show ads on keyword-related searches that don't contain the keyword terms, has been shown to drive very strong performance. To make the process simpler, new automated campaign types combine multiple elements into one tool for advertisers. And Smart Shopping uses machine learning in combination with your product feed to create and show a variety of ads across different networks. Performance Max offers a new way to create a single campaign that can run across all Google properties, automatically generating assets for advertisers who are short on time or resources.
Be productive with the time you save
Even with departments overstretched, automation gives marketers space to focus on their craft and spend less time on lower-value tasks.
The mix of channels in modern media means that developing creative for every person and format is time-consuming. And so is doing the executional grunt work of running the campaigns. By handing over the elements of this process, automation frees up time for marketers to deliver more strategic value.
To implement automation in your organisation requires bringing marketing and financial teams together to align on business objectives. It also means encouraging an experimentation mindset internally to refine implementation and maximise the value to your business.
We're at an inflection point for this technology. The triad of automation, first-party data, and advanced measurement can deliver performance, cost savings, and agility when used correctly. It's easy to focus on what's always worked, but businesses that put measures in place now to help them meet changing consumer behaviours – will be better to meet whatever the future brings.
In the coming weeks we'll be sharing success stories from brands who have successfully implemented automation into their businesses. Sign up for the Think with Google newsletter to get these straight to your inbox.