Founded in 1999, Hostelworld Group has grown to become the global leader in hostel booking. Its platforms are available in 19 languages, and between them offer tens of thousands of properties across 170 countries and hundreds of individual destinations. Hostelworld have always been quick to adapt to the latest developments in digital marketing, with a media mix that currently spans display, video and social activity, but as Niall Walsh, Head of Acquisition at Hostelworld explains, paid search has been central to the brand's marketing activity from the very start: "As a digital business we have always done paid search - it's a core part of our digital marketing strategy."
With an ever-expanding range of destinations and properties, one of Hostelworld's biggest challenges has been maintaining breadth of search coverage while sticking to a viable Cost-per-acquisition (CPA). In 2015, they began experimenting with Dynamic Search Ads (DSA) in an attempt to plug gaps in their regular keyword-driven campaigns, and achieve maximum coverage of long-tail traffic. Dynamic Search Ads work by crawling the content of a site, defining suitable categories, and then matching those against relevant search queries. The ads that are shown contain a dynamically generated headline which can be longer than a standard search ad headline, and deliver visitors to the most appropriate landing page for their query. By optimising for relevance and broad-coverage, DSA ads generally achieve a high quality score, resulting in a more competitive cost-per-click (CPC) for advertisers.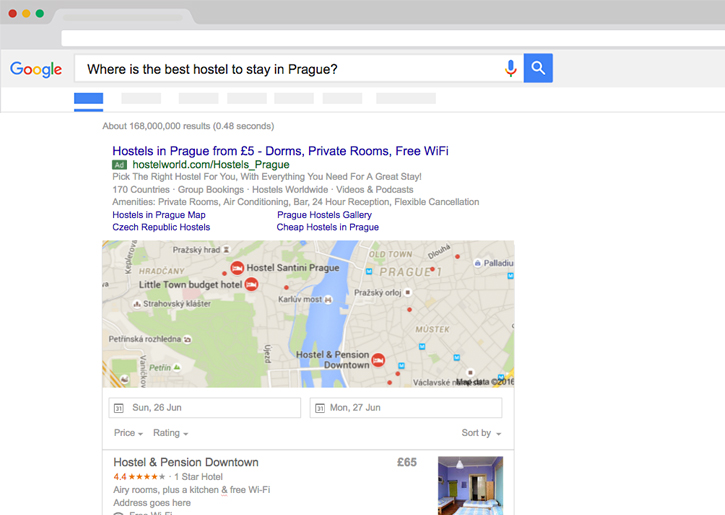 Hostelworld initially began using DSA by establishing a 'catchall' campaign that crawled all of their pages and acted as a supplement to their keyword campaigns. The brand then refined their approach by grouping DSA campaigns in a location-based structure that matched the organisation of their keyword activity. This allowed for greater control over creative customisation, further enhancing DSA's relevance and quality. In addition to using the standard DSA features, Hostelworld also implemented the DSA Feeds Beta, which addresses the problem of using DSA for pages with dynamic, frequently-updated or unindexed content by allowing site owners to manually upload lists of URLs. Hostelworld then used Remarketing Lists for Search Ads in conjunction with DSA to reconnect with previous visitors to the site. Bids were set to be competitive with generic search campaigns, allowing the best ad to win out for each query, and avoiding potentially costly cannibalisation.
The Results
Since Hostelworld began using DSA in 2015, conversions from the format have increased 13x year-on-year, with conversion rates 6x higher and CPCs 30% lower than those achieved by generic keyword campaigns. "DSA campaigns often work better than our normal Search campaigns, because their dynamic headlines can be longer than normal Search headlines," observes Juan Perez, PPC Manager at Hostelworld. As a result of this stellar performance, cost-per-acquisition from DSA is now 35% lower than for generic search, and the campaigns are subsequently driving the majority of Hostelworld's booking volume.
"Thanks to the great collaboration with our Google account team, we were able to implement features beyond the standard DSA campaigns, like the DSA Feeds Beta, which now makes up 40% of our DSA conversions," says Perez, reflecting on a successful partnership. "Since using DSA we've been able to scale really quickly and catch relevant traffic without having to create a huge number of campaigns, so we've expanded reach and efficiently grown our bookings."
Summary
Goals:
Reduce cost-per-acquisition (CPA)
Capture long-tail search traffic at scale
Tap into valuable keywords not previously covered
Aproach:
Used Category Targeting with customised ad creatives per category
Ensured full coverage using a "catch all" list
Tested and expanded advanced features such as feed-based targeting across 18 markets
Overlayed audience lists on DSA campaigns
Set competitive CPC bids against generic campaigns
Results:
30% lower CPC than broad/phrase match
35% lower CPA than broad/phrase match
6x higher Conversions for DSA as compared to corresponding Generics campaigns