Looking for a way to deepen their relationship with their most loyal customers, Roland Mouret uses Adwords Customer Match to invite them to an exclusive online sale.
Roland Mouret is a French fashion designer, whose iconic dresses and mastery of the silhouette have caught the eye of style icons such as Jessica Chastain, Lupita Nyong'o and Sienna Miller. His coveted designs are carried by many of the world's leading department stores, and are also sold through the Roland Mouret website. Having only recently launched their online store, the brand have been faced with some sizeable challenges - not least the fierce competition presented by multi-brand retailers. "The online Roland Mouret store is still relatively new and we're actively working to define the brand's digital voice," explains Taylor Dean, Roland Mouret's Ecommerce Manager. "To be able to really compete and lead the way for all things Roland Mouret online, we have to be innovative with our campaigns."
One way in which Roland Mouret have sought to find their digital voice is by bringing elements of their personalised in-store experience online. For a recent campaign highlighting their Autumn/Winter sale, they wanted to acknowledge the importance of their existing customers by offering them an exclusive two-week preview. To increase the success of the Autumn/Winter preview sale, Roland Mouret worked with their digital agency Merkle | Periscopix to devise a strategy that would align digital channels and maximise performance.
As the preview was only open to customers on Roland Mouret's database, it was important to find ways to target this group that went beyond traditional mailing list outreach. With this in mind Roland Mouret combined their Paid Search strategy with their 1st party data, maximising the value of both through Adwords Customer Match. Customer Match allows advertisers to upload their own customer data to better define and expand the targeting of ads on YouTube, Gmail and Google Search. After uploading Roland Mouret's customer list, matched customers were shown an ad containing an invitation to the Autumn-Winter preview sale, where a specially-created landing page gave them exclusive access. To further reinforce the brand's goal of raising awareness in a marketplace containing several large resellers, creative targeted top placement and used language that emphasised the distinction between the official store and other retailers.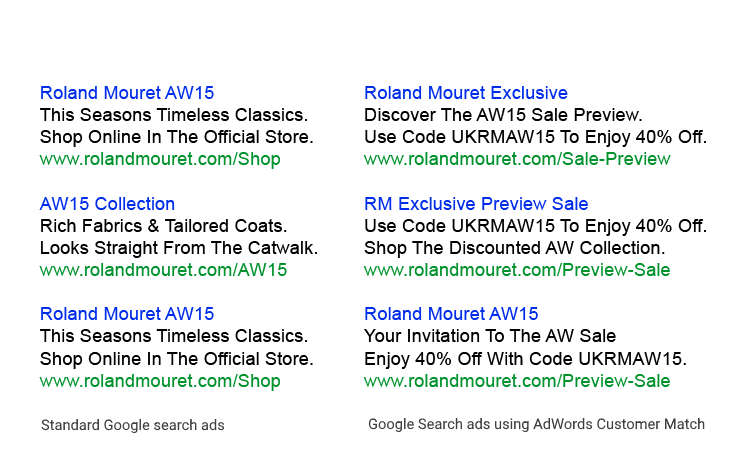 The Results
As a result of Customer Match's tightly-defined targeting, the campaign was able to achieve a cost-per-click 56% lower than Roland Mouret's average for UK brand campaigns, and an 87% improvement in cost-per-action compared to the previous month's performance. Year-on-year, revenue from PPC rose by 82% while transactions increased 59%. "Customer Match allowed us to engage with our customers and offer them tailored messages outside of E-marketing," says Taylor Dean, "and will be carried forwards in future strategies."
Reflecting on the success of the campaign, Laura Simpson, PPC Account Manager at Merkle | Periscopix, notes that: "Google's Customer Match allowed Roland Mouret to target their existing customers more accurately and effectively than ever before. This not only resulted in an increase in sales and revenue, but demonstrated that the ecommerce site can compete effectively with large resellers."
Summary:
Client:
Agency:
Goals:
Reduce cost-per-click and increase return-on-investment.
Increase impression share for brand against resellers.
Enhance brand awareness.
Approach:
Targeted high-value visitors using Adwords Customer Match brand campaign.
Occupy top ad placements to increase brand awareness.
Launched exclusive sale preview for existing customers.
Result:
56% lower cost-per-click than UK brand campaigns average.
87% lower cost-per-acquisition month-on-month.
Adwords conversion rates up by 22% year-on-year.