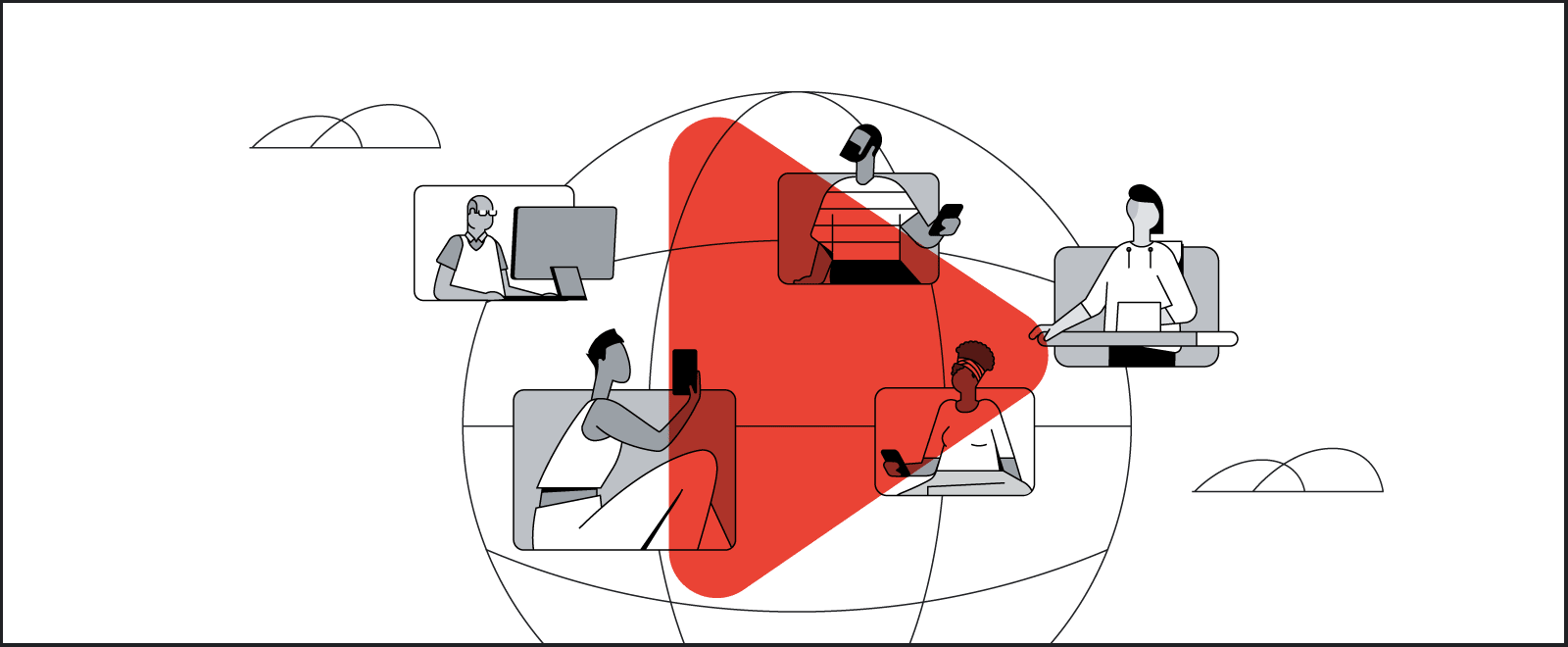 The final weeks of the year provide a natural opportunity to reflect on the world around us and plan for the future. 2021 has been another year of change, driven by disruptive external events, and the year's top videos reflect that reality. YouTube has over 2 billion monthly logged-in users – and every day, people watch over a billion hours of video.
As YouTube's Culture & Trends team reviewed the top videos and creators from the U.K. and around the globe, three themes emerged — community, comfort, and creativity — that offer a glimpse into what people are watching and what 2022 might hold. Together these themes not only encapsulate where we are today but also speak to broader shifts in society. From a marketing standpoint, these global insights can help brands understand what people are looking for and how best to reach them.
Audiences seek community and storytelling through gaming
"Gaming" used to be considered a subculture, but with 2.9 billion people expected to play video games by the end of this year, today it's clearly pop culture. The $175 billion industry (£130 billion) also has a diverse consumer base, with women making up 46% of gamers and 10% of gamers identifying as LGBTQ+ in the U.S.
Gaming's primacy is reflected in this year's top 10 lists. Gamers from around the world have taken things to the next level, using the characters within the games to craft narratives that spark viewer obsession akin to a must-see TV series. In the U.K., gaming dominates the top creators list, based on in-country new subscribers. The nation's highest-ranking homegrown creator, TommyInnit, focuses almost solely on YouTube's most viewed game, Minecraft — a title that also features in the U.K's top trending videos with Minecraft Speedrunner VS 5 Hunters. Produced by Dream — who sits at number four in the Creator list — and featuring breakout creator Wilbur Soot, this irreverent in-game manhunt has received over 60 million views.

For many creators and viewers, engaging with game content also offers a way to engage with each other, whether through live streaming or on their own time. With the huge cultural zeitgeist around gaming, marketers are finding creative ways to tap into this community. Nintendo debuted its new Switch OLED Model, highlighting different games and ways to play, while Lego's partnership with Super Mario Adventures, has been one of its most successful in its 90-year history. In other collaborations, Balenciaga teamed up with Fortnite, Lil Nas X performed in Roblox, and beauty brand Charlotte Tilbury partnered with esports festival GirlGamer.
The rise of comfort viewing
The past two years have been defined by global political and social instability, with little ability to guess the future beyond next week. Perhaps in response to this extended period of uncertainty, people around the world engaged in comfort viewing by seeking out the familiar.
For instance, the U.K.'s top trending video — and a global hit — helped cement the YouTube collective Sidemen as a household name. Featuring arguably the nation's most recognisable creator, KSI, the supergroup reprised their "Tinder in Real Life" series for a third installment, while top break-out creator Danny Malin turned the country's comfort food into a viral hit with Rate My Takeaway.
Just as familiar content brings a sense of comfort, so does comedy. Many of 2021's most popular comedy videos centered on relatable, true-to-life events. This video from Canadian creator Jeenie.Weenie, one in a series about her experience as a flight attendant dealing with different types of passengers, has more than 8 million views – and a heartfelt and hilarious tribute to the late comedian Sean Lock garnered 5 million views and over 12,000 comments.
That's not to say current affairs are off the cards, with comedy proving an effective vessel to drive views and awareness on some of the big issues of the day. Take U.K.creator Niko Omilana, who cleverly convinced BBC News to interview him, while at the same time encouraging people to vote. James Corden's laugh-filled high tea with Prince Harry also covered topics such as mental health and his wife Meghan's relationship with the press, chalking up 27 million views.
Taking note of the types of content people are engaging with and looking for — both comfort and comedy — can help marketers meet consumers where they are with a message that resonates, which has never been more important in times of uncertainty.
People around the world engaged in comfort viewing by seeking out the familiar.
Shorts provide fresh opportunities for creativity and comedy
Whereas audiences have embraced long-form videos on familiar themes, short-form has become a laboratory for new storytelling formats. Hybrid creators who produce Shorts — YouTube's 60 seconds or less video platform — alongside their long-form videos have illustrated how quick bites can give audiences a novel experience. Pop music titan Ed Sheeran has used short-form content to provide fans with revealing peaks of his life off stage (and his love of cats).
Some creators — like Chingu amiga, a Korean woman living in Mexico — use short-form videos to highlight cultural nuances, while others take the opportunity to share humorous observations on life. We see this with U.K. creator Jeremy Lynch, whose bite-sized videos and channel have collectively received nearly 1 billion views. By giving us another view of their creators' worlds to consider, Shorts offer an expanded way for those creators to connect with audiences.
For marketers, sometimes short and sweet works well, whether that's giving people a look behind the scenes or demonstrating a new way to use your product. Japanese restaurant Horumon Shimata went viral with a warning video showing how dangerously hot car temperatures are capable of cooking raw meat. The brand regularly posts behind-the-scenes food videos that subtly promote the restaurant to diners — and possibly save lives too.
How these viewing trends impact marketers
As we reflect on 2021, these themes of community, comfort, and creativity pop up repeatedly in the videos YouTubers in the U.K. and around the world chose to watch. They are not just fleeting trends but represent broader indicators of the kinds of content consumers need and the creators they love. Marketers who embrace these themes in their video and ad creative will evolve with their viewers and connect with key audiences in the moments that matter.