The Dealer Search Project ran as a partnership between Ford Motor Company in Spain and a selection of 20 trial dealers. It was created with the purpose of realising cost savings and increasing leads for both dealers and Ford.
Approach
All dealers were migrated onto the same web platform
One strategy was employed for all dealers regardless of size and budget
Goals
Maximise dealers' presence for relevant Ford searches
Dominate page-one listings for all Ford terms
Drive increased footfall to dealer showrooms
Results
30% increase in dealer website visits (vs control group)
28% increase in dealer leads (vs control group)
Cost per incremental lead: €27.02
Firstly, all dealer websites were migrated to a unified web platform, with the aim to increase dealer's overall digital presence and site management.
Despite the increasing importance of digital channels, most dealers did not have a solid search strategy, resulting in lost opportunity. This project allowed the dealers to utilise the resource and expertise of Ford's search teams in Spain and London to optimise each dealer's campaigns.
Ford Spain, Blue Hive (Media and Strategy team) and Punsset (web provider) focused on improving overall performance in 4 main ways:
Maximising dealers' presence for all relevant Ford keywords
Achieving cost savings through managing all dealers bidding and preventing cost inflation
Optimising the search results page
Maximising leads through consistent messaging and a simple user-experience
Centralising dealer paid search yields cost efficiencies and increased leads
In late 2014 the central Blue Hive search team was established in London. Forging relationships with the local Ford teams, it aims to ensure a coherent brand message for all relevant keywords, whilst keeping CPC and unnecessary cost inflation down.
The Blue Hive team in London worked closely with Google to identify the best technology and processes to achieve their business objectives. The London and Spanish teams worked closely to develop the Spanish search strategy and bring the dealers on board, motivated and supportive of the initiative.
The mutually agreed strategy was put into motion, freeing dealers to focus on converting leads to sell more vehicles.
The Results:
30% increase in dealer website visits vs. control group
28% increase in dealer leads vs. control group
EUR 27.02 cost per incremental lead
Before the project started, the teams were confident that they could make significant improvements to the dealer paid search activity. However, wanted to ensure leads were not just redistributed amongst dealers, but driving incremental leads.
To measure performance this data was compared between two sample groups. The 20 dealers who participated in the trial versus the other dealers in Spain. Year on year results supported the hypothesis with incremental increases across all key metrics – 30% increase in dealer website traffic and 28% increase in dealer leads.
Additionally, there were positive trends for the cost-per-click. The teams optimised the campaigns to continue reducing the CPC (€0.33 to €0.23), whilst increasing conversion rate (1.46% to 4.5%) throughout the trial period.
Use of the Google tools Adwords and DoubleClick helped the team perfect campaign targeting, automated bidding and budget distribution. This allowed the accounts and keywords to be managed at a large scale centrally.
All dealers acknowledged positive results and an increase in the number of leads, clearly demonstrating that with a moderate investment, it is possible to make big improvements in lead-generation.
In the trial areas, Ford Spain has virtually full coverage of the search results within the most relevant keywords (see below).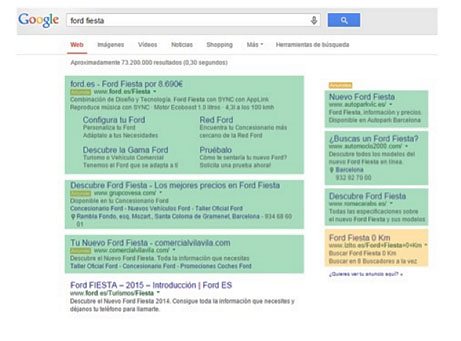 Conclusions and next steps:
Continue to support Ford's dealers to improve their lead generation, in exchange for a cost-effective investment in digital media
Roll-out dealer search across all dealers in Spain.