A two year study of the impact of Guinness' current media mix model on sales shows an increase in YouTube ad spend would boost sales.
Guinness has never been afraid to make brave decisions, whether pushing the boundaries in brewing great beer or celebrating those who are Made of More. However, the brand was faced with a challenge in its communications model: how to deliver the greatest return on investment across an offline & digital ecosystem, whilst pushing the boundaries of its media investment.
From Sapeurs, to emotive rugby ads and most recently John Hammond, the Guinness 'Made of More' campaign champions those who chose to act with integrity and character in pursuit of the extraordinary. Using Next Generation Marketing principles, the brand reaches adult beer drinkers across a full AV stack. Over the last two years the brand has increased its investment in YouTube but needed to know whether it was spending the right amounts of money across the right channels for maximum return on its critically-acclaimed advertising creative.
New research was carried out by analytics firm Data2Decisions, part of Dentsu Aegis Network, and shows that YouTube ads contribute to offline sales and that a significant percentage increase in YouTube's allocated budget will drive a sales uplift.
Many of the ads Guinness ran during this period leveraged its long-standing association with rugby, and also its Sapeurs and Basketball creative.
The Results 
Data2Decisions' modelling showed that Guinness is currently under-representing YouTube in its media mix. If Guinness increased its YouTube budget by four times its planned amount then it would enjoy the optimum revenue from its ad spend.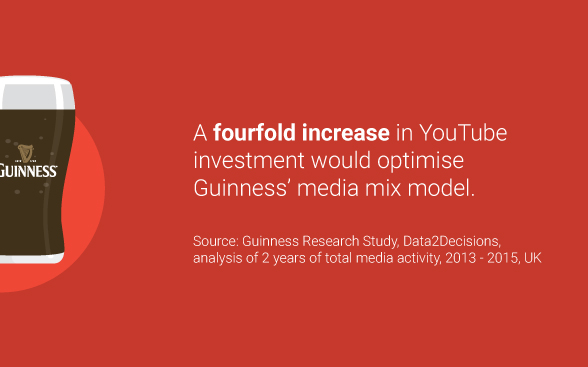 "Today's marketers have the data to learn something new about their brand every day, but so often this data is not linked directly to sales. This study has been a powerful decision-making aid, and has demonstrated YouTube's prominent role in our media ecosystem"
Isabel Massey, Head of Media & Futures, Diageo Europe
The Guinness results form part of a Meta Study that analysed 56 case studies carried out across eight European countries. In 77% of the cases YouTube delivered a higher ROI than TV. 
Summary
The Client: Diageo UK
The Product: Guinness
The Goal: To see if Guinness' media mix model could be better optimised with greater investment in digital
The Strategy: Analysis of two years of total media activity (September 2013 – May 2015) by Data2Decisions, part of the Dentsu Aegis Network.
The Insight: Guinness could maximise sales by a fourfold increase in its planned YouTube budget.