In today's attention economy, views are no longer enough. To drive valuable engagement, brands must capture attention – and transform that attention into action. In this series, we explore how to meaningfully connect with audiences to generate results that matter
Think of a film scene that inspired you, a crucial goal in a sporting Cup Final or a song played at a concert that brought you to tears, and you're remembering a moment you'd want to share with almost everyone.
Traditionally, marketers have fought to be part of the biggest moments, aiming to make an impact around the year's most watched sporting events and cultural touchstones. But away from the finals of the World Cup or Love Island, there   are other, more personal moments that can resonate with audiences in an even more powerful way. To the right audience, an eSports tournament can be more important than the Champions League, and a fan-made video can pack a greater emotional punch than the latest Hollywood blockbuster.
The diversity of video content on YouTube means that every viewer can engage with whatever they're most passionate about, from music to football to art history – and everything in between. And because they're emotionally invested, they're especially receptive to messages that are delivered in the right way: in ethnographic research conducted by Google/Revealing Reality in the UK, content with high personal value received more viewer interaction than an average piece of content.1 In addition, according to Google/GFK research, viewers in the UK report they are 1.4 times more likely to mostly/entirely pay attention to a video they've actively selected, versus one that is passively consumed.2
Product placement isn't enough in this era. Recognising and respecting what people are passionate about creates impact for brands no matter the sector, and encourages sharing, conversation and connection, all of which can pay enormous dividends in the long-term.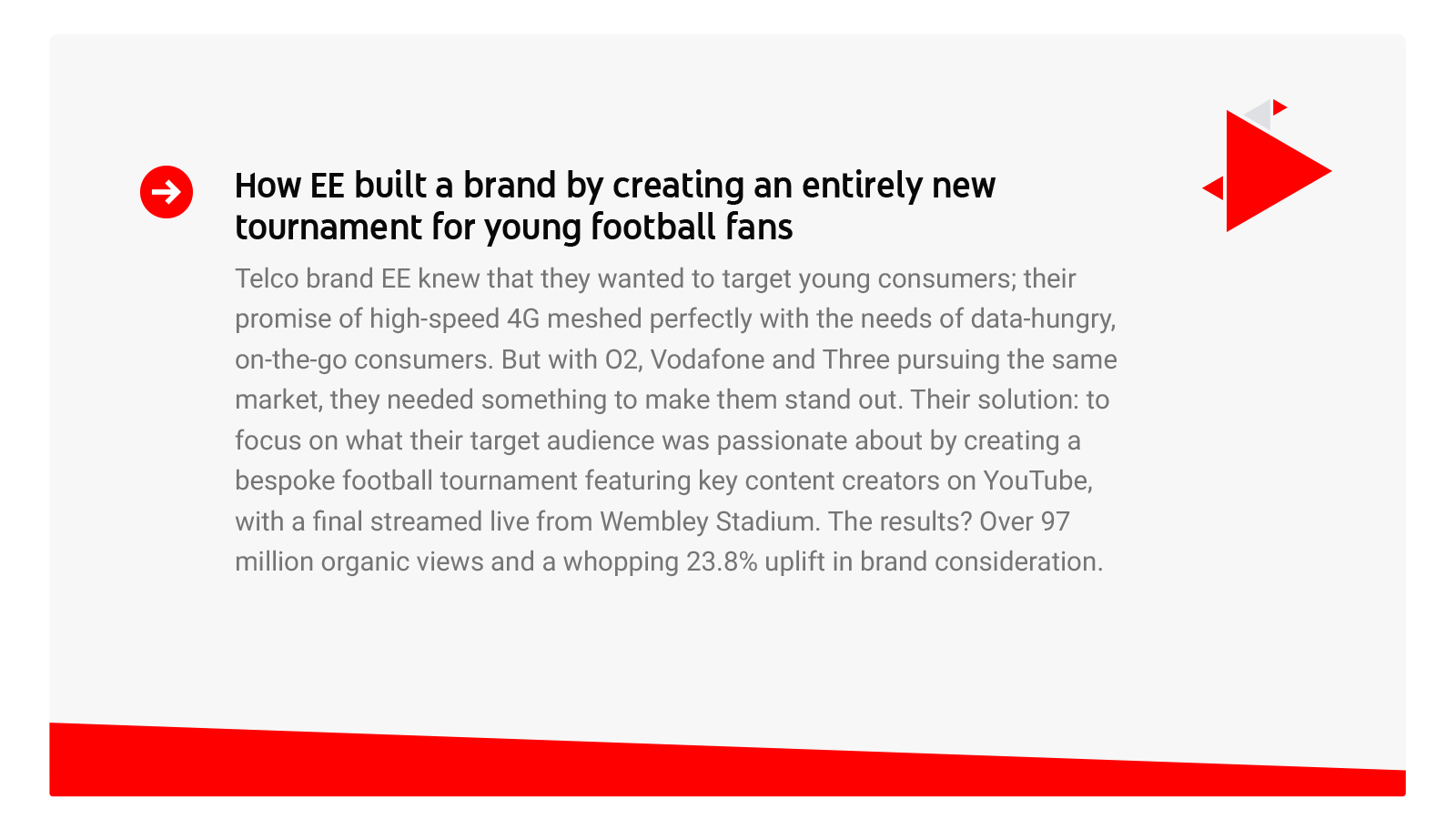 Find out more about how EE hit the back of the net here