The beautiful game is as popular as ever, and YouTube provides a largely untapped opportunity for brands to engage with football fans around the world.
Football is hugely popular across the globe, but brands are missing a trick when it comes to engaging with a new wave of 'digital' fans. Audiences are shifting from traditional broadcasters to online video platforms.
YouTube has helped enable the rise of the connected supporter that watches and engages with football content outside of the confines of official scheduling — and this audience shift, especially in the 18- to 34-year-olds segment of light TV users, is forcing brands to redefine their approach to sponsorship.
"There will always be a place for live sport and the associated broadcasters but branded content is definitely starting to move ad spend away from traditional sources," says Tom Thirlwall, CEO of Big Balls Media, owner of football-focused YouTube channel Copa90. "75% of the people watching football content on YouTube are between the ages of 18 and 34 — they think of Match of the Day and highlights shows with old pros in suits commentating as their parents' media."
Britain is watching
Research from Tubular Labs shows football content on YouTube generates higher engagement rates than videos on music, comedy and film — and the UK sits at the top of the tree with the biggest football-watching audience on YouTube; 15% of Brits using YouTube watch football videos, versus 13% in the US and just 6% each for recent World Cup winners Germany and Brazil.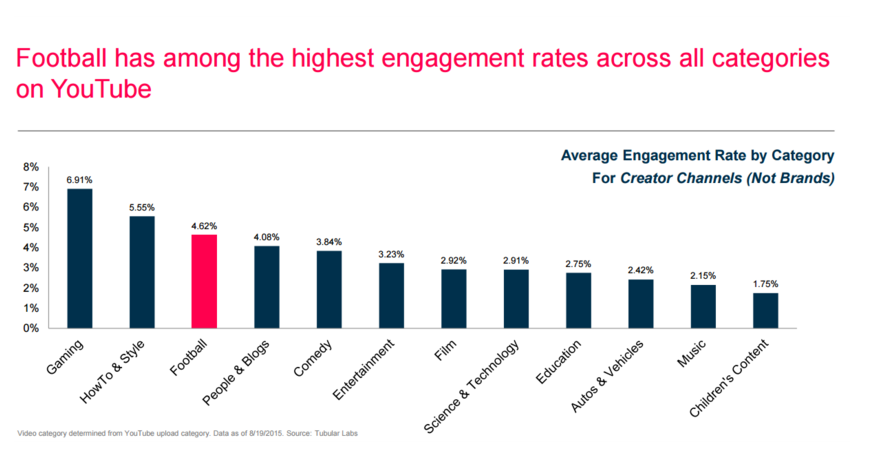 Contrary to received wisdom that consumers' attention spans are becoming shorter and shorter, watchtime appears to be increasing when it comes to football — Tubular Labs says 8 of the 10 most popular ads on YouTube during the 2014 World Cup were over four minutes in length. Naomi Harston, head of sponsorships at Google UK, adds: "The hunger is certainly there for football content. Digital fans are watching daily and they're making time in their lives for different lengths of content, whether that's a short video while waiting at the bus stop or something longer on their TV via their games console."
Copa90 is working with brands such as Hyundai and Nissan to extend the fan experience beyond the 90 minutes of the match. Denis Crushell, Tubular Labs EMEA VP, explains where traditional broadcasters are missing out: "A high-profile football match on TV will see a few million people tuning in but that peak goes right back down afterwards. On YouTube, we're seeing unofficial channels with a huge number of subscriptions because they focus on more than just match highlights."
Despite being unable to show the footballing action itself due to rights agreements, channels such as Copa90 are striking a chord with viewers by telling the stories traditional media tend to miss. Tom adds: "Up until we launched, the assumption was that you couldn't build an audience without Premier League rights. But we wanted to use YouTube and other digital platforms to connect with young fans on a completely different level."
One example of a successful football-focused brand campaign was EE's 'Wembley Cup' launched earlier this year, which brought together YouTube stars to play a match at Wembley Stadium — managed by real-life footballing legends Martin Keown and Ray Wilkins. The match itself features as a 37-minute video and has been watched well over five million times - a bigger audience than last season's UEFA Champions League final, and further proof that digital fans do not restrict themselves to only short-form content. Tom reiterates: "When the story is good and the connection with the audience is strong, content will see organic engagement."
Authenticity is the key
The hunger from fans for the real story behind the 90 minutes followed by the press has seen so-called 'fan channels' gain huge popularity. While Manchester United are the only professional club in the UK without an official YouTube channel, they lead the way when it comes to fan content — the FullTimeDEVILS channel has over 200,000 subscribers watching up to five new videos every day, and according to Tubular Labs fan-created content sees almost twice the viewer engagement that that of clubs' official channels.
"Authenticity is important for fans," says Denis. "They want something that feels real and brings them closer to the players they idolise. These fan channels are growing 3.6 times faster than the official Premier League club channels."
The demand for great content marketing is louder than ever and brands have an opportunity to truly engage fans. They can rethink creative to suit the YouTube audience, playing with technology like 360-degree videos, using real-time data to adjust their content and tap into the creativity of digital fans or YouTube creators.
Naomi comments: "Unlike traditional sports and media-badged properties, online video is not a saturated space. So the opportunity for marketers to drive cut through, establish ownership and grow likeability are genuinely there for the taking; the time is now."