Interest in football across the continent will reach a peak this summer as the UEFA European Championship returns after a four-year break. Views on YouTube will surge as fans look for content to feed their passion before, during and after matches.
France will play host to Euro 2016 in June, bringing together the best players from around Europe for a month-long tournament. But, according to new research from Tubular Labs, millions of football fans won't just be tuning in to watch the games live - they will also be heading to YouTube throughout the month to fuel their excitement.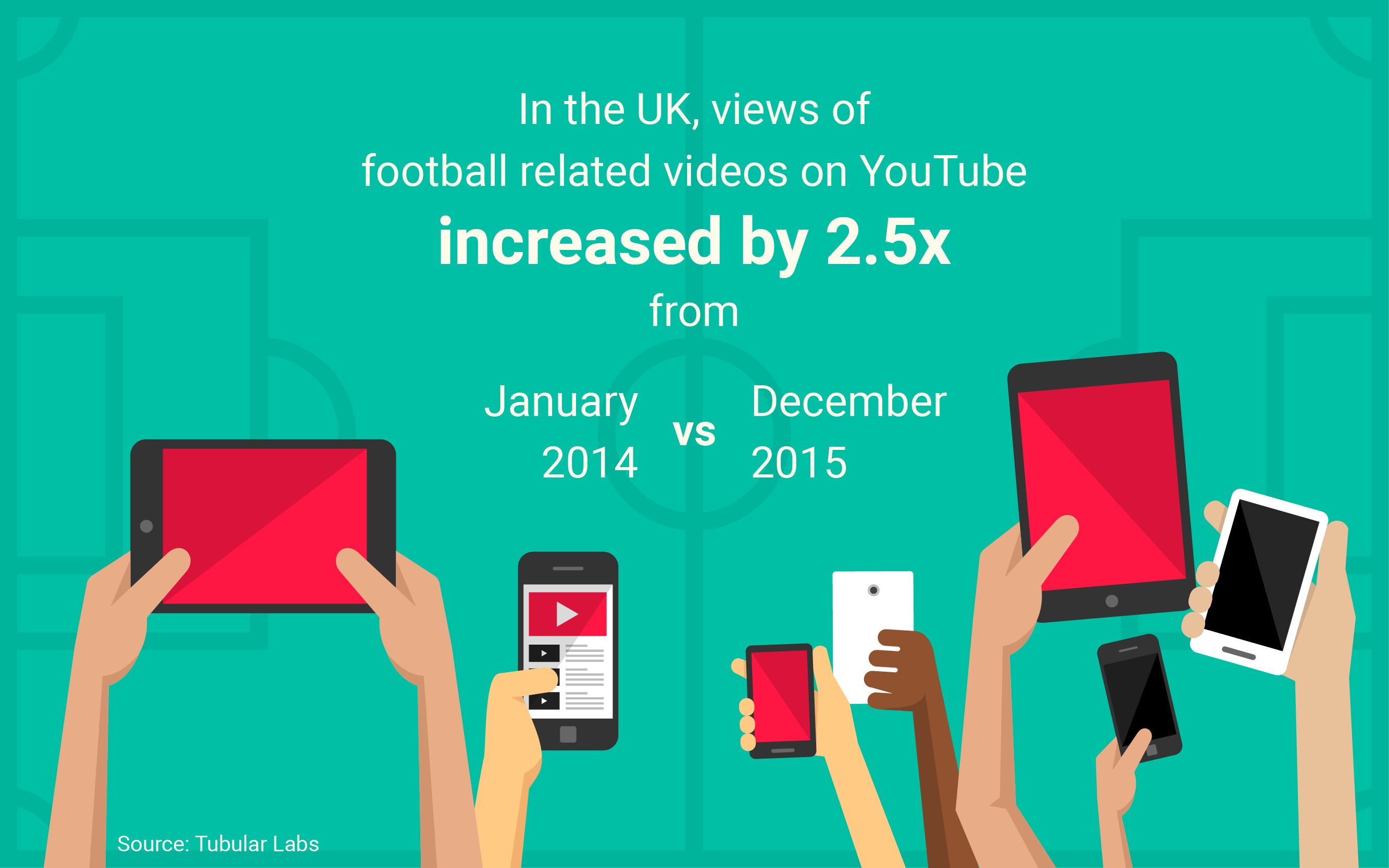 With more than twice as many people watching football-related videos on YouTube in December 2015 compared with January 2014, brands have more opportunities than ever to reach fans throughout the Euros, as well as during the regular football season.1
YouTube is the largest platform for football-related content; over 60% of football related views took place on YouTube last year2 which makes it the go-to destination for both official and original football content. With Premier League club channels, and highlights from over 40 league and cup competitions, from the FA Cup to La Liga to FIFA and UEFA tournaments, YouTube offers fans a place where they can indulge their passion and catch expert analysis, watch behind-the-scenes videos, interviews, match highlights and more.
Original content is also huge - football videos by UK creators alone have been watched 6.2 billion times. This engaging, authentic content makes people lean forward and want to engage with and share content. Football videos on YouTube have been 'liked', 'commented', 'favourited' and shared 194 million times to date, underscoring how the game connects people across the web.3
Tubular Labs research shows that viewers who engage* with the sport on YouTube also love other aspects of fan culture - 47% consume comedy content, 45% watch music videos and 33% enjoy video game content, so brands looking to target football fans should think about these categories too.
Big tournaments attract a bigger audience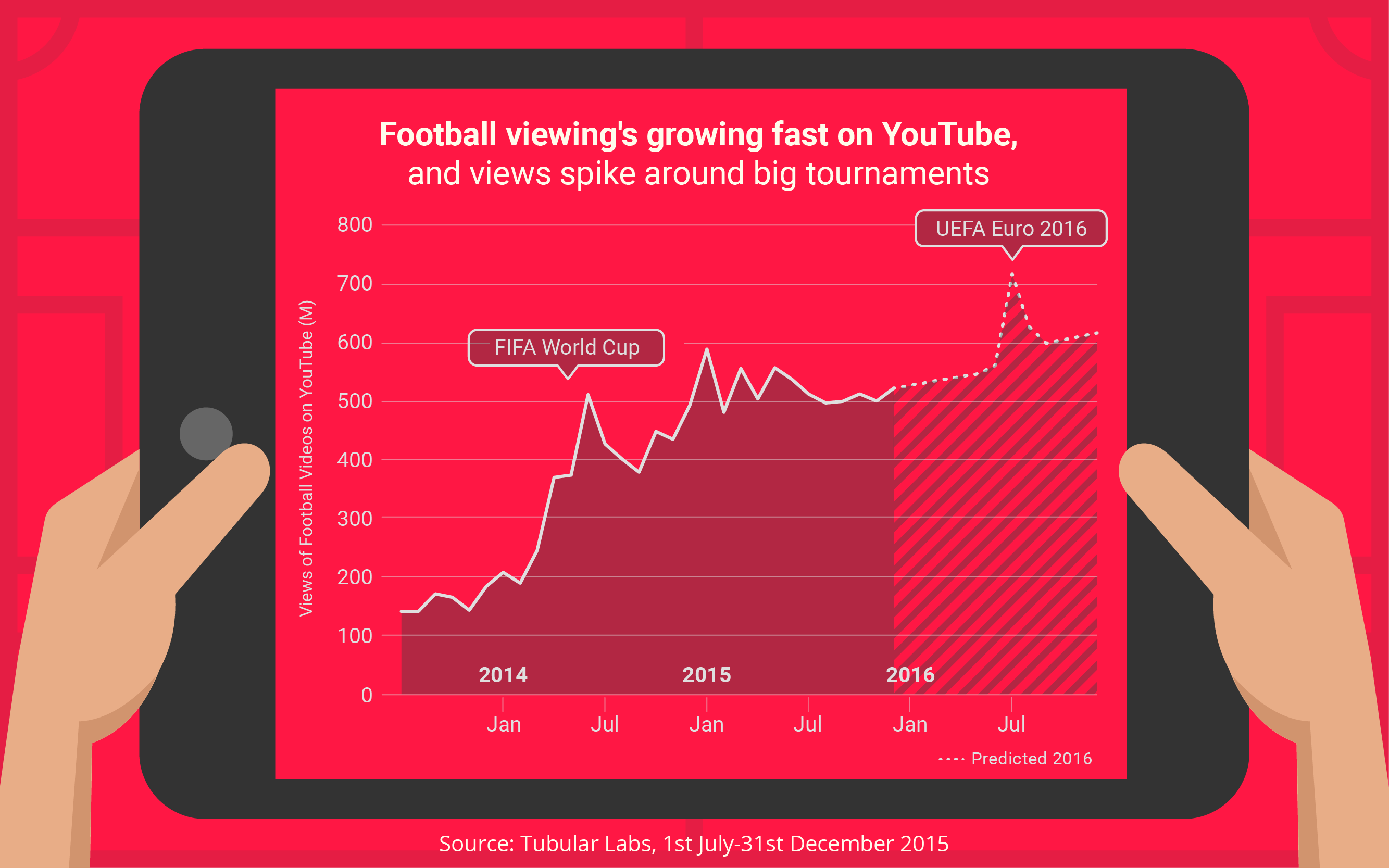 As tournament fever sweeps the country, football content is watched not only by passionate fans but millions of others who are caught up in the excitement. Looking at 2014 World Cup data, we saw a significant spike in interest in football-related content on YouTube - with monthly views of football videos increasing by more than 30%. This presents a great opportunity for brands to reach more people by joining the conversation this summer, with 27 million additional UK video views expected to be driven by content related to Euro 2016.4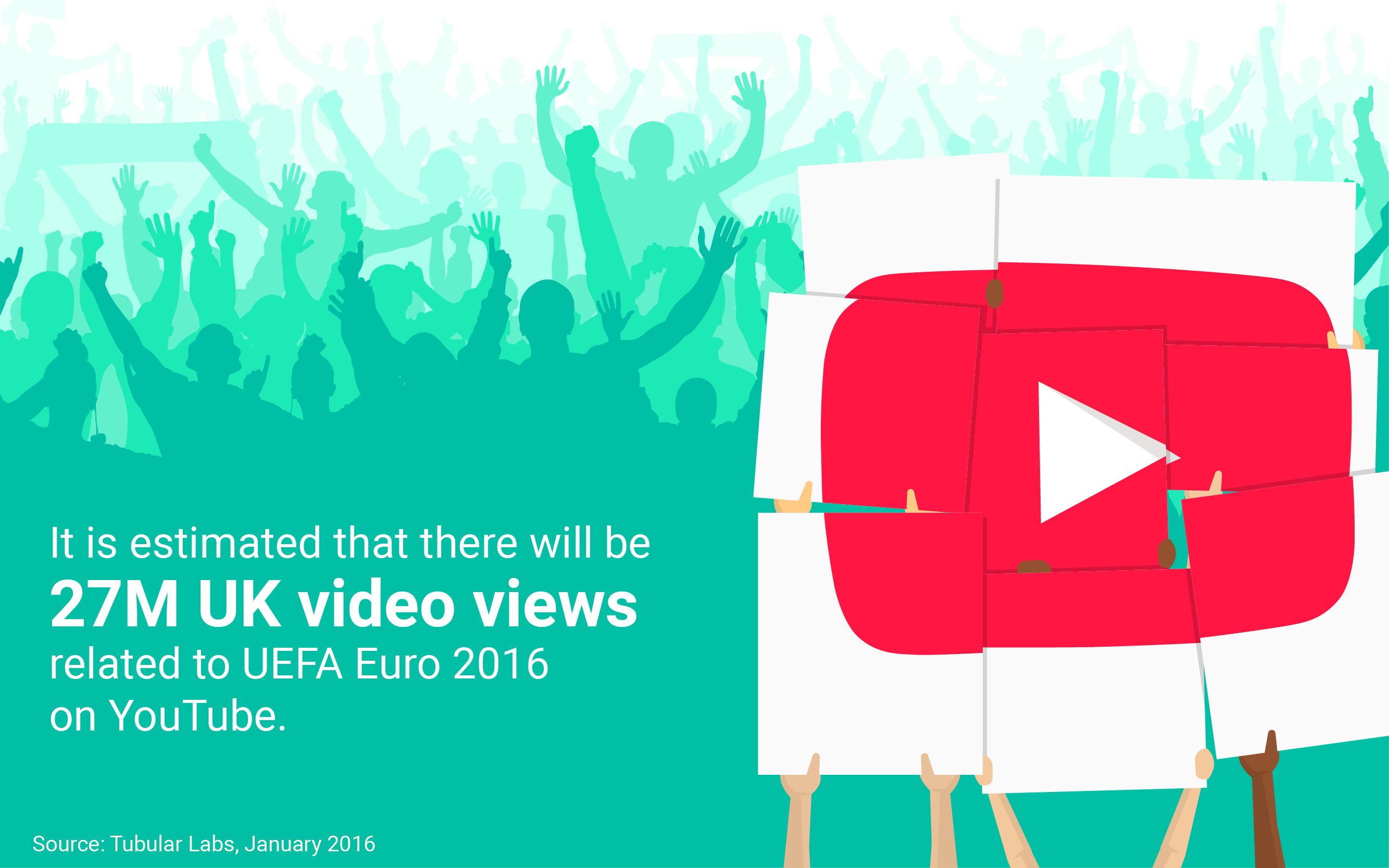 The number of football-related videos uploaded to YouTube during these major events also increases. According to Tubular Labs data, there are peaks at the beginning and end of the English, Spanish and German domestic football seasons every year, but the spike driven by international tournaments - as both brands and YouTube influencers seek to join the conversation - is bigger.5
Viewer watchtime for branded content and advertising also tends to increase during these iconic tournaments – Tubular Labs found that 8 of the 10 most popular ads on YouTube during the 2014 World Cup were over four minutes in length - so brands have a greater opportunity to tell their story and engage with viewers in their ads.
Campaigns That Delivered On The Goals
During the 2014 World Cup, a number of brands capitalised on the excitement on YouTube. In fact, four of the ten ads on the YouTube Ads Leaderboard in June 2014 were related to football or the World Cup, with Nike in the top spot.
Nike scored big on YouTube during the World Cup running a series of ads featuring the stars of the competition, including host Brazil's Neymar Jr., Portugal's Cristiano Ronaldo and England's Wayne Rooney. Collectively, these videos gained more than 300 million views.
The majority of Nike's videos were animated, which likely lowered the cost of involving talent and allowed more creative flexibility with the story line. The animations ran as pre-roll ads alongside relevant content that embraced fans' passion points. Football fans' attention turns towards a major tournament as soon as the domestic season finishes so brands should be thinking now how to harness this enthusiasm to beat their own competition.
How To Leverage Football Fever This Summer
Make sure your ads are reaching football fans when they head to YouTube this summer - before, during and after the live 90 minutes.
Don't restrict your targeting to football - fans enjoy other genres, so find them on YouTube while they're watching the content they love.
When the final whistle blows at the end of Euro 2016, don't forget about football fans - they're an engaged audience throughout the regular season and the next World Cup is just around the corner.