Retailers now operate in a fast-changing environment where customers expect a seamless, omnichannel experience and trends in consumer behaviour rapidly change.
This retailer's advertising is highly regarded for its distinctiveness and creativity and the brand has won many awards for its creative work including at Cannes Lions.
Historically, it has been a challenge for brands to correlate spend on digital channels with ROI. But now data is available that proves the link between this retailer's online video activity and offline sales. The findings, which will help enable optimising ad budget across media channels, show that YouTube is being under-represented in ad spend and that increasing investment in the channel will drive a sales uplift.
A study of two years of total media activity by the retailer was carried out by global marketing effectiveness consultancy Data2Decisions, part of Dentsu Aegis Network, using its ecosystem modelling technology to measure direct and indirect sales impacts of YouTube activity.
The Results
The study shows that YouTube delivers a better ROI for the retailer for every pound spent than television and Video-on-Demand combined. YouTube returned £6.60 in revenue for every pound invested in ads compared with £6.20 for TV plus Video-On-Demand.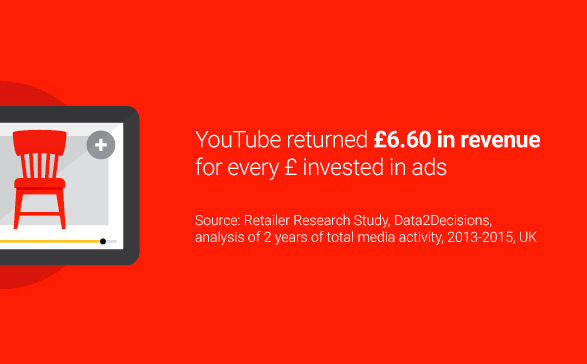 The retailer's media mix model is based on historical data but this can now be enhanced with the new insights proving the impact of online video on sales. The study recommends that overall ROI would improve with increasing YouTube investment by 132%, more than double the planned spend.
The results form part of a Meta Study that analysed 56 case studies carried out across eight European countries. In 77% of the cases YouTube delivered a higher ROI than TV.
Summary
The Client: Large european furniture manufacturer/retailer
The Goal: For the retailer to more clearly understand how its media mix modelling forecast could be better optimised.
The Strategy: Analysis of two years of total media activity (October 2013 – September 2015) by Data2Decision, part of the Dentsu Aegis Network.
The Insight: Every pound spent on YouTube returned £6.60 in revenue, compared with £6.20 from TV plus VOD.