Frank Smidt leads the Retail Marketing team at Google Northern Europe where he tracks consumer trends. Linah Maigurira, Retail Marketing team lead at Google Sub-Saharan Africa, provides seven insights specific to South African retailers.
Lockdowns, travel restrictions, store closures, home schooling, and more; COVID-19 turned most people's lives upside down overnight — and one area that was immediately impacted was retail. From a shopper's initial research up until the moment of purchase, suddenly many customer journeys are predominantly taking place online.
But what can retailers do to overcome the challenges brought on by this major shift? Smart Shopper, a study commissioned by Google and conducted by Kantar in May 2020, shines a light on shopping behaviours during the pandemic to help inform brand, marketing, and consumer strategies — now and for the future.
1. Online purchase share for slow moving goods has doubled year-on-year
In South Africa, curfews were established from 26 March, impacting shopping habits and how purchase decisions are made. With a strict lockdown enforced until 1 May, followed by the gradual reopening of some stores for everyday essentials, many non-essential retail stores had to stay closed.
While there has been an uplift in online purchase share for slow moving goods (consumer electronics, home and garden, fashion, food and groceries, beauty), offline remained the main purchase channel for fast moving goods, which were still available in grocery shops and pharmacies that were allowed to be open during lockdown.
Action: Focus on getting your brand's omnichannel experience optimised and remove convenience pain points. Post lockdown, we expect shoppers will still shop online, and partly swing back to offline shopping habits.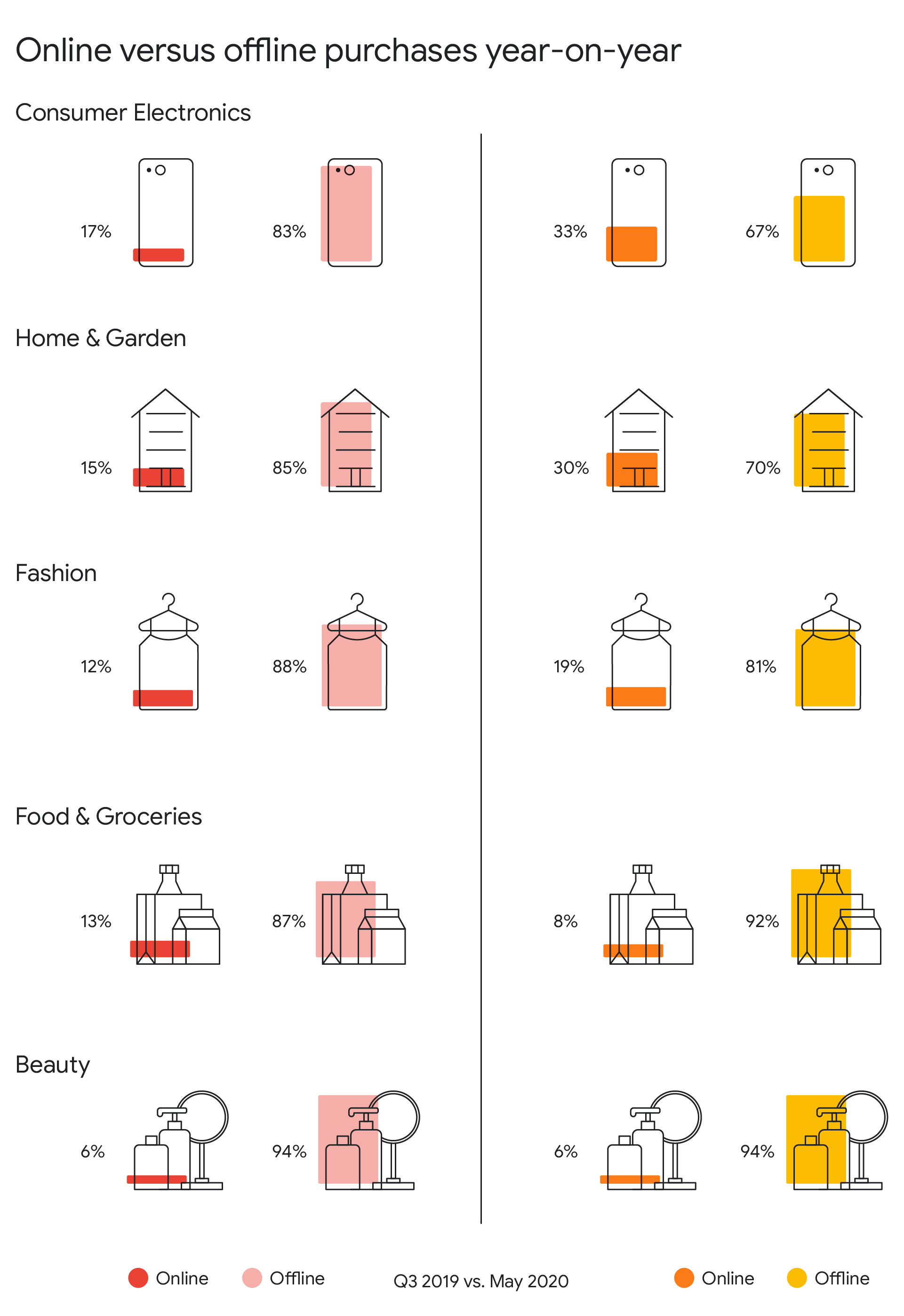 2. More buying decisions are being made online
Shoppers showed increased online product discovery and research, especially on Search. Interestingly, the research revealed higher ad recall, in particular, if the ad exposure is aligned with other touchpoints, such as Search and online video. Shopping apps, especially from retailers, gained increased traction in the path to purchase.
Even in this dynamic environment, physical stores remain a crucial part of the user journey. But as routines and schedules change for retailers, so do the shopping behaviours of their consumers, with shoppers demonstrating an increase in online and channel-agnostic purchase preferences. This shift makes omnichannel strategies, and prioritising consumer journey online touchpoints, even more important.
Action: Focus even more on online ads and online marketing by adjusting your marketing mix for digital versus offline channels. Synergy is key and shoppers remain open for advertising even in times of crisis.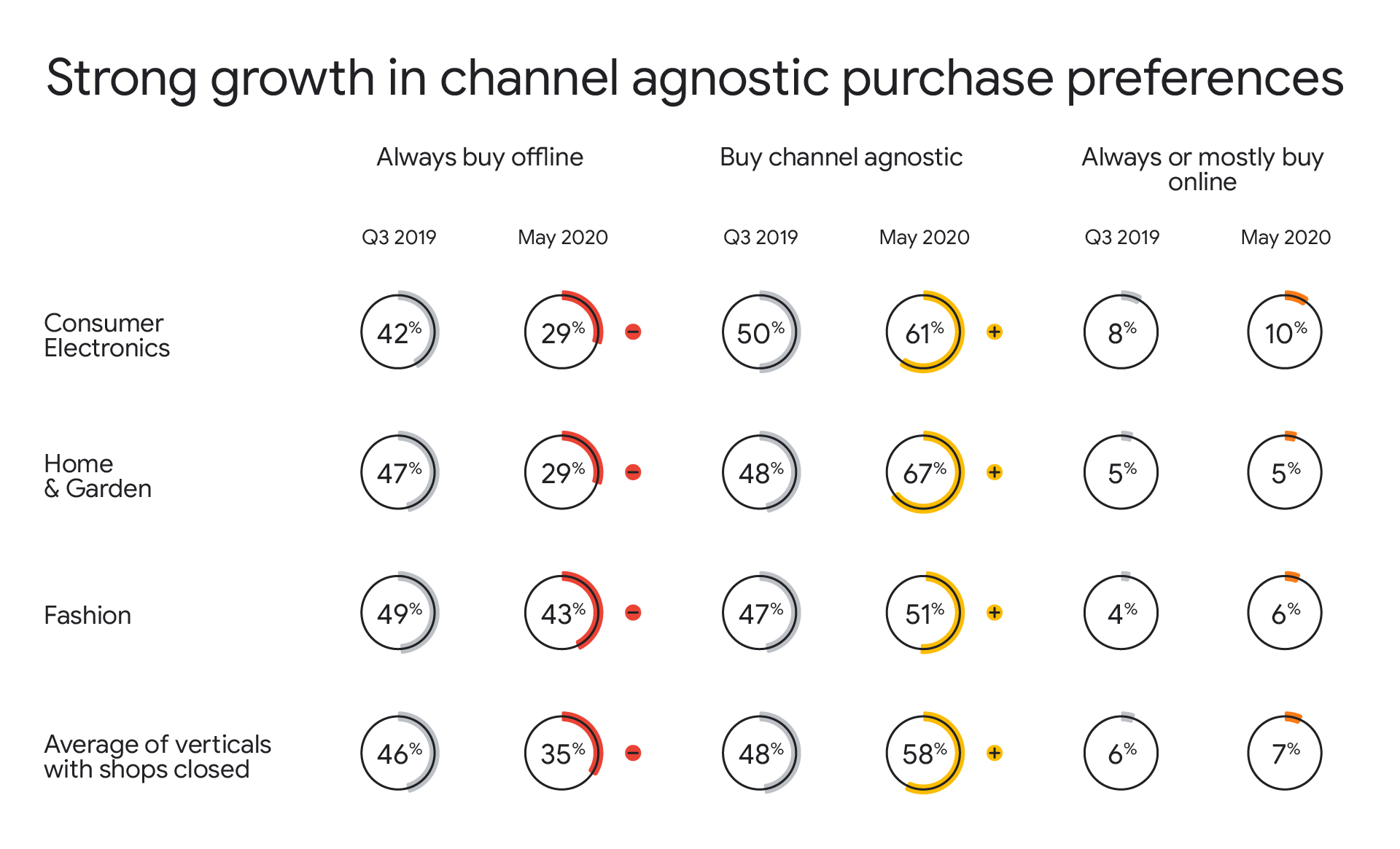 3. Shopping apps are on the rise
Thirty-five percent of all South African consumers now have shopping apps installed on their phone, compared to 30% in 2019. These apps are a mix of retailer and individual brand apps. Shoppers are most likely to have apps from verticals including consumer electronics (35%), home and garden (39%), and fashion (33%) installed.1
Action: Although purchases on mobile web outweigh those in app (58% versus 38% in 2020 respectively),2 downloads of shopping apps are rising, underscoring the demand for omnichannel options. This makes it worthwhile to prioritise promoting your app to drive downloads and adoption in the market. With shoppers' phones always by their side, an app can also offer unique opportunities for personalised marketing communications.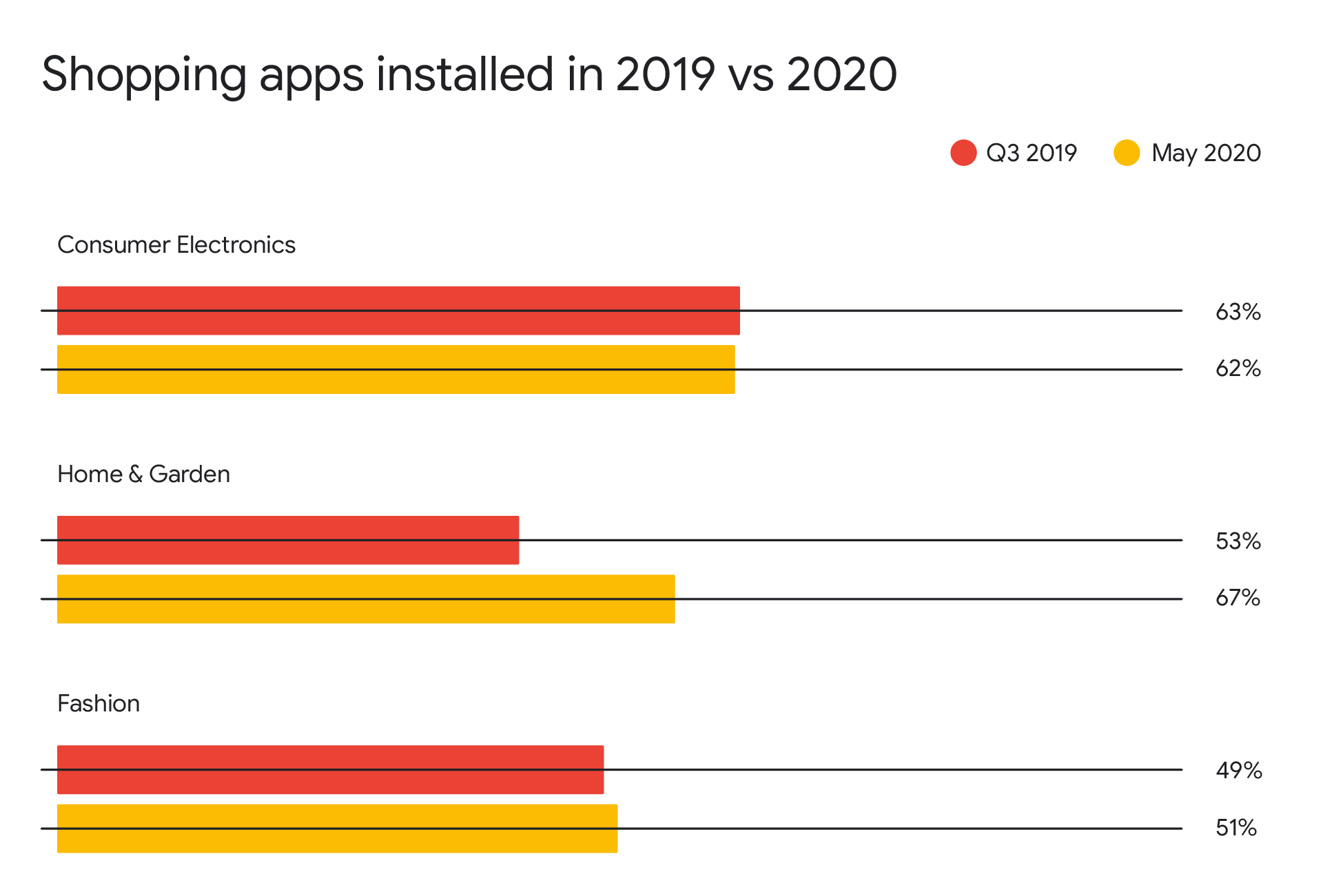 4. More online shopping does not always mean fewer pain points
As consumer shopping evolves and online to offline category dependencies have increased, the volume of pain points faced by online buyers in South Africa fluctuated. More consumer electronics and home and garden shoppers faced problems in 2020 than in 2019 (66% and 56% respectively),3 whereas fewer food and beauty shoppers experienced problems (67% in 2020 and 77% in 2019).4 The majority of pain points were caused by registration or login needed to checkout, lack of stock availability, or technical issues in the purchase process.
Action: Prioritise offering frictionless experiences. Consider allowing consumers the option to checkout as a guest. Ensure users' wish lists and baskets are synched to their accounts so information is available no matter which device they're on.
5. Search and video play a bigger role in online product research and brand choice
As they research their products online, shoppers have been using Search significantly more in 2020, across all categories. Retailer websites and apps as well as online product videos have also grown in popularity.
Action: Be helpful. Keep aligning offers, marketing tactics, and campaigns. Prioritise mobile friendly ad exposure experiences, across creative, website, apps, and Search. Give shoppers an additional reason to choose your products by driving presence with brand videos on YouTube.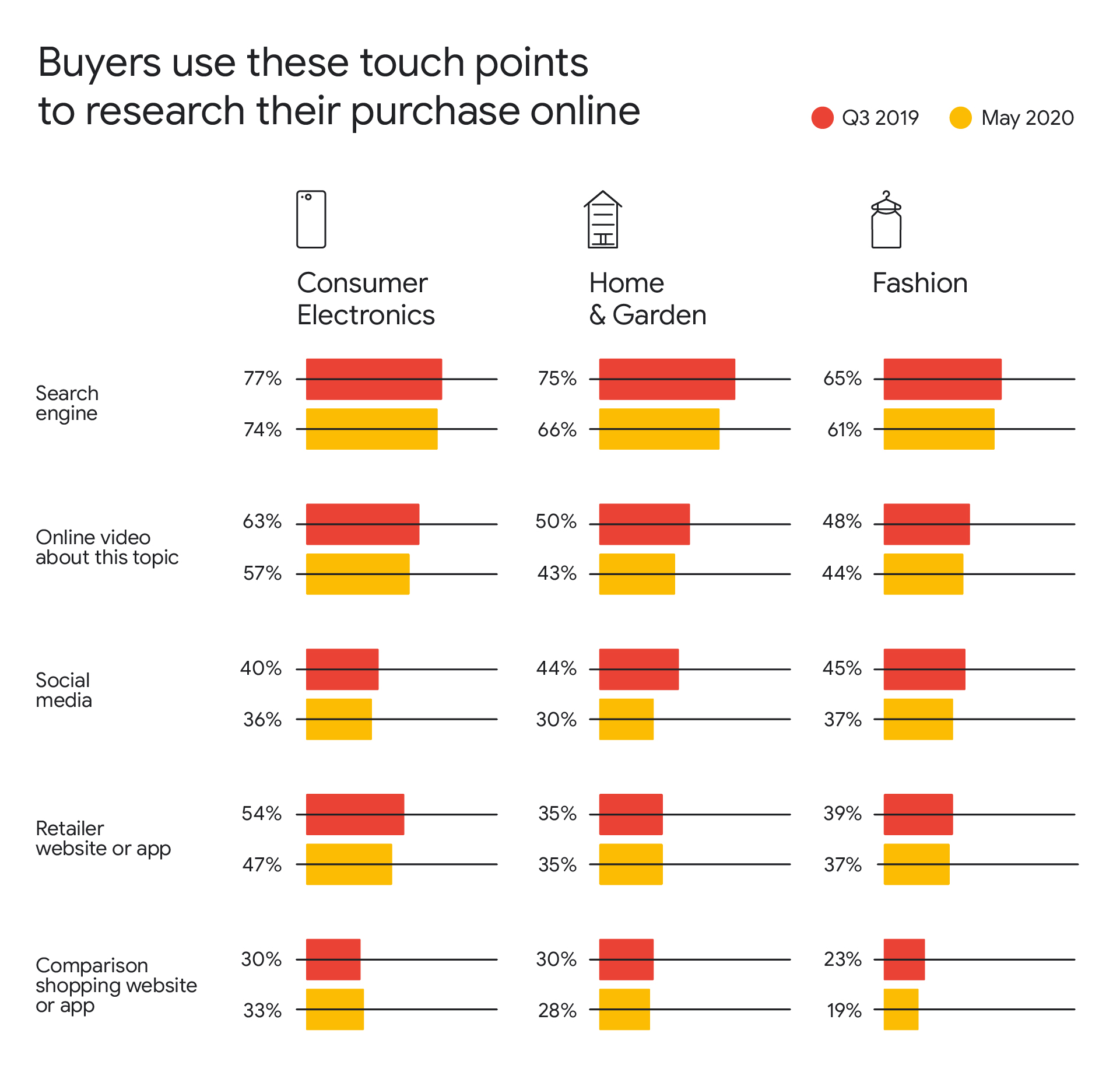 6. Loyalty is not guaranteed as consumers show affinity for trying new brands
COVID-19 has massively accelerated digital consumer trends, with consumers' shopping preferences shifting and buyers seeking out new products. South African consumers showed high loyalty to retailers who offered a convenient shopping experience in times of lockdown, whether the retailer was familiar to them or not. Will this have a lasting effect? That is yet to be seen, but there are leading indicators that this will be.
As the uncertainty and inconvenience caused by COVID-19 continues to have an impact on consumer behaviour, now is the time for retailers to be clear about their brand promise. Listen to your customers' needs, learn from their behaviour, and adapt your operations accordingly.
Consumers who bought new brands or tried new retailers in 2020 were not overly concerned about quality or recommendations from other shoppers. Instead, for shoppers in South Africa, convenience (40%), price (39%), and stock availability (33%) were at the forefront of purchase decisions, with speed (41%) being the most important factor of all.5
Action: Price can be a significant driver in getting consumers to try new brands or retailers. So keep an eye on your pricing, the timing of your offers, and put a high priority on highlighting brand USPs. Also, where possible, offer consumers convenient add-ons such as free and/or next-day delivery to increase the likelihood of a purchase.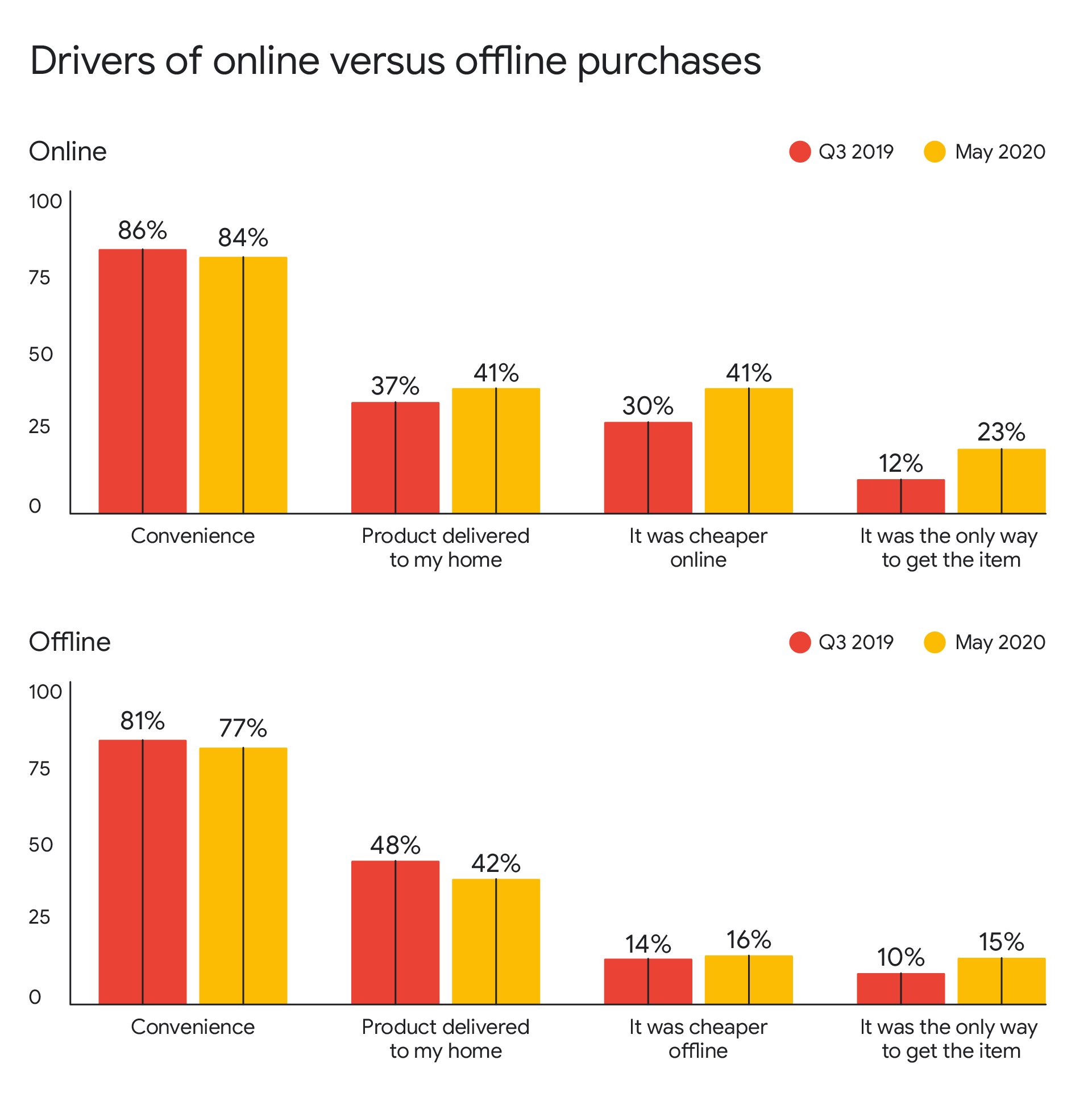 7. Brands are expected to care about sustainability and social issues
A brand's stance on sustainability or social issues is important to shoppers. Eighty-two percent of consumers said that they cared about at least one sustainability aspect. From fair working conditions and diversity and inclusion, to environmentally friendly production and avoiding harmful ingredients — the sustainability factors that impact a shopper's purchase decision are wide-ranging.
Action: Be transparent. Highlight your commitment to sustainability across your consumer-facing channels, and label your green products accordingly. Announce your plans for bolder commitments with a target date, for example, going carbon neutral across your stores by 20xx.