Herramienta
The Customer Journey to Online Purchase
de Resumen
En la actualidad, el camino del consumidor para la compra se ha vuelto más complejo.Antes de tomar alguna decisión online para la compra el consumidor se conecta con la marca mediante varios canales por varios días. Esta herramienta ayuda a entender el proceso de compra del consumidor para mejorar los programas de marketing.
Simply choose an industry, business size and region below, then use the data to uncover the moments where you need to be there and be useful.
Channels to the left tend to play an early and assisting role in the typical sale, while channels to the right are more likely to be the last interaction before a purchase.
Large businesses > 10K ecommerce transactions in 45 days. Medium 500–10K. Small < 500.
Channel Position on the Path to Purchase
Today's Customer Journey has Gone Mobile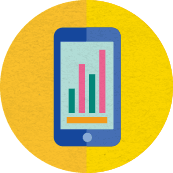 More and more, these moments across the customer journey are happening on mobile devices. Whether it's performing a search, opening an app, visiting a website or watching a video, people turn to their mobile device to get answers or take action. We call these Micro-Moments, and they are chances for brands to meet their customers at their moments of intent, when decisions are being made or preferences are being shaped. Consider four key moments that represent the full range of needs people have: I-Want-To-Know, I-Want-To-Go, I-Want-To-Buy and I-Want-To-Do Moments.
Your Guide to Winning the Shift to Mobile
Once you know how channels work together on the path to purchase, it's time to think about identifying what micro-moments means for your brand and evaluating your commitment to being there. To help along the way, we put together a complete guide with strategies, insights, and customer examples for mastering micro-moments.