When people shop, their smartphone is now their go-to advisor and assistant. For retailers, this means big opportunities to be there and be useful in shoppers' micro-moments. This introduction to a five-part series reveals the mobile retail trends shaping the industry and why they matter.
If we took a snapshot of the shopping experience a decade ago, it would look something like this: When looking for ideas and inspiration, a shopper would either go online, browse a catalog, or walk the store aisles. When in-store, a shopper would learn more about a product and either head to the cashier or head home to buy online. The point is that a shopper interacted with channels independently. But the rise of mobile has changed this picture.
What's different today is that even though this behavior still happens, shoppers are omnichannel: Six in 10 internet users start shopping on one device but continue or finish on a different one,1 and 82% of smartphone users say they consult their phones on purchases they're about to make in a store.2 They get ideas, look up information, and make decisions, all from their smartphone anytime, anywhere.
How consumer behavior on mobile is shaping retail trends
Consider this: Foot traffic in retail stores has declined by 57% in the past five years,3 but the value of every visit has nearly tripled.4
What's happening? Mobile is driving local.
People use their smartphones before heading in-store—to gather ideas, research products, and then search for local information. It's no wonder that searches for "near me" have doubled in the past year.5 
But research isn't the only way mobile is changing the shopping experience. Shoppers buy on mobile, too. A person today might make a buying decision about a $15 tube of sunscreen, a $300 camera, or a $3,000 handbag on a smartphone while on her commute to work, as she walks the dog, or waits to pick up her son in the carpool line. Time on site for mobile users in the U.S. is down 5% year over year,6 however retail's share of online purchases is still growing. Thirty-four percent of online retail purchases now happen on mobile devices.7
The bottom line: In this mobile-fueled shopping landscape, the retailers that thrive see the opportunity to be there and be useful for shoppers in what we call micro-moments—those intent-rich moments when people turn to their smartphones or other devices to know, go, do, or buy something.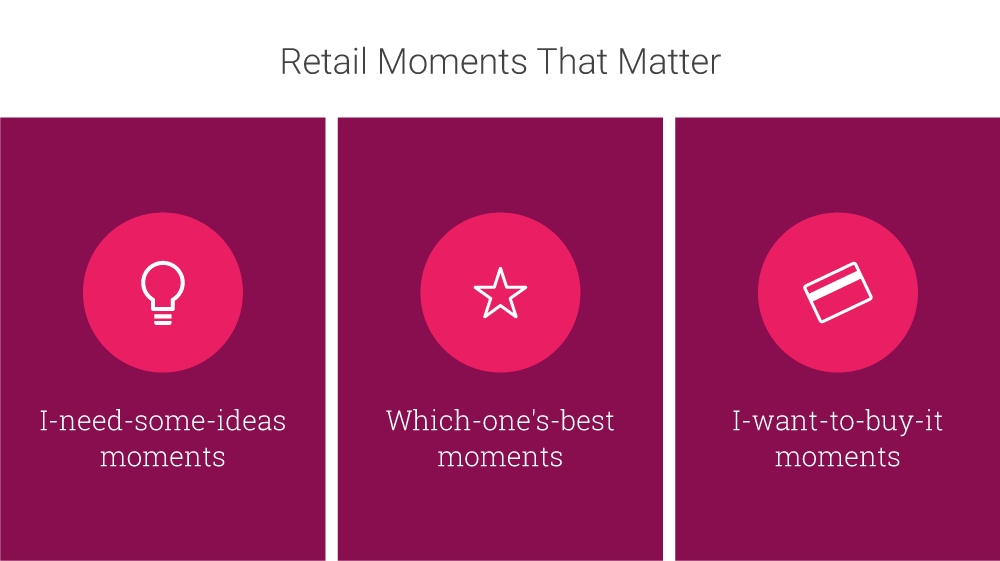 The retail moments that matter
Shopping micro-moments often start when people have a need or desire to purchase a product and they begin thinking of ideas. This leads to research and eventually purchase. These moments tend to fall into one of three categories:
I-need-some-ideas moments happen when people have general awareness of the product category they're interested in, such as living room furniture, but they haven't yet narrowed down their choices to an exact product.
Which-one's-best moments—a.k.a. consideration moments—happen when people turn to their phones in short bursts of activity to compare prices, brands and specs, and read product reviews from trusted sources.
I-want-to-buy-it moments happen when the research is done and it's decision time. People make a choice about which brand or retailer to buy from, and whether to buy online or in-store.
With these moments in mind, how can you ensure that you're there for shoppers?
The first steps to being there and being useful
What micro-moments mean for retailers is this: It's less important for a shopper to be present in-store than for the store to be present wherever and whenever a shopper needs them. You've got to figure out new ways to show up with helpful information when those moments occur, whether it's 2 p.m. or 2 a.m. There are two ways to do this:
Be there: Identify the most important micro-moments and commit to being there, whenever and wherever a shopper is searching, especially on mobile.
Be useful. In a consumer's moment of need, meet them by providing valuable information—whether it's product reviews, video tutorials, or the ability to purchase right away.
The first step in being there and being useful is understanding and acting on shoppers' intent and their context. Intent is what the shopper wants in any given moment (Is she looking to browse or to buy?), while context includes her location and the device she's using.
If you marry intent and context with what you already know about your shopper (Has she visited your site in the past? Is she a loyal customer?), you can start being there and being useful in the right moments.
By targeting on demographics alone, you may miss out on valuable consumers who may be in market at that moment. Consider this example: If you sell car seats and you target moms alone, you'd be missing out on relatives or friends who might be in the market to buy a car seat as a baby shower gift. You may also be wasting marketing dollars by targeting moms who already own a car seat or women without children.
It's less important for a shopper to be present in-store than for the store to be present wherever and whenever a shopper needs it.
Let's look at one retailer that has put intent and context at the center of its shopper experience. Target saw that 98% of its guests were shopping digitally and that 75% were starting on mobile. But in categories like patio furniture, its in-store and online teams were still operating and marketing separately, even as more than 50% of their sales in the patio category were coming through Target.com.
The company looked at it from its customers' point of view. Guests might search on smartphones for patio furniture, then see completely different merchandise when they came into their local store. So Target merged its online and offline marketing and merchandising teams into a single unified patio team that was mobile-first. It decided what products and signage to feature in-store based on digital demand.
Target also ran Google local inventory ads to show customers on mobile the exact patio furniture that was available in the store nearest them. As a result, patio revenues in the stores in which Target made this change have been dramatically outpacing the stores in which the change has yet to be made.
In addition to understanding intent and context, it's crucial for retailers to embrace the latest trends and engage with shoppers in new ways. In this five-part series, we'll share:
Consumer trends that define each of these retail micro-moments.
Snapshots of real shoppers' purchase journeys.
Actions retail marketers can take to be there and be useful in each micro-moment.
Success stories from retailers using micro-moments strategies. 
Read on for the next article in this series.