Google's VP of Marketing for the Americas Lisa Gevelber explains why "near me" searches are no longer just about place, but about time and things as well.
Something I'm repeatedly surprised by is how people adapt the technology they use to their own needs.
I've written before about the use of the search phrase "near me" because it's a crucial bit of information for advertisers. If people are searching for something near them, that's a pretty strong signal of intent. Last year, we noticed that smartphone users were dropping location qualifiers like ZIP codes and neighborhoods from local searches. Why? Because they assume the results will be automatically relevant to their location thanks to their devices.
And people have continued to adapt to advances in search technology. If you want a crystal clear example of purchase intent, "near me" mobile searches that contain a variant of "can I buy" or "to buy" have grown over 500% over the last two years. These include things like "where can I buy stamps near me," "places to buy scrubs near me," or "where to buy vinyl records near me."1

"Near me" is no longer just about finding a specific place. It's now about finding a specific thing, in a specific area, and in a specific period of time.
That thing I need
Let's face it. When it comes to shopping searches, we rarely begin with nothing in mind. We might be looking for ideas or inspiration. Or we might be looking to zero in on how much something costs. Sometimes we know exactly what we need, but aren't quite sure where to get it.
People now expect search technology to find the places in their area where they can get what they need. This more-informed shopper no longer has to waste precious time driving around town to multiple stores.
You might typically associate a "near me" search with something like "restaurants near me" or "gas station near me." But we're seeing growth in "near me" searches for very specific items, from "cowboy boots near me," to "where to get a facial near me," and "tarragon near me."
A few other examples. In the past two years, we've seen: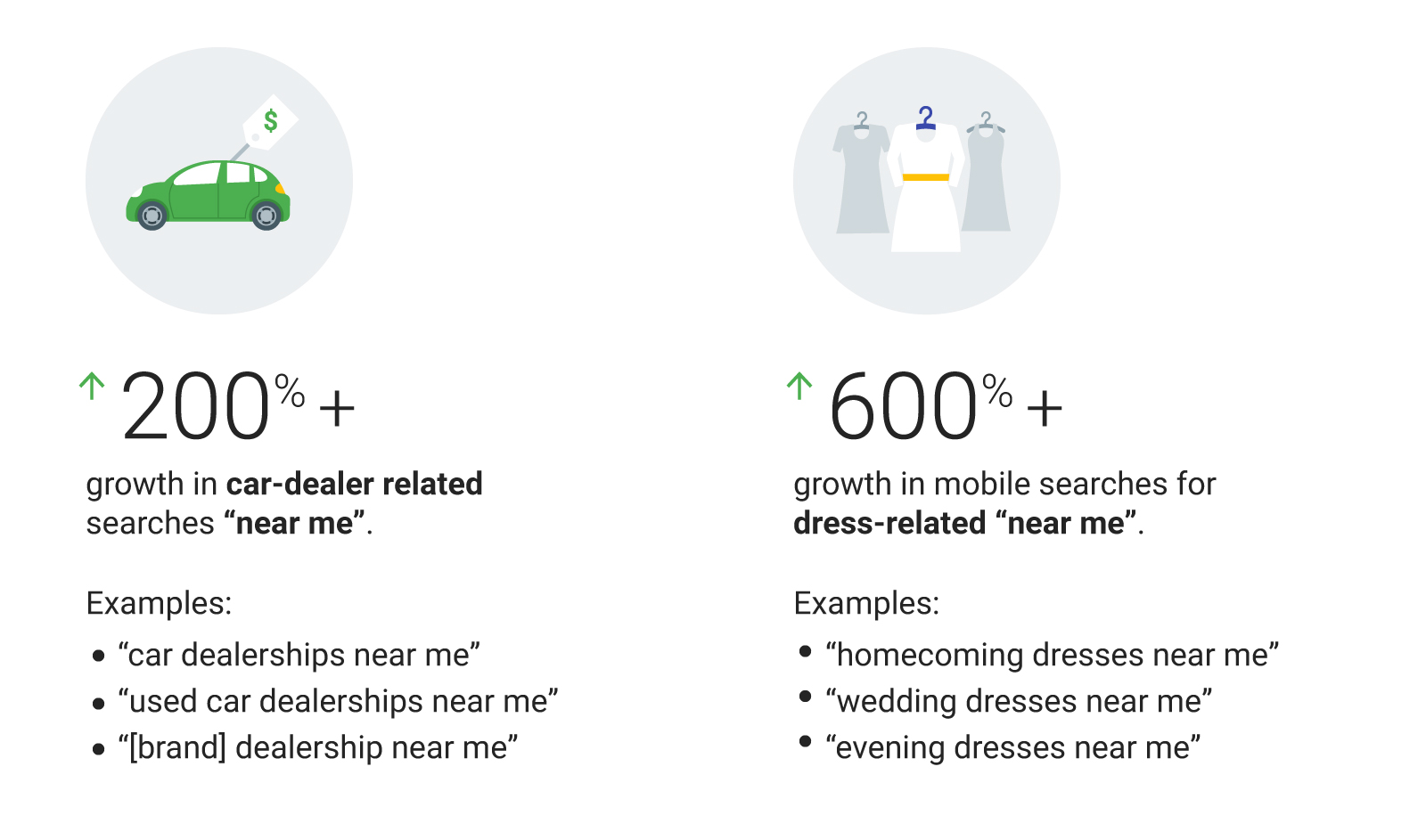 Right here, right now
Whether it's a jar of spices or a restaurant, today's impatient consumers want things in the moment they need them—which is typically "now."
I've written about this impatience before. From on-the-fly travel plans to businesses "open now" to same-day shipping, people are using search to find answers to their immediate needs. And more and more, we're seeing this time sensitivity combined with local intent.
In the past two years, we've seen:
150%+ growth in mobile searches for  "___ near me now" (for example, "food near me now," "gas station near me now," and "delivery near me open now").2
900%+ growth in mobile searches for  "___ near me today/tonight" (for example, "open houses near me today," "cheap hotels near me tonight," and "movies playing near me today").3
200%+ growth in mobile searches for "Open" + "now" + "near me" (for example, "restaurants near me open now," "stores open near me right now," and "pharmacy near me open now").4
Growth in "near me now" searches

It's clear that expectations for finding exactly what people want, exactly when they want it, are growing.
You've probably done a version of these searches yourself. And when you type in something like "open now near me," what you want is hours, a specific location, and available inventory, not a slow-to-load website that buries the relevant information.
The challenge for marketers is to make sure you're giving people the answers they're looking for as quickly as possible. And the opportunity is capturing their consideration—and the sale—by doing so.