Picture this: You're remodeling your bathroom and head to the store to pick up everything you need. Standing in the store aisle, you're overwhelmed by the sheer number of faucets, not to mention the long list of installation details. You're pretty sure you don't need those extra screws, but they do look familiar. You think one brand of toilet fits your needs best, but spot a new brand you've never heard of.
Instead of going back home to do more research, you pull out your phone to … watch a video? For more and more shoppers, video is becoming indispensable when they're ready to buy. In fact, more than 55% of shoppers globally say they use online video while actually shopping in-store.1
We uncovered this surprising shopping behavior through in-depth quantitative and qualitative global research. We surveyed over 24,000 people in 10 countries and conducted in-person interviews with 125 people to better understand how they use online video.2
This research revealed how people all over the world are using video in interesting ways at the end of their shopping journeys. Here are the top three use cases for video in the store aisle.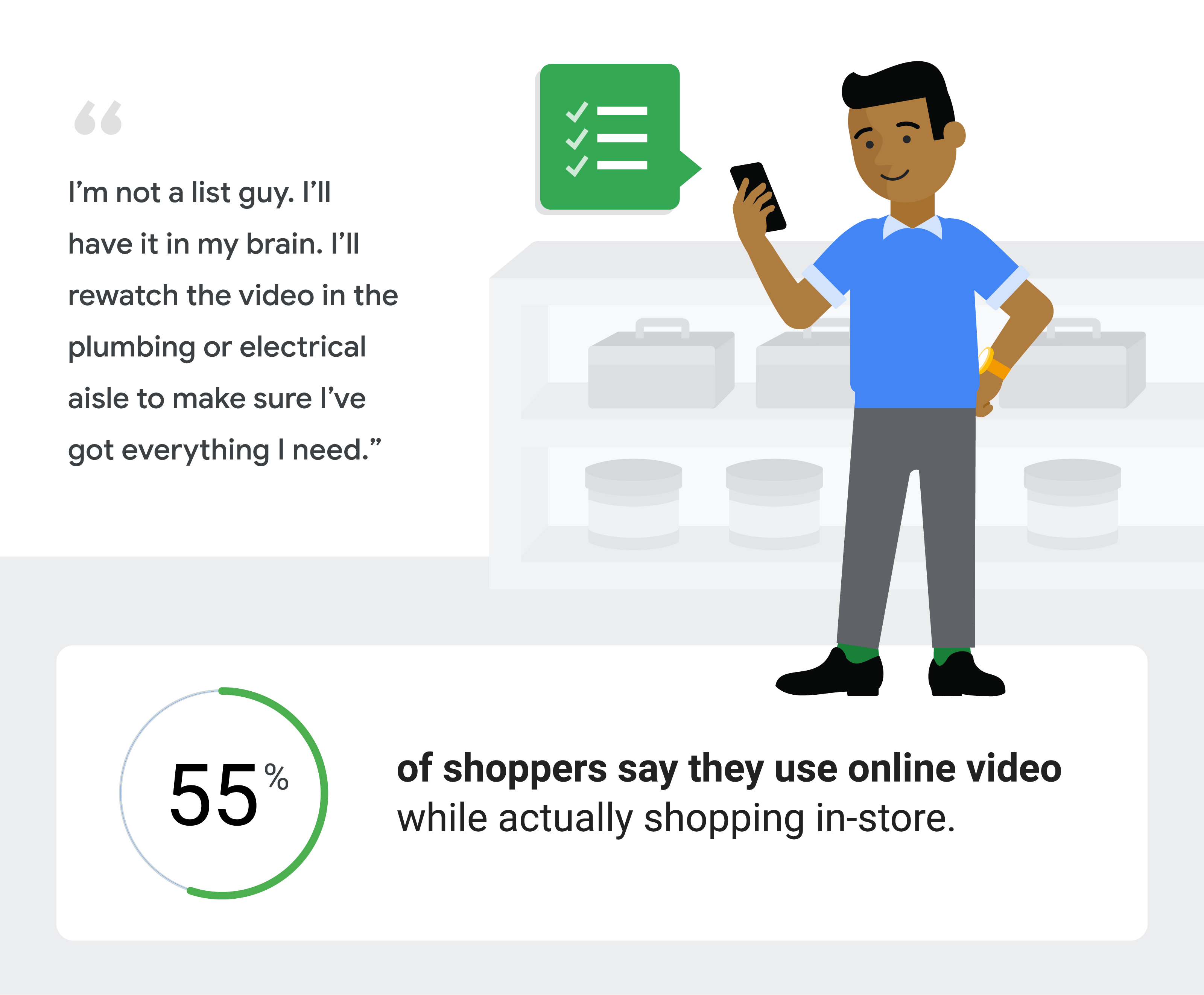 Video is a virtual shopping list
One surprising use case we saw again and again was that some people are foregoing handwritten or even digital shopping lists for video. "I'm not a list guy. I'll have it in my brain. I'll rewatch the video in the plumbing or electrical aisle to make sure I've got everything I need," one person we interviewed explained.
They're standing in the aisles of hardware stores, craft stores, and supermarkets and rewatching the videos that inspired them to be there in the first place. Videos like this tres leches cake tutorial from Binging with Babish, and these school-inspired DIY ideas can remind people what they came to the store to buy. "If I go to a store and forget what I need, I pull up the video to see the ingredients. I pull to the side, watch the video, and get what I need," said one person we spoke to.
Sometimes it's even about trying to remember a specific creator tip. "I'll look back at a video to remind myself which product a vlogger spoke about. I need to find the exact moment they said, 'This is my recommendation,'" one person told us.
Video gives people confidence
When people need more knowledge on a product or if they aren't sure where to find something, they'll reference content like this Lowe's video on picking paint colors. "Every time I'm at an art supplies store, I rewatch videos to look at different kinds of paints. I show employees the YouTube videos and say, 'This is what I'm looking for.' I'll ask if they carry it," someone we spoke to said.
We also saw that being able to reference a creator's experience or even get a quick tutorial, such as on how to talk to a mechanic, gives people confidence and helps demystify complex products or topics. "YouTube has taught me that I'm capable of doing what I didn't know I could do," said one person we spoke with. "I know a little bit more about what the mechanic knows, for example, and it makes me feel more comfortable."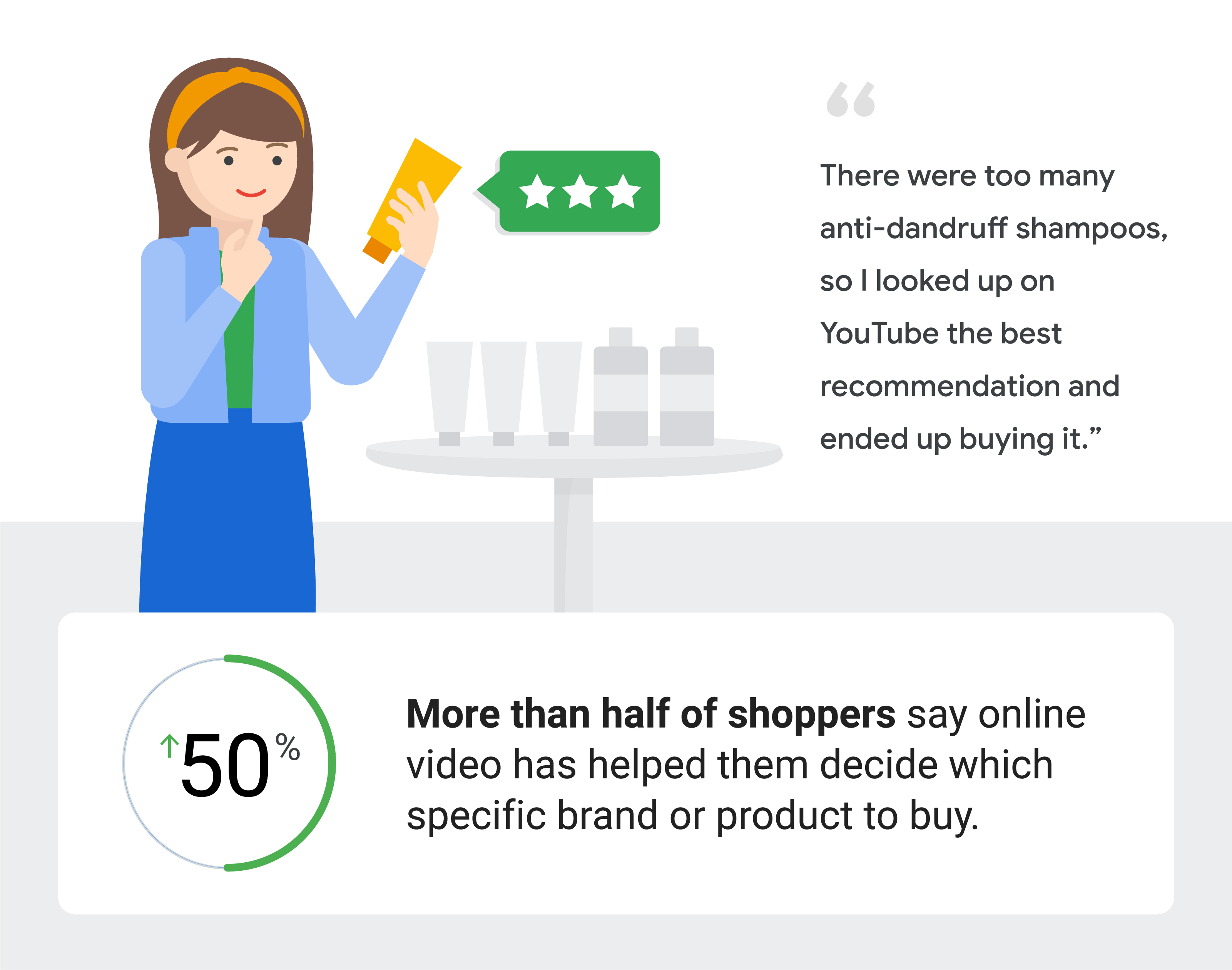 Video is the tiebreaker
People reference video in-store when they need to make that final call on which brand or product best suits their needs. The quantitative research showed us that more than half of shoppers say online video has helped them decide which specific brand or product to buy,3 something we also heard in our interviews. "I usually buy a certain brand, but it hasn't really worked as well. I was out shopping, but there were too many anti-dandruff shampoos, so I looked up on YouTube the best recommendation and ended up buying it," one person we interviewed told us.
We heard something similar from another person we spoke to: "While I was in Home Depot the other day, I was on YouTube looking up drill sets to see which one was better and which one burned out quicker through stress tests."
What it means for brands
While shoppers love to watch authentic reviews from creators, there's an important role for marketers to play as well. Think of ways your brand can show up to meet these in-the-moment needs, whether it's through ads that spark ideas and inspiration or through more in-depth content to answer questions and help people along their path to purchase. Research-hungry shoppers may reward you with their business and their loyalty.