Digital marketers are under serious pressure right now. Faced with an infinite number of new platforms and technologies — virtual reality, artificial reality, the internet of things, and voice-enabled devices, to name but a few — they're having to be more strategic than ever to reach and engage their customers.
So far, smartphones have emerged as the obvious go-to route for many brands to connect with their consumers. On paper it makes sense: there are 4 billion devices out there, generating half of the world's web traffic.
But there's a problem: mobile conversion rates fall behind desktop That might sound surprising on the face of it, especially since businesses like Uber, Spotify and Pinterest are succeeding with mobile-first, or even mobile-only, models.
And consumers love mobile, right? Kind of. The reason for this paradox is poor mobile user experience (UX). To address the problem, digital marketers must accept a core truth: mobile consumers are 'task loyal'. Their main goal is getting things done, not waiting for a site to load.
Think about how mindsets have changed in the last years. Many watch videos on faster-than-normal settings and listen to podcasts on 1.5X speed1. They're in a hurry. So if you're hoping they'll wait longer than 3 seconds for a mobile site to load up an all-singing-all-dancing brand experience, you may be disappointed.
This need for speed makes mobile UX the biggest hurdle — and biggest opportunity — for marketers today.
Three, two, one, gone
How fast is fast enough? A mobile site taking longer than 3 seconds to load loses 53% of its visitors — and a single second delay in load time can reduce conversion rates by 20%.2
Some brands have already stepped up and started making improvements to their mobile site speed, and the results have been dramatic.
The fastest VW campaign ever
Volkswagen is a great example. When launching a new line of their bestselling Tiguan SUV in Spain, they tested an Accelerated Mobile Pages (AMP) version of the campaign's landing pages and display banner against traditional HTML versions. AMP is an open-source framework that creates faster-loading web pages that prioritise the user experience.
The campaign's banner ads also appeared in the digital version of El Pais, Spain's leading newspaper. El Pais already used AMP technology on its site, with banner ads loading in less than 2 seconds on average.
In essence, they had created something groundbreaking: the world's first end-to-end AMP campaign.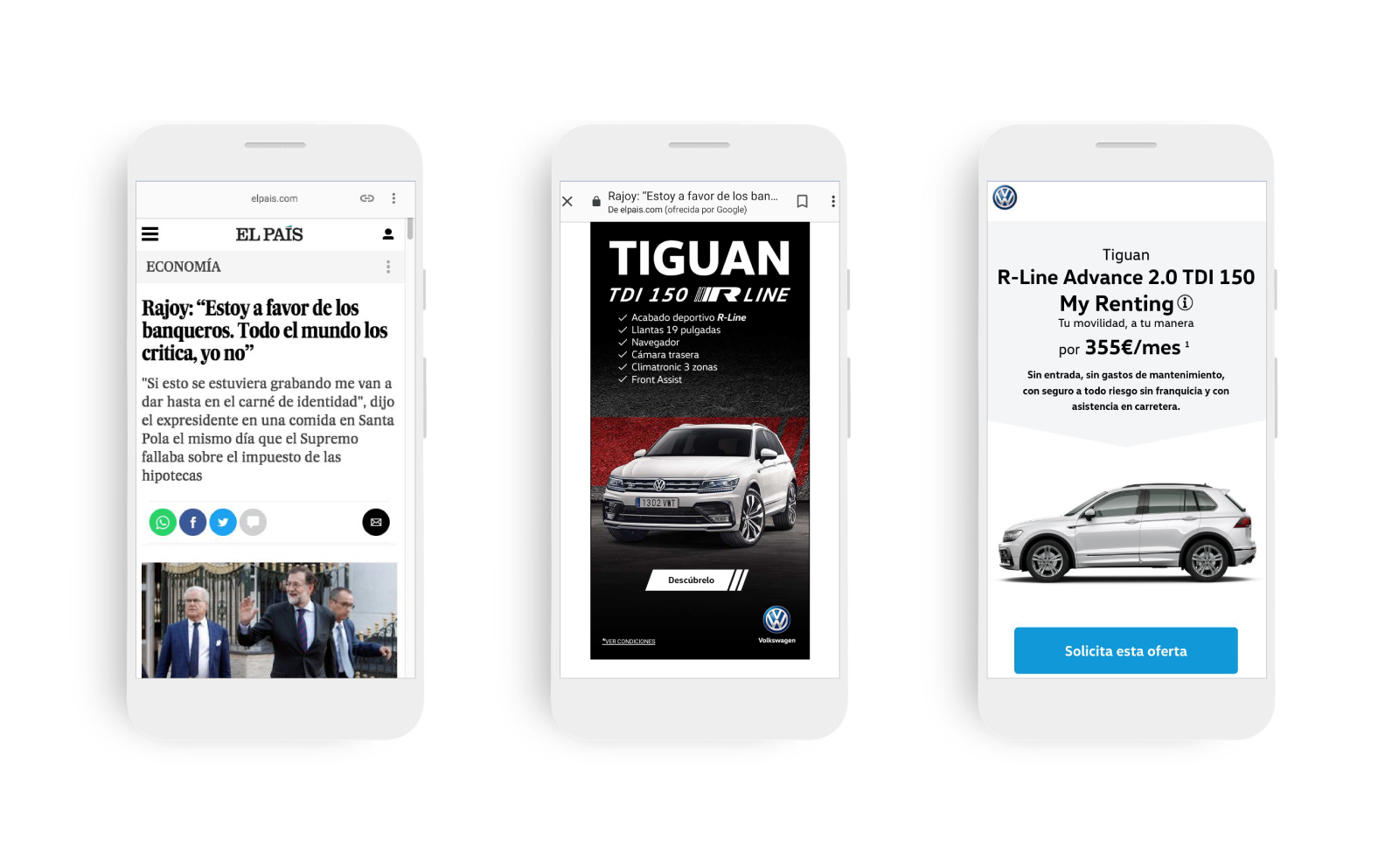 So how did it perform?
After collecting data from more than 2 million mobile impressions made in October 2018, the AMP pages and ads generated an 87% higher click-through rate (CTR) and over 80% more landing page visits. Conversions were also 76% higher versus standard HTML pages and ads, with a 43% lower cost per action (CPA).
If you're not fast, you're last
While there's no silver bullet to help digital marketers navigate the maze of new consumer platforms and tech, one thing — for now at least — is certain: consumers do love mobile, but they love fast mobile best. That means digital marketers must work hard to achieve the right balance between awesome creative, unswerving functionality, and blisteringly fast load times.
A useful place to start is our mobile speed test. It tells you how fast your mobile site takes to load, gives tips on where to improve, and also reveals the financial impact a faster site can have on your business.