Steven Rampersad and Hamel Soni are at the heart of all things automotive at Google U.K. Here, they explore the burgeoning electric vehicle sector — and the valuable lessons it provides for any marketer navigating change.
The auto industry is undergoing a huge transformation. With new technology, new regulations and rapid consumer change, more and more people are seeing the benefits of going electric — at the expense of costly, polluting internal combustion engine (ICE) vehicles.
By 2030, the Advanced Propulsion Centre (APC) expects 100% of the new cars sold will have some form of electrification,1 while stringent EU regulations on emissions, starting in 2021, will further accelerate the need for manufacturers to transform their fleets. Yet where there are big challenges, the opportunities of electrification are even bigger: £24 billion in the U.K. over the next five years, the APC says.
The industry is undergoing change on an enormous scale. And when that happens in any sector, understanding consumer segments — where barriers and opportunities lie within them — is crucial in creating effective marketing strategies. Using automotive electrification as a perfect example, here's how you can do just that.
Understanding the different consumers
Unsurprisingly, the battery electric vehicle (BEV) consumer is driven by different needs than the traditional car buyer. A greater interest in cost or range-related searches, for example, is just one of the myriad ways in which they differ.2
To get a better sense of their behaviours and drivers, we need to understand their position in the funnel. For that, we've identified five buying stages that translate into consumer segments, each requiring its own communication strategy and tailored messaging where possible.
Brave pioneers — BEV owners
Close adopters — In-market for a BEV
On the fence — In-market for any car, including a BEV
The masses — Not in-market for a BEV, but willing to learn more
Rejectors — Not interested in purchasing or learning about BEVs
As you can see from the range of consumer sentiment across all of these groups, there's a clear spectrum where we go from selling the model of car ("close adopters") to selling the overall BEV category ("the masses").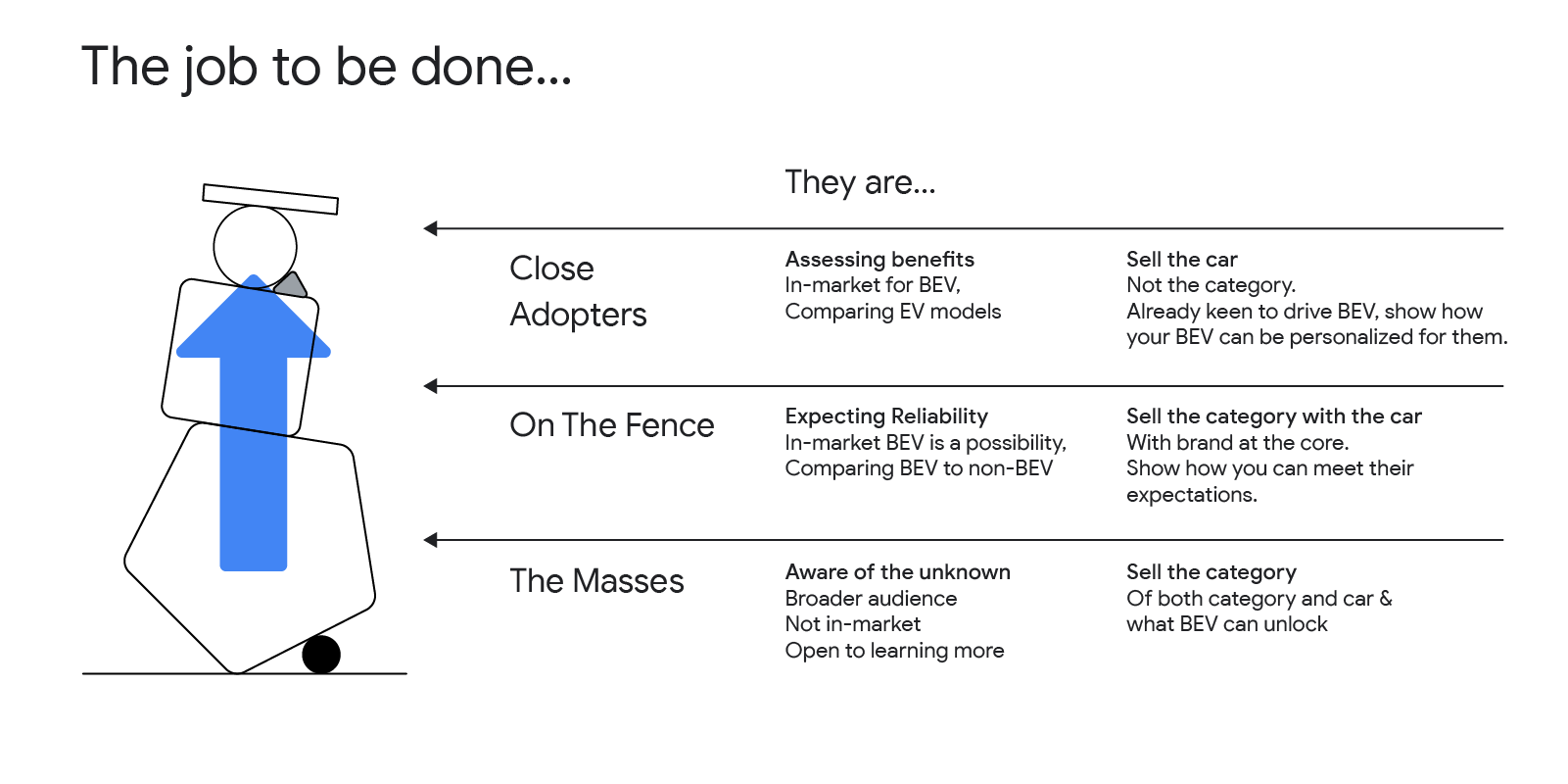 Using consumer segmentation frameworks to change behaviour
How do we change customer behaviour across each of these groups? First, we have to address the barriers and opportunities in each segment. Here's where the data comes in.
A recent Google survey highlights that range/battery life and charging availability are still key barriers across the U.K.3 In 2019, searches containing terms such as 'range' or 'battery life' grew over 70% and 90% YoY respectively.4 At the same time, both purchase & financing and cost of charging searches, containing words like 'charging cost' or 'grant', each grew over 120% YoY.5
These behaviours change by segment — understanding just how they do that is important for growing the category further. For example, both cost of running and performance are valued to a similar extent across all segments,6 but environmental impact and regulatory incentives increase in influence the closer people get to purchase.
'As consumers research and learn more about the BEV category, the more questions they have'
There are geographic differences too: the U.K. has the fastest growth in regulatory incentive-related searches, compared to countries like Germany, with +115% YoY per capita.7 But there's still a job to be done in making people aware of these incentives, since more than a third still don't know that they even exist.8
As for barriers? Battery life and charging availability are key concerns across all segments, while issues around performance steadily decrease with rising intent to purchase.9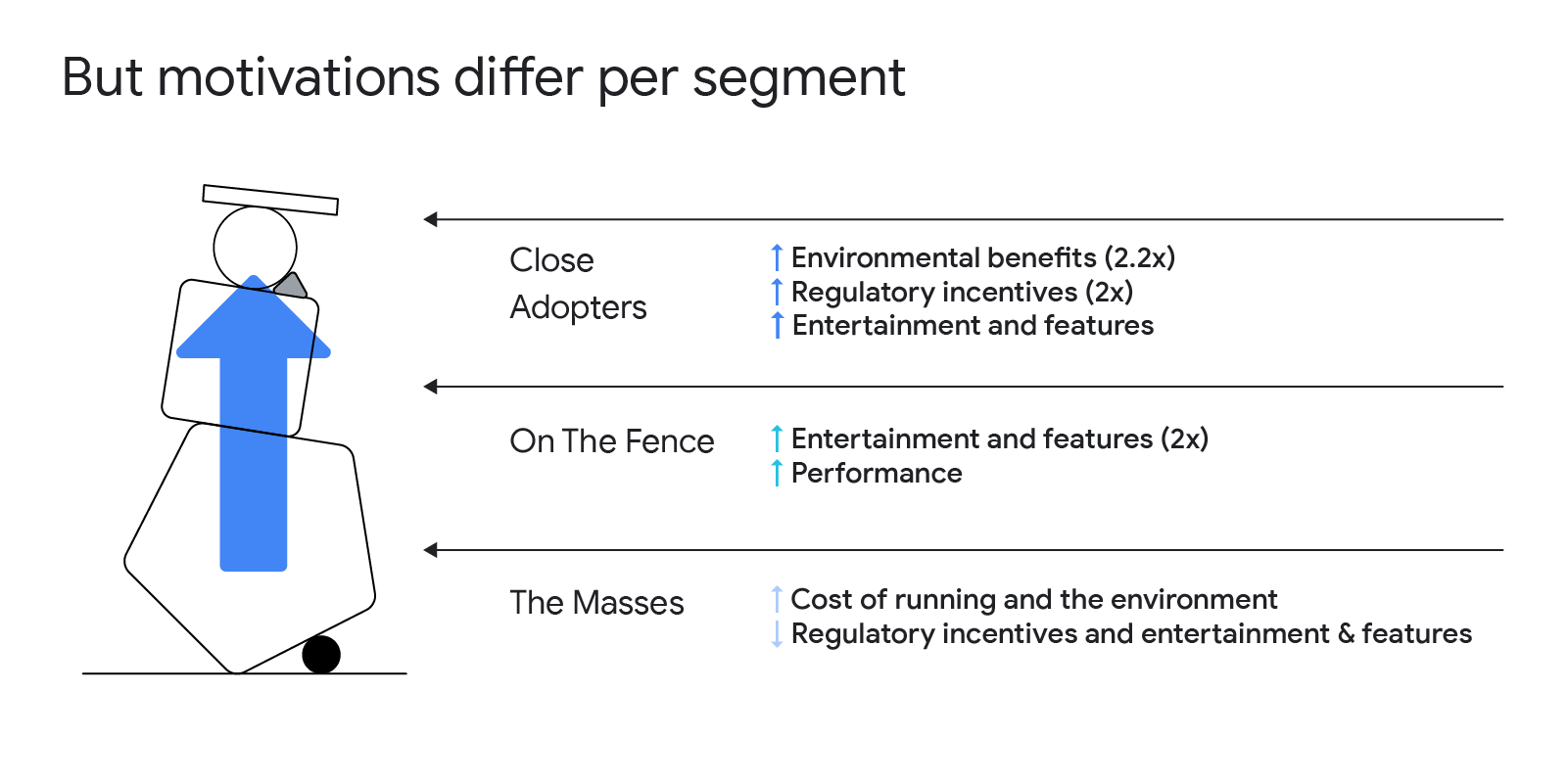 It's clear there's both real and perceived complexity to researching BEVs. Paradoxically, as consumers research and learn more about the category, the more questions they have. Therefore, car manufacturers need to focus on simplifying and reassuring consumers throughout the entire journey.
Consumer segmentation and the opportunity for marketers ahead
This is a year like no other. The crisis has had an impact on every industry, and the automotive sector is no exception. However, the main barriers and opportunities did not show any shifts, with BEV searches in each growing in June and July over 20% YoY.10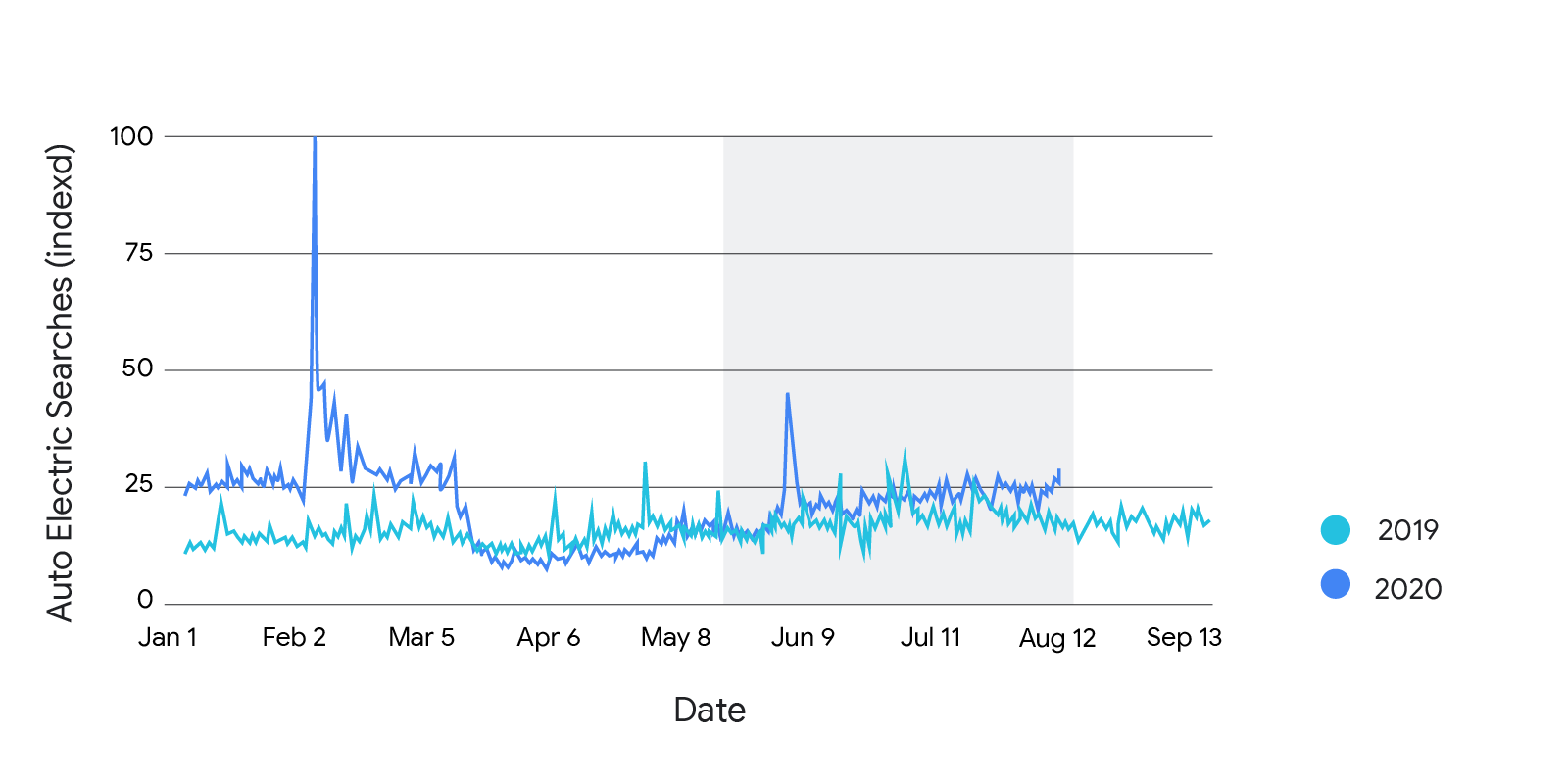 Delving deeper into this data, we can see that 80% of all BEV searches in the U.K., across all segments, are branded.11 Still, to connect effectively with consumers in each buying stage requires more understanding of the differences than the similarities.
Let's start by understanding how the different BEV searches translate to each part of the funnel. Generic searches, such as 'best electric car' (+80% YoY), can be identified as more upper-funnel search behaviour. By mid-funnel people are comparing different brands ('brand + electric' searches +60% YoY).12 Finally, at the bottom of the funnel, consumers are weighing up different models — with model-related search interest up 60% YoY.13
The key to success — and a future intent to purchase — lies in connecting with those who are moving further down the funnel to "on the fence", which makes it critical for marketers to link the brand name to the electric category.
Reinventing brand positioning is also highlighted by McKinsey & Company as the first step in successfully going to market with a BEV.14 The next? Making sure to address the key barriers and opportunities of each consumer segment, then tailoring your messaging accordingly. Do that, and industry transformation can turn from a challenge to a formidable opportunity.