Consumer interest in wellness has long been tied to the seasons. But for all the persistence of "new year, new you" headlines, recent Google Trends analysis suggests that our desire for self-improvement is extending beyond the typical January peak, creating a range of 'always on' behaviours.
Our analysis indicates there's been a broader, more inclusive step change in consumer behaviour around wellness and connected trends. And it's a shift that appears to go far beyond the more immediate effects of the pandemic, with potentially a long-term and far-reaching impact on the products and brands we buy.
We've condensed our extensive research into five learnings to illustrate these changing trends, with the associated actions marketers can take to stay ahead.


1. Consumers can no longer be treated as beginners by default
There is a sustained interest in wellness over 2020 and into 2021, growing 21% year on year.1 The year-long uptick in health and fitness search interest means that retailers and brands need to be smart about how they approach related categories.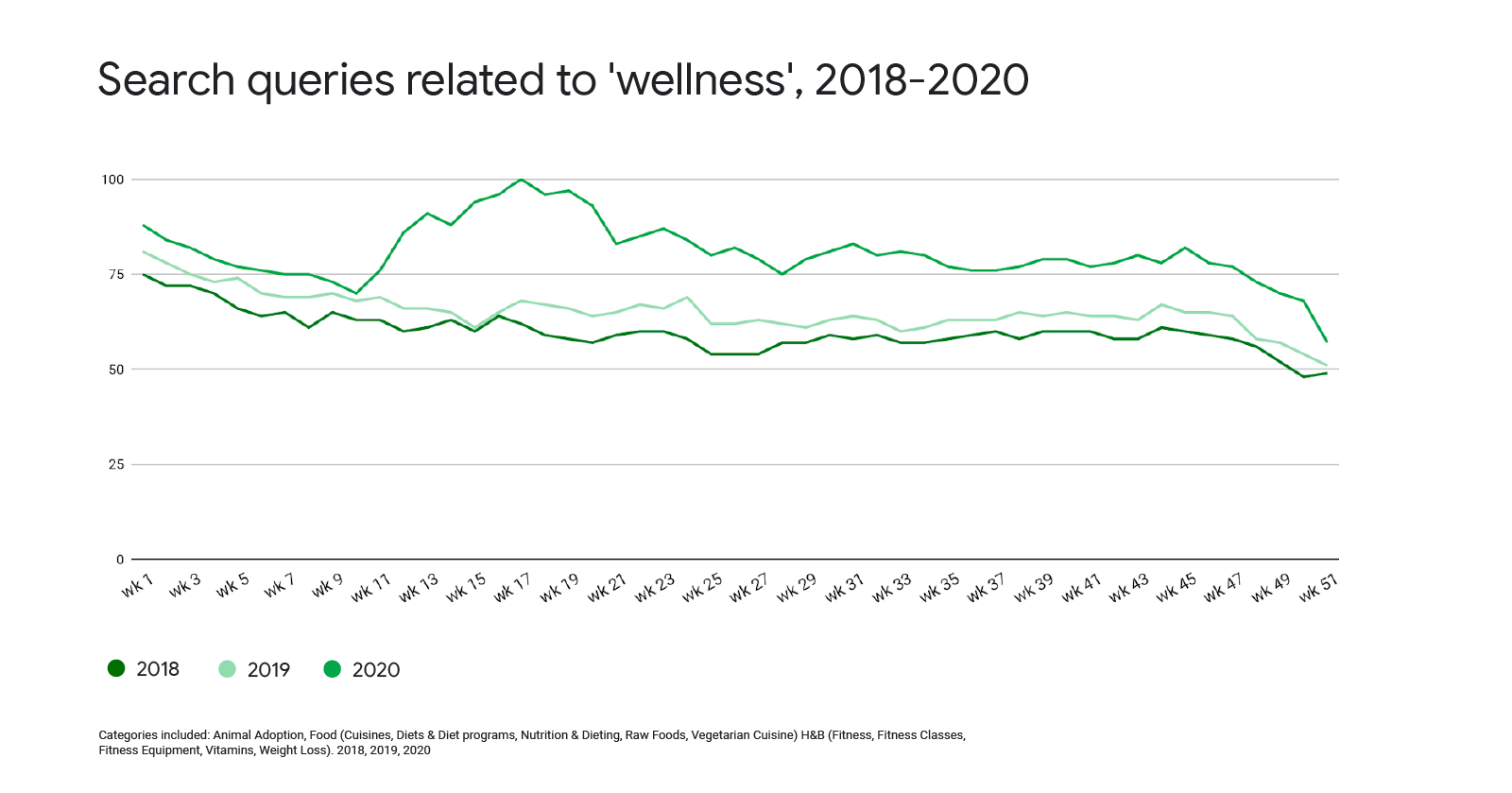 Consumers can no longer be treated as beginners by default. Many may have already made their first steps into new habits and are now in the market for additional, or more advanced, products to support their new behaviours.
Brands can benefit here from the chance to connect with consumers throughout the full lifecycle of their products, encouraging repeat purchases and building long-term brand value.
2. Interest in wellness and associated trends stretches beyond London
When looking at demand per capita, search interest in sustainability is higher in cities such as Bristol and Manchester than in London. Less urban areas and smaller cities such as Brighton, Cambridge, Oxford, and Exeter are also leading the way.
Analysis from McKinsey supports the idea that food and lifestyle trends are extending well beyond the capital, with 50% of U.K. adults now considering themselves 'conscious eaters'.2 Marketers would be doing themselves a disservice in thinking that wellness and associated food and lifestyle trends are seasonal and purely London-centric.
3. New cultural norms are impacting our food choices
Wellness has found its way into the mainstream and, by proxy, our shopping baskets. We're seeing growth in search interest for shoppers buying 'vegan meals' (+58% YoY) and cooking 'vegan recipes' (+40% YoY) at home.3
What's more, this is across the spectrum of U.K. supermarkets — from premium outlets to discounters. All are experiencing strong growth in search interest related to vegan foods.
This data, when seen together, points to a wider shift in cultural norms and choices around food across consumer segments. And, with the majority of veganism searches still being generic, there's an opportunity for brands to align themselves with growing areas of interest in the category.
4. The role of products in wellness journeys is changing
Currently, community-led conversation is driving wellness trends in many categories. Marketers should consider how they can add value here by adapting their content strategy to meet changing consumer needs — and even rethinking the role their products might play in people's lives.
Take, for example, the beauty sector. Shoppers are increasingly using skin care routines to manage their mental health, often turning to YouTube beauty vloggers for guidance. According to Mintel, 45% of U.K. 16- to 34-year-olds say reducing stress or anxiety is the reason they've been increasing their beauty and personal care activities during the pandemic.4
5. Brands can help consumers take action
Across the board, in topics such as exercise, self-care, and veganism, search data indicates consumers are moving away from the learning phase to one of action.
While search interest in 'What is a vegan?' is down (-26% YoY), more specific, active, queries — such as 'Best vegan protein powder' (+55% YoY) — are on the rise. On YouTube, viewers continue to seek accessible instructions to aid more active lifestyles — watchtime of 'yoga' and 'high intensity interval training' (HIIT) content are both up over three times on their 2019 levels.5
In topics such as exercise, self-care, and veganism, search data indicates consumers are moving away from the learning phase to one of action.
YouTube and Search are central to how consumers are answering their wellness needs online. Using real-time insights such as Google Trends and automated creative and advertising solutions, brands can keep pace with these evolving behaviours and plan across both platforms in unison.
Key takeaways for marketers
Our analysis reveals a nuanced, changing wellness and fitness landscape, but ultimately the picture is one of growing consumer demand and interest creating new commercial opportunities.
The signals are the acceleration of wellness trends will continue, and related behaviours will remain 'always on'. Those brands that can act fast and help people actively pursue their goals will drive both engagement and business.