The video games industry has always been focused on its players. But what about its 'watchers'? Here, Paul Guerrieria, Strategic Insights Lead at Google U.K., and Bruce Broadbent, Industry Manager, Gaming, share Google's latest findings on this under-researched and under-utilised audience.
The number and importance of video games 'watchers' (those who watch a video game rather than playing it) within both the U.K. and global video games ecosystems has grown significantly in the past few years and continues to grow at pace.
For example, YouTube now has over 200 million daily users watching video games content,1 and looking to more advanced markets like South Korea, the opportunities for further growth in the U.K. are clear.2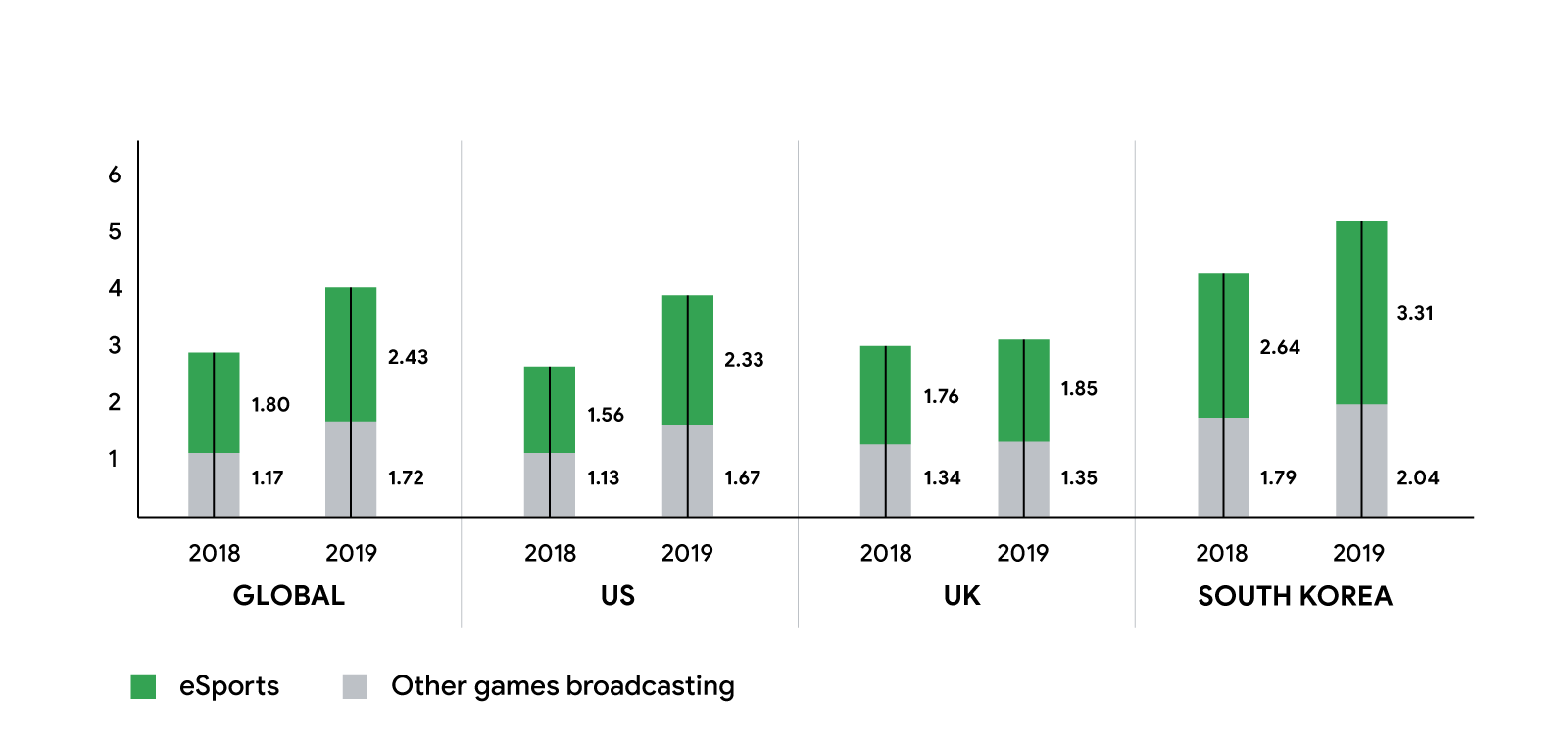 The video games industry is also eating into the time consumers spend watching more traditional media channels. According to Ofcom for example, between 2017 and 2018, the average number of minutes of live TV watched per day in the U.K. by all individuals across all devices was down 11 minutes, whereas the watching of gaming content increased by two minutes.3
So who are these growing legions of watchers? What do they watch? How and why do they watch it? And what does it mean for the marketers looking to reach and engage them? This study helps to answer these questions and explains why people are tuning in to watch video gaming content in their millions.
Who's watching
In the U.K., 16% of online adults aged 18-54 watch at least some form of video game content every week — one-third of them are female, and two-thirds of them are over 25. Our research also found that 37% of watchers don't even play video games.4

What they watch
'On-demand' content — including highlights, reviews and gameplay — make up the lion's share of watch time, with YouTube and Twitch being prevalent platforms.
'Live' content — such as streaming and esports — is also on the up, and people watch live streamers across three main categories: specialist (playing a single game), genre-focused (playing multiple games from the same category) and generalist (playing multiple games across categories).
Why they're watching
This has always been a big question for non-gamers and those not fully immersed in gaming culture. Indeed, watching video games content often has a similar appeal to watching a TV show or movie.
As for the specific reasons people like to watch, there are four distinct hooks:
To be entertained
Watchers like to sit back and enjoy video game content purely for entertainment, much like a traditional TV experience.
To improve knowledge and skill
Many watchers play video games themselves, and are driven by a desire to improve their own performance by repeatedly watching edited gameplay, tutorials and highlights.
To connect with a community
The social aspect of connecting with like-minded viewers to appreciate good games and great moments is a huge driver for watchers. Not only can they see how many others are watching alongside them, they can use chat functions to comment on and discuss the content.
To see their favourite streamer in action
Streamers and watchers share a deep, authentic relationship, which builds over time. Live streams allow watchers to see streamers unfiltered and unedited, giving the viewer an insight into the streamer as a person and their playing style.
How they're watching
The way in which people engage with video game content falls into three categories that have clear parallels with traditional media consumption: passive (watching while doing another activity), simultaneous (watching while playing a game on a different screen) and active (full attention on watching a game on a single screen).
How video games marketers can engage watchers
When surveyed, 52% of watchers said that watching a video game significantly impacts their subsequent purchase decision of that game.5 But, for marketers, the opportunities to engage this audience goes far beyond promoting a specific game and the implications of the rise of the watcher are huge for brands.
52% of watchers said that watching a video game significantly impacts their purchase decision of that game.
To connect with this growing audience, we've pulled five key points that every video game marketer should consider:
1. Leverage your data
A broadening number of demographics are watching video game content. Utilise data subsets to reach these new audiences, and consider different strategies for on-demand and live content. Take Epic Games, who partnered with Twitch to link their player data to subscribers on the platform, rewarding watchers with new and exclusive in-game loot.
2. Harness the watcher/streamer relationship
Thanks to the authenticity of watchers' affection for their favourite streamers, marketers have the opportunity to get their message across to viewers when they are deeply engaged, and in a genuine manner. Brands should work closely with streamers on co-producing content that resonates with the audience.
3. Understand watcher motivations
Marketers who align their content and marketing strategies with watcher motivations — such as watching to be entertained or improve their skill level — can drive a greater level of engagement. Understand how the content is consumed, and you can tailor your message to the consumer accordingly.
4. Pivot to 'always on'
Move away from a single 'launch and update' strategy to being 'always on'. Publishers see an increase in revenue for new downloads and overall engagement after giving early access to new content to streamers. By allowing for continued engagement with watchers, you can maximise the lifetime value (LTV) of your audience.
5. Be consistent and nimble for impact
Test the emerging range of new formats across screens, like picture in picture, pre rolls and audio, to better understand the link between watching a video game and making a subsequent purchase. Do this, and publishers may dramatically rethink the value of streamer platforms, not only for existing users but for continued engagement with their titles.