Daily life has changed drastically this year. With restrictions on everything from mass gatherings to dining, exercising, shopping, and travel, we've all been forced to improvise our routines and the ways we pursue our interests.
Many of us are gravitating online to do this. Whether it's to buy groceries, catch up with friends, or simply be entertained, digital platforms have played a critical role in the global community's adjustment to the pandemic.
When it comes to online video specifically, we've seen viewership of YouTube on TV screens become a staple of everyday life. Likely a reflection of more time spent at home, people have been turning to the big screen to fulfill their needs, explore their passions, and take part in mainstream cultural trends.
Watch time trends show that people are tuning in just as they would on traditional TV.
This has ushered us into a new era of streaming on TV screens, and usage isn't just limited to short bursts. Watch time trends show that people are tuning in just as they would on traditional TV. In fact, watch time on TV screens of YouTube content greater than 30 minutes has increased more than 90% in a 12-month period in the U.S.1 More than 100 million people in the U.S. now watch YouTube and YouTube TV on a TV screen.2 We've seen similar adoption across other parts of the world, as well.
People watching YouTube and YouTube TV on their screens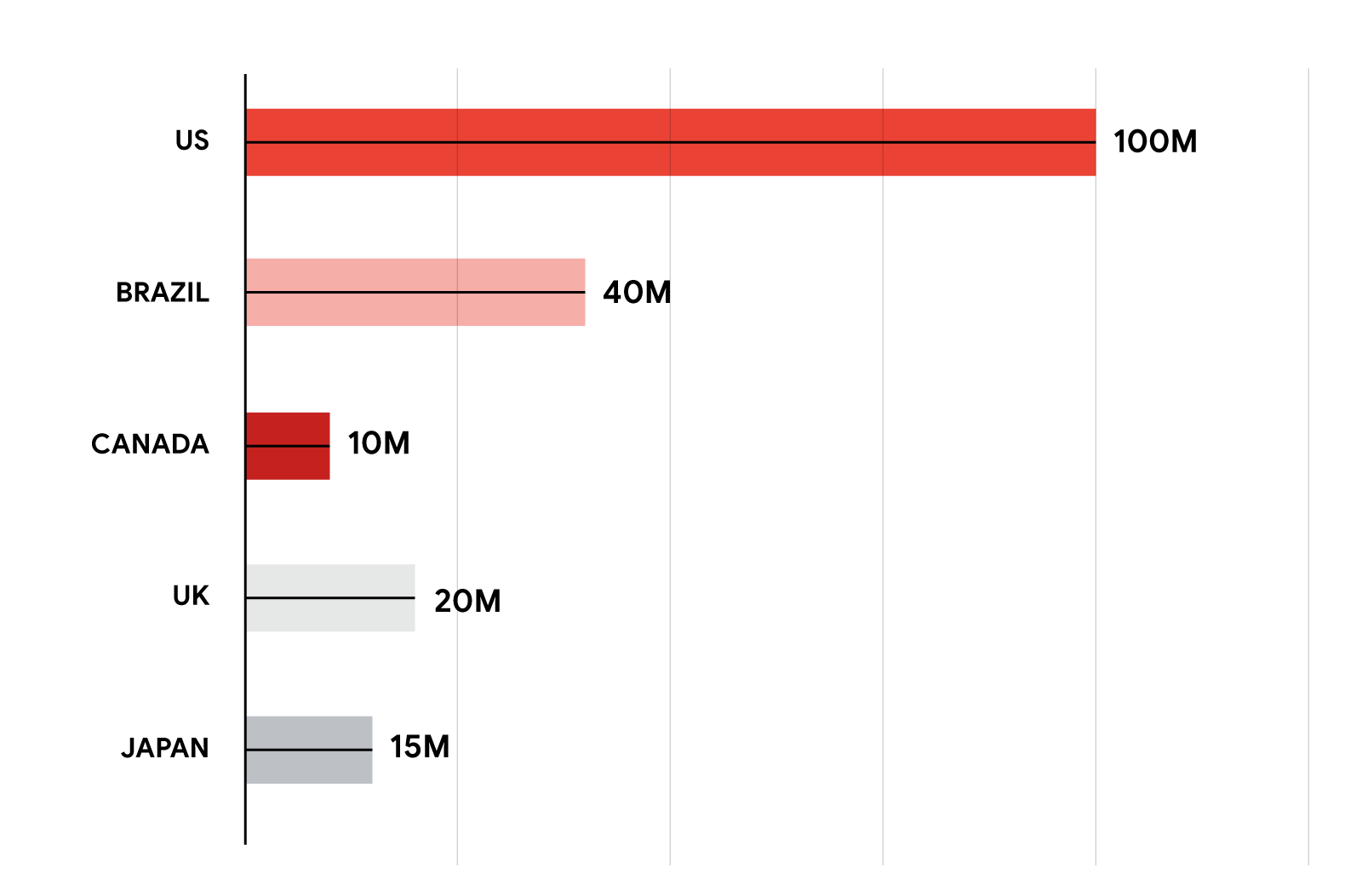 In light of the big role TV screens now play in viewing behaviour, you may be wondering which types of content audiences are spending their time watching. We asked ourselves the same question. Here are three specific ways living-room viewing has woven itself into daily life.
Subbing in for live sports
Live sports and other large cultural gatherings came to a screeching halt as soon as the pandemic hit. To cope, sports fans looked to YouTube to replay epic moments and stay connected with their favorite teams and athletes. Living rooms turned into socially distant sports arenas, as watch time on TV screens of sports videos — excluding live content — rose by over 65% between July 2019 and July 2020.3

Teams like Liverpool FC, for example, saw more than 5.4 million views on videos with "replayed" in the title in one month's time.4 And following the cancellation of Wimbledon 2020, the tournament's official YouTube channel uploaded full classic matches for the first time. Match videos featuring Roland Garros alone have received more than 1 million views since February 1.5
As professional leagues navigate new safeguards and live play carefully resumes, the popularity of sports-related content on YouTube shows no signs of slowing down.
Streaming YouTube videos for the mind and body
In the early days of the outbreak, people sought out video content to help them cope with and manage new realities of life at home. Between mid-March and late May, there was a 215% increase globally in average daily YouTube uploads with "self-care" in the title, compared to the first two months of the year.6

As the weeks spent in lockdown have rolled by, people continue to visit YouTube to soothe their anxious minds, directly from the living room. TV screen watch time of videos related to well-being, including yoga, fitness, and meditation, have increased more than 180% from July 2019 to July 2020.7
Videos related to guided meditation or with "guided meditation" in the title have also been particularly popular, earning over 100 million views since March 15, 2020.8 Deepak Chopra is one of many creators who developed specific guided meditations to address pandemic-related stress. His channel, The Chopra Well, has already increased its total subscriber number by more than 40% this year.
Upskilling through the big screen
From the most superficial level to the most profound, the coronavirus has driven people to reaffirm and redefine themselves. Online video has proven to be an easy, accessible way for people to express who they are and who they might become in a post-pandemic world, by acquiring a new skill, for instance.
Watch time on TV screens of videos related to learning more than doubled between July 2019 and July 2020.9 Cooking tutorials have been one of the most popular learning categories on YouTube for the past several months. Gordon Ramsay's how-to guide for beginning cooks has been viewed over 4 million times since March 15.
Gardening is another skill set that viewers have sought to develop. To address the needs of people with limited living space, container gardening has emerged as a trending subgenre. This video from Japan, which shows the cultivation of a radish in a bottle, illustrates the kind of "container gardening" videos that are helping viewers around the world develop a green thumb.
As the global community's watch behaviour suggests, online video consumption in the living room is here to stay. What may have seemed like the start of a trend in 2019 has quickly become the new normal, as viewers continue to increasingly turn to the big screen to meet their changing needs.
For more tips and ideas on how to build your brand, visit our awareness collection on the Advertising Solutions Center.