Every day on YouTube, millions of people from around the world come together to share their passion for subjects ranging from the mainstream to the fascinatingly obscure. Today, we look at one of our most enthusiastic 'Micro-Communities', a sizeable group for whom YouTube has provided a new way to indulge their love of baking.
There's something for everyone on YouTube. No matter how niche your interest, chances are that somebody will be making content about it, and an audience of like-minded viewers will be gathered to watch, share and discuss. In the UK, one of the most devoted YouTube communities has formed around the subject of baking. On mobile alone, the amount of time British viewers have spent watching baking videos on YouTube has increased by 75% year on year, showing the immense popularity of this subject.1 To try and understand more about this audience, we asked ad-tech firm Zefr to look at the last three years of viewing data for baking content to see what we could learn.
Baking is big news
Over the period of the study, baking content on YouTube received almost 300 million views in the UK. Content on the topic was produced by over 5000 channels, which earned almost 6 million engagements in the form of likes, dislikes and comments. Breaking down the data further by subject matter revealed that, unsurprisingly, recipes and cooking demos were the two biggest categories of video, amassing over 65 million Fan Views during the period.2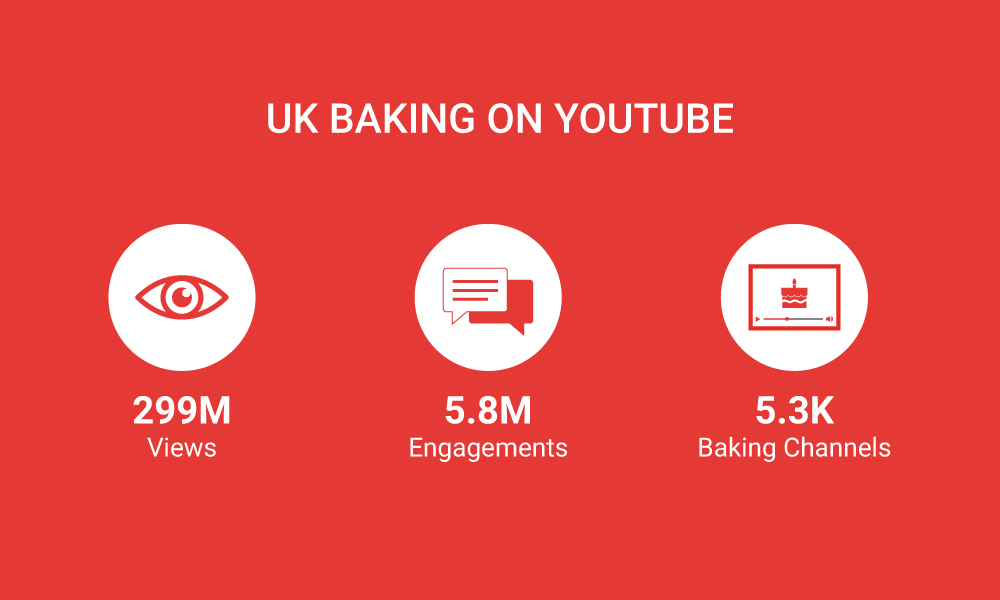 Digging deeper, we were even able to uncover the most popular recipes. Classics such as shortbread and Christmas cake accounted for 61% of total views, while mug cakes, cronuts and other new-wave pastries made up the other 39%.3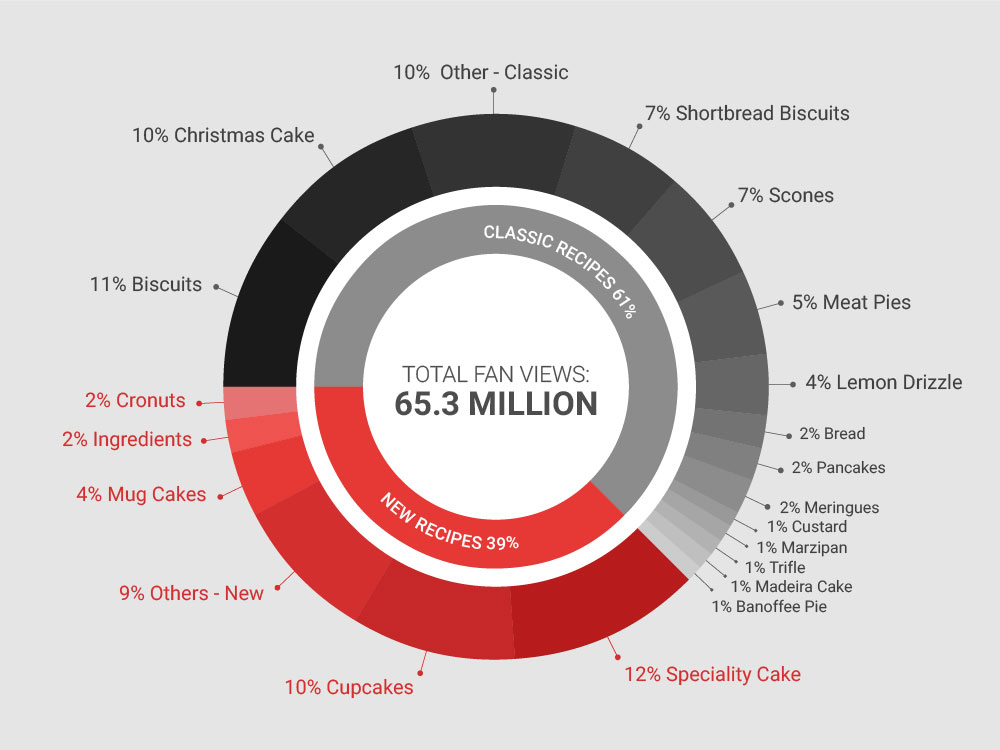 Beyond the recipe staples, we also noticed some other trends emerging from the community. Below are five themes that really seem to stir this audience:4
1. Baking for Beginners
Novice bakers are turning to YouTube for simple, easy-to-follow instructions as they start mastering the basics. In particular, recipes involving five ingredients or fewer prove to be popular as beginners look to cut back on complexity, minimise mistakes and maximise taste - as amply demonstrated by Todd from Todd's Kitchen and his three-ingredient perfect pineapple cake.
2. No appliance, no problem
Another noticeable trend is in appliance-free baking, where content focuses on recipes that don't require the use of large (and potentially expensive) appliances such as ovens and ice-cream makers. Of particular use to younger cooks or those making do with shared kitchens, recipes like Gemma Stafford's no-bake fudge method, open up the fun of baking to an even wider audience.
3. Old recipe, new twist
Millennial bakers like SORTEDfood are a good example of our third trend, which sees traditional recipes given a modern spin. Their 'quintessentially British' scones add an apple-and-blackberrytwist to the time-honoured classic, showcasing the flair and originality that is inspiring the next generation of cooks.
4. Boutique baking
Speciality cakes made for occasions such as weddings and birthdays have traditionally been left in the hands of professional bakers. However, on YouTube it's possible to find highly skilled pastry chefs sharing the secrets behind these often complex and beautiful creations. In a behind-the-scenes look at her bakery, Crumbs and Doilies, CupcakeJemma gives viewers a great insight into creating stacked cakes and other speciality favourites.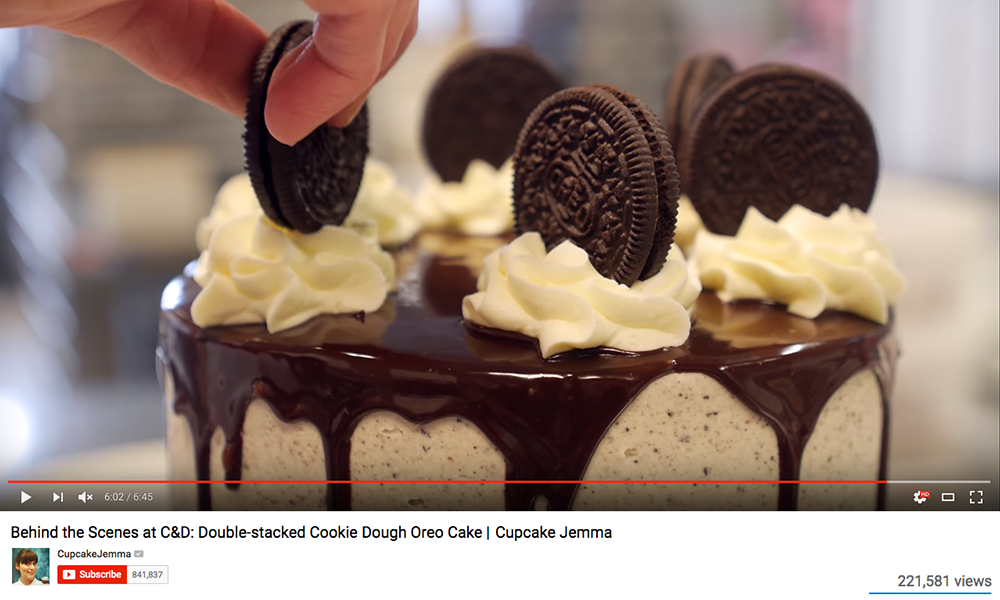 5. 'Free-From' fans
Finally, foodies with dietary restrictions aren't excluded from the world of baking on YouTube, as a community has emerged dedicated to creating recipes for gluten-free, dairy-free, vegan and other restricted diets. Creators like Mrs Barry from My Virgin Kitchen regularly share baking tips and suggest alternative, diet-safe ingredients, such as the coconut flour used in her gluten-free avocado brownies.
Cooking up a campaign
Communities on YouTube provide incredible breadth and depth in both content and viewership, creating a unique opportunity for advertisers. On a platform where even niche interests attract a large audience, brands have several options for how best to engage and influence viewers. With options including high quality channel bundles and pre-roll ads that put the choice to watch in the hands of the viewer, YouTube has marketing solutions to suit every kind of campaign.
In an example of how brands can reach out to communities on YouTube, Tesco tapped into the passion generated by the Great British Bake Off finals last year with a series of creative featuring baking hints and recipe ideas. As the top trending topic of the day, the Great British Bake Off prompted a lot of activity on YouTube's baking channels, which Tesco made full use of with a range of ad placements helping the UK to become better bakers.
YouTube is full of micro-communities of fans investing time and passion into content they love. With a range of targeting options and ad formats, brands now have all the tools they need to reach out and connect with passionate and engaged audiences.