The pace of change in digital marketing is rapid. This is driven in no small part by automation and enhanced data management. The general rule has always been: Those who don't keep up will lose. SYZYGY Performance GmbH (formerly Catbird Seat), is an agency that reacted early to the data-driven changes in the market and focuses on holistic, data-based customer consulting and support. Thus the agency is a true 'Data Driven Pioneer' and marks the prelude to our 'Best Practice Series'.
Founded in 2009 by Dr. Sepita Ansari and Matthias Weth, initially as a search only agency in Munich, the team has since grown into one of the most well-known digital marketing agencies in the German market. It has been part of the SYZYGY Group since 2017 and changed its name from Catbird Seat to SYZYGY Performance GmbH in early 2019. Its portfolio ranges from holistic analysis and strategy development to the implementation of advertising campaigns in all areas of digital marketing.
The only thing that is constant is change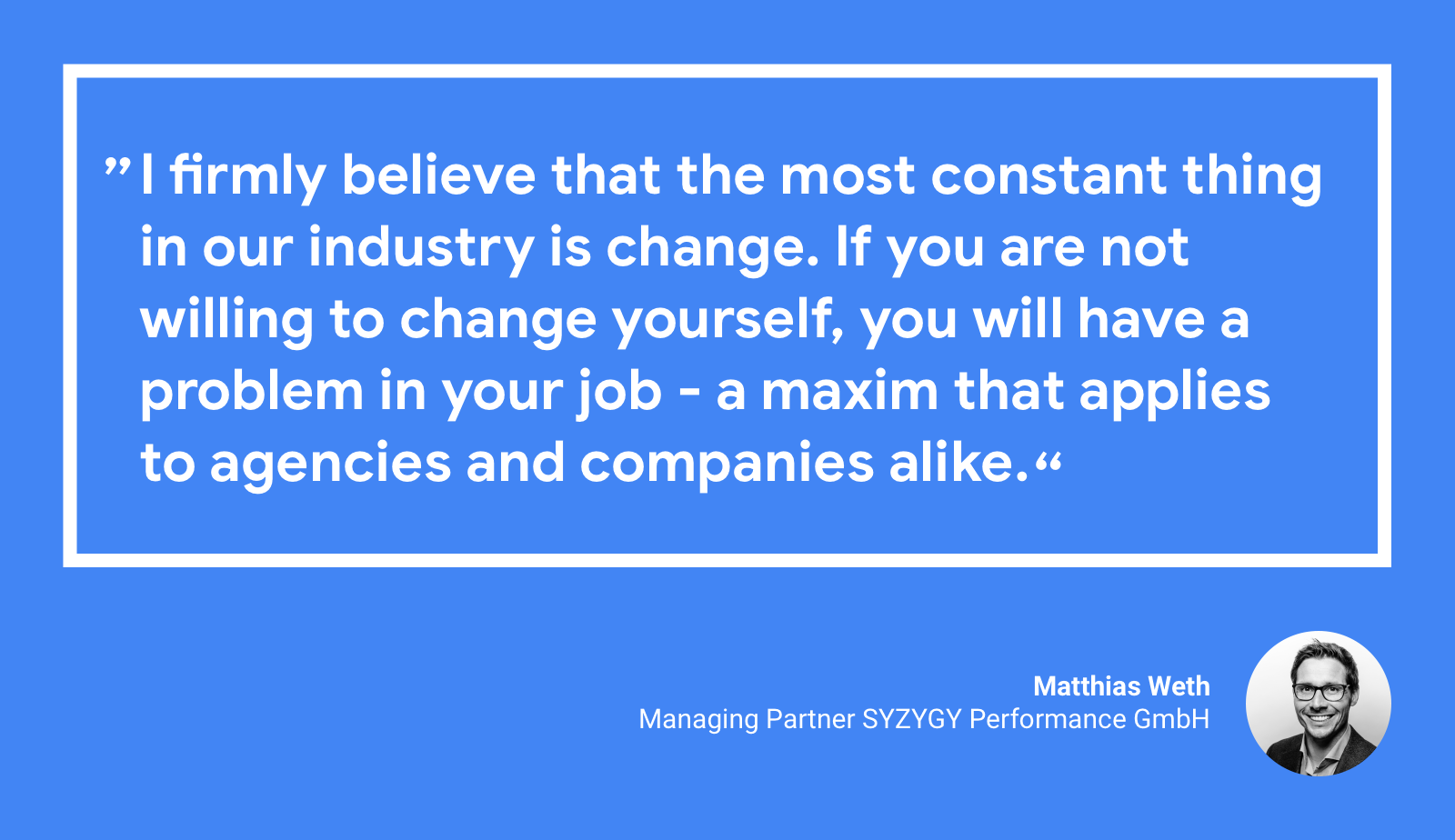 Once a search only agency, the three German offices of SYZYGY Performance GmbH in Munich, Berlin and Düsseldorf today handle almost any data-related tasks in online advertising and SEO. "The reputation of an agency consists of the sum of its competence and empathy. That's exactly what defines us. Our clients value us as a thought leader. They know that we train and educate ourselves a lot and look ahead, but at the same time we take a pragmatic approach," says Matthias Weth, managing partner of SYZYGY Performance GmbH. Due to the fast pace of the market, SYZYGY places great importance on foreseeing where the journey will take us in the coming years. "Only if we succeed in anticipating the future, we can offer the right products for our clients," Weth emphasizes.
In particular, SYZYGY Performance GmbH saw that their clients were increasingly orienting themselves toward 360-degree campaigns and expect cross-channel targeting. "We are no longer hired for individual disciplines such as SEO or SEA, but are expected to provide a complete package," says Weth. Controlling campaigns across channels to contribute to a higher-level business goal requires a data-driven approach. Management started building up a dedicated analytics team in 2011 to meet this challenge. Since then, SYZYGY Performance GmbH has gradually reduced internal data silos and increased shared competencies within its own organisation.
Sales increase thanks to automation

The evolution in our clients' needs is reflected in the makeup of our typical employee vs a few years back. While traditional account managers were still hired in 2009, SYZYGY Performance GmbH now seeks employees with both business administration and IT skills. Weth is convinced that the right attitude, in particular, is the key, since all skills can be imparted. Stick to the slogan: "Hire for attitude - train for skills."
The transition to data-driven marketing and automation has also seen the company increase its revenue per employee efficiency by 25% from 2017 to 2018. SYZYGY Performance GmbH is growing its profile within the consultancy industry in particular: In 2017, the highest-revenue client was a pure consulting business - for the first time in the agency's ten-year history. "Over the past two fiscal years, we have increased efficiency in account and campaign management through automation. This enabled us to invest additional resources into  'consultancy' - our strong growth segment." We have been able to do this, for example, in the form of automation projects with external partners, personnel development, training, and by acquiring new staff with dedicated consulting skills in MarTech, AdTech and audience modeling," explains Weth.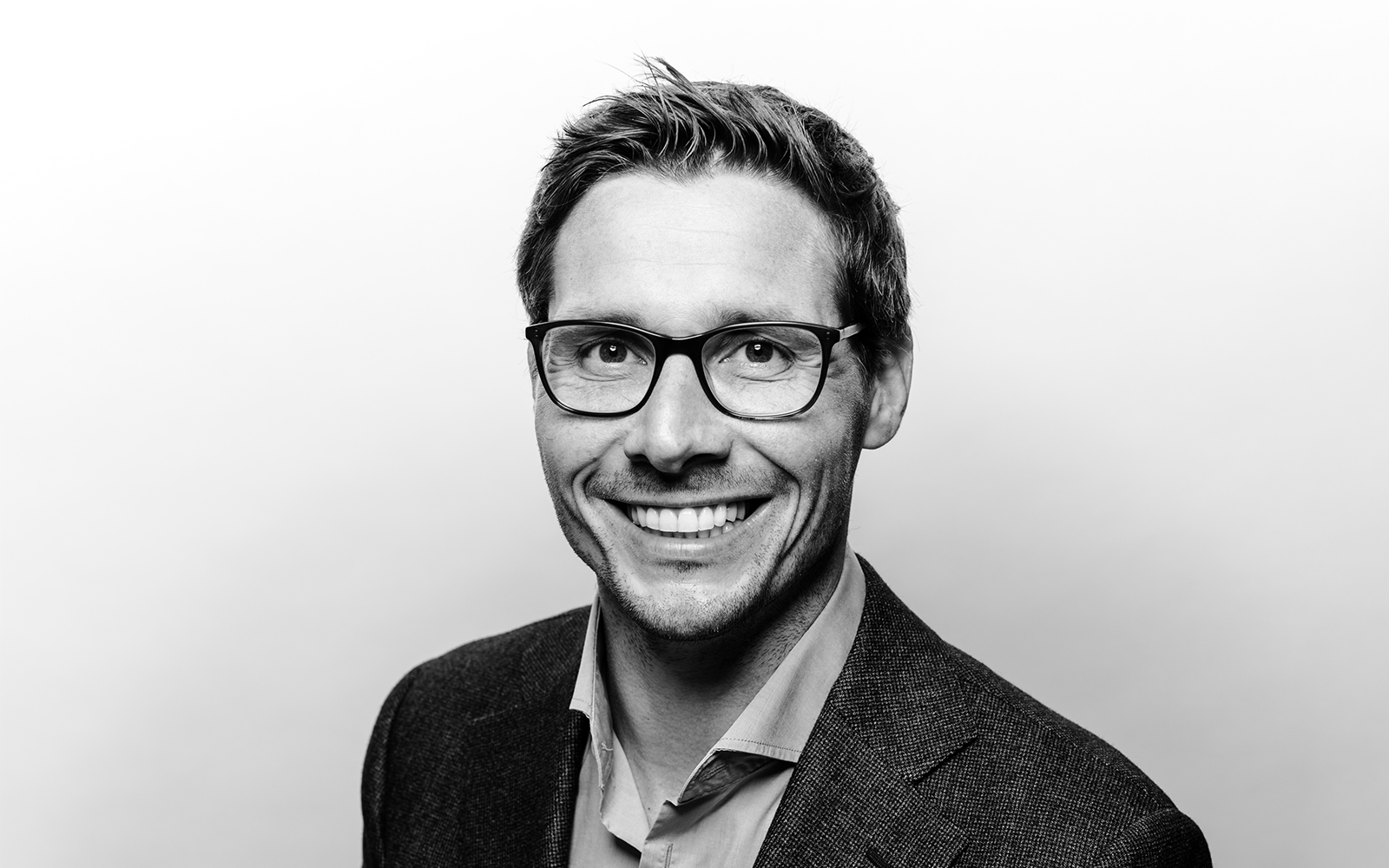 The agency is pursuing a 'Build-Measure-Learn' approach, an agile working methodology that is championed by many existing tech firms and lean Start-ups. The aim is to bring an innovation to market as quickly as possible, measure the results using predefined KPIs, learn from them and optimise the product according to clients' feedback. Thanks to the new possibilities of automation in digital marketing, the SYZYGY Performance GmbH team has more time to try out this approach with its clients. This is not just noticeable in higher-quality strategic consulting in the field of advertising. The partial automation of all areas of SYZYGY Performance GmbH's major clients also paid off in terms of sales: The agency achieved 18% more consulting revenues in the advertising sector by the third quarter of 2018.
Transparency is a top priority for the SYZYGY Performance GmbH team. Matthias Weth's recommendation: Companies must maintain their complete control over their data and have full access to it. The chief advertising officer sees his agency's role as a consultant that helps companies get the most out of their data and build knowledge internally. The agency is also committed to educating companies about the correct handling of data. They do not only train their own employees according to this philosophy, but also explain the topic in guest contributions, at universities or on other platforms. 
The customer is in the driver's seat

Brands need to respond to changing expectations through customer-centric and service-oriented thinking. Through automation, brands are able to quickly scale creative advertising media or ideas so they can be personalized for millions of people, even internationally. SYZYGY Performance GmbH has successfully implemented machine learning algorithms for controlling a seasonal campaign for the client ESCADA, for example. Thanks to this, the advertising messages could be translated into the respective national language of the different countries and were successfully delivered programmatically. This process used to involve several translation agencies and partner agencies. "Using data-based programmatic buying of display placements via DV360, SYZYGY Performance GmbH was able to deliver global campaigns in a targeted and user-centered way. Compared to the year 2017, when almost all purchases were IO-based,  we reduced the CPM for the same inventory by 67%. The higher viewability of the ads, which increased by 64%, also positively affected our campaigns. The modulation and optimization via DV360 is a great success for us!" says Marco Raab, VP of Global Marketing and Communication ESCADA.
To guarantee the maximum success for its clients, SYZYGY Performance GmbH is trying to increase the adoption  of automation steadily. The inventory campaigns offered by Search Ads 360 have been used for half a year. The automatically generated campaigns, which are generated based on the client's product inventory, increased customer-specific keyword coverage by up to 15%, while reducing the client's target CPA for the product area by 10%. In addition, SYZYGY Performance GmbH has been using Smart Bidding in combination with data-driven attribution for one of its clients for two years, with the goal of maximizing conversions at a relatively constant budget. "In the course of the optimization, we were able to achieve an increase of conversions of approximately 10 to 15% - depending on the countries in which we used automation," says Weth. "At the same time, we were able to save up to 30% of the time spent compared to manually optimizing bids, which we were able to invest more efficiently in other areas. For example, we held workshops on automation and attribution instead."
Despite the great successes, Weth is not afraid that automation could make his work obsolete. "I see a mindshift among the creative and marketing strategists in the digital marketing industry. Topics such as strategy and customer service have a very strong human component - and machines are not there yet." Instead, machine learning and data processing are powerful tools to automate work processes, make marketing activities more scalable, and more personalized.
SYZYGY Performance GmbH therefore gains more time for what is essential to them: Communication, storytelling and creation. Things that make good marketing.