With disruption comes opportunity. And it's fair to say 2020 has brought us plenty of disruption. As businesses work through the rippling effects of a pandemic, decisions about how, what, and where to spend have become more pressing.
Brands are seeking more diversified services from strategic partners, so now is prime time for agencies to transform their business model to meet these changing demands.
Jay Pattisall, principal analyst at Forrester and Trish Chuipek, global chief client officer at UM Worldwide, joined Matt Bush, managing director of agencies at Google, for Advertising Week Europe 2020 to talk about agency transformation ⁠— and how we can work together to build for the future.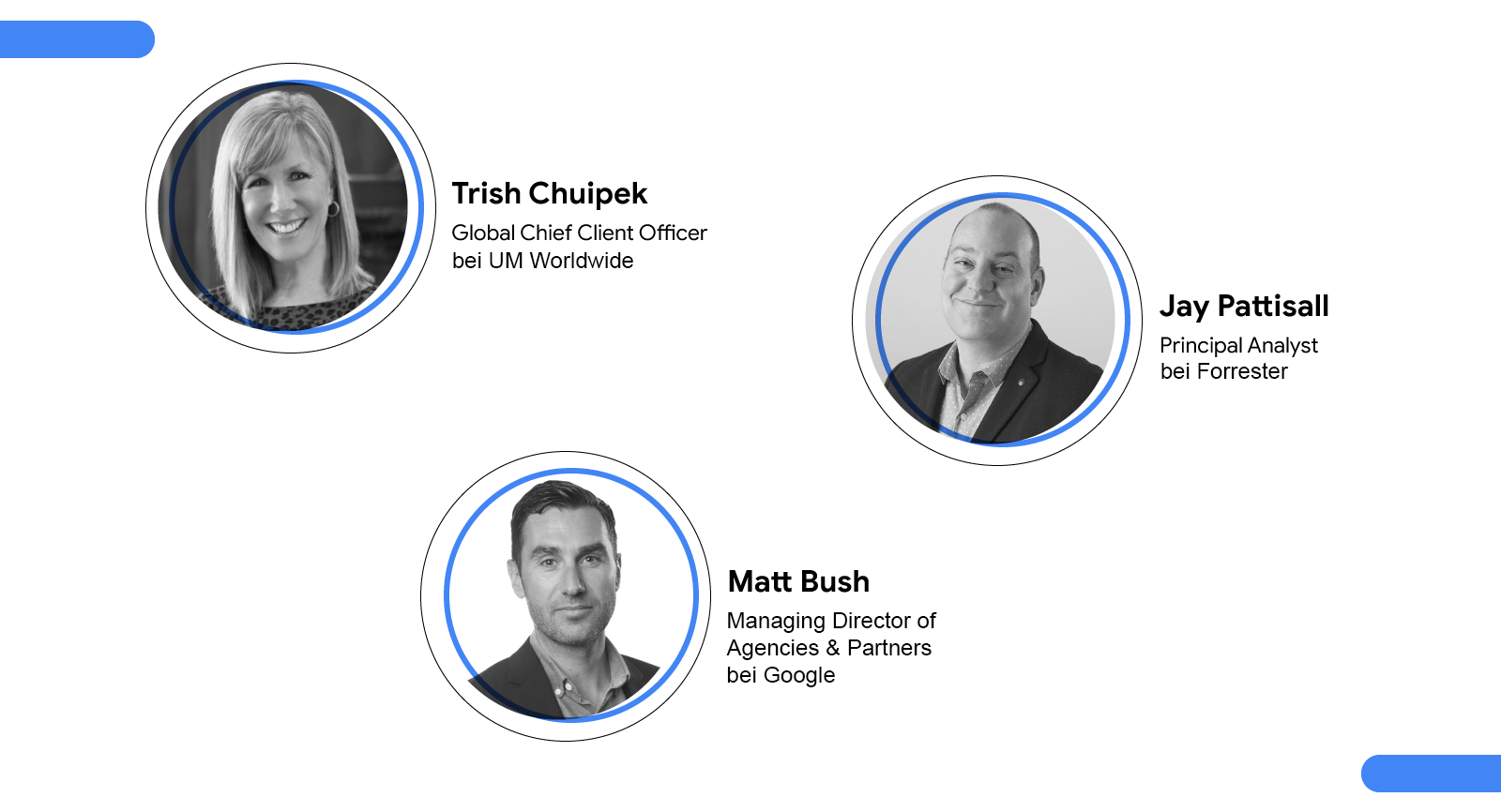 Brands need to re-engage their consumers
Rapid change brings shifts in behaviour ⁠— not just from consumers, but from brands and agencies as their priorities change and business plans adapt. To help agencies understand how to best meet clients' needs, Google commissioned Forrester to conduct research with 300 brand marketers and 500 agency executives across EMEA.
The report found that rapidly shifting consumer behaviour means brands need to evolve dynamically or risk facing disengaged customers. Consumers tend to skip generic ads online and hop across channels on the path to purchase (what we describe as the 'messy middle') and engage with brands that connect with them through relevant content. These trends have only accelerated in the pandemic era.
And this is where agency experience can help. "Most brands see this need to re-engage their consumers, so they're looking to their agencies to help them as strategic partners," explains Pattisall.
Where agencies continue to add value
The report also confirmed that agencies can and do add value. And at a time when brands plan to increase spend despite post pandemic budget cutbacks, agencies will be critical for providing support.
The vast majority of brands say they need agency partners to help create customer-first strategies to drive growth across markets. The Forrester research highlighted where agencies are currently adding value for their clients.

Strategy. Clients need strategic partners; to keep pace with consumer behaviour shifts, provide unique insights at scale, and to help create customer-first strategies for growth in multiple markets. "When we have alignment with our clients around that shared ambition, that's when we start to have success," says Chuipek.
Data. Businesses need help with data and analytics. With so much engagement shifting to digital marketing, brands realise how important it is to have quality data ⁠— and be able to turn it into insights that can drive targeted, personalised engagement.
Expertise. Companies are moving more towards outsourcing marketing as a result of budget cuts, whilst some will increase spend on agency partnerships over the next 12 months as they see the clear link between effective agency partnerships and increased profit, better ROI from digital marketing, and the ability to keep pace with consumer behaviour now and in the future. Brands will look to agencies for expertise and specialisation.
Building up for rapid transformation
So how can agencies help brands move forward? Pattisall and Chuipek laid out three areas where agencies can invest in, and build up capabilities.

Data and analytics. Responsibly use first-party data when available, but also data strategies that help you get to the right audience. Chuipek says that it's about "really understanding what makes those audiences tick ⁠— but also the value that they bring from a financial perspective to our clients".
Marketing tech and creative. Marketing tech is used to describe everything including data and analytics— but it goes deeper into elements like audience activation technology, dynamic creative, and automation. It's about connecting creative content to tech, allowing for real-time optimisation around consumer behaviour.
Customer centricity. Consumers are fluidly navigating between platforms and devices, and demand a seamless experience. Agencies need to hone in on customer loyalty and how that's connected to e-commerce and purchasing to maximise opportunity.
At the core of it all, it's about engaging consumers and ensuring seamless digital experiences — building more meaningful relationships and loyalty. And it's something agencies and clients need to work together to accomplish. "Rapid transformation is as much a strategy for agency success as it is for client success," says Pattisall.
Barriers to overcome
A lot of this isn't new ⁠— it's just happening much faster. And while recent disruption increased urgency, it didn't remove some of the barriers that hinder transformation.
Agencies are expected to do more with less, especially as clients tighten budgets. As the marketplace has become more complex, agencies need to provide more specialised services ⁠— which ultimately cost more. Expert services need to be valued and paid for as such, but at large this isn't happening across the industry yet.
Rapid transformation is as much a strategy for agency success as it is for client success
What's more, the need for skills and expertise does not align with current compensation structures. It's time for brands and agencies to move from fixed fees to outcome-based compensation ⁠— centred around meeting a set of aligned targets and objectives.
Bush adds, "there is this perception that agencies should arguably become cheaper because of automation". But really, all automation is doing is standardising basic tasks in order to add more value in more complex spaces. If agencies feel like they have more permission to automate services, this frees up time and talent to focus on other areas to drive growth.
3 areas to drive growth
Be a strategic partner. You are your clients' marketing consultant, so align goals and ambitions accordingly to come out on top.
Embrace a smarter process. Make data-informed decisions, use tech to your advantage, and automate where possible so you can free up time and specialised talent to drive growth for clients.
Build compensation models around outcomes. Centre it around meeting a set of aligned targets and objectives.
What's next
While the landscape will continue to change, an agency's first priority remains constant ⁠— deliver work that resonates with consumers and drives results for clients. "I think together with clients we're making progress. Demonstrating the value of marketing as the business growth driver for the organisation," says Chuipek.
"What the research does is it gives us a path, and a sense of understanding of where to move in the future," explains Pattisall. Rather than being hyper focused on driving down the cost of media, we have to flip the script and focus on accelerating growth. "We're coming out of the race to the bottom," he adds. "The opportunity in front of us is the race to the top".
Download the full Forrester research paper here.