In Africa's mobile-first economy, you need to work with the technology that your customers prefer, even if it isn't ideal.
Take Nigeria for example, where USSD technology (Unstructured Supplementary Service Data) is widely used. This technology offers a simple browsing experience through a menu system on any mobile phone — be it feature or smartphone — in real-time. More importantly, USSD requires no data to work. This is critical in communities with fluctuations in connectivity and rural areas with low mobile data adoption rates.
USSD makes up 9 out of 10 mobile money transactions in Sub-Saharan Africa. And in the first half of last year, it accounted for an estimated $1 billion in transactions in Nigeria, with people using it daily for sending and receiving money, checking mobile airtime balances, receiving one-time passwords, and more.
However, traditionally USSD-based marketing has been hard to measure compared to other technologies.
USSD is effective, but its impact is difficult to measure
To access a USSD service, a user keys in a short code on their phone's dialler. These short codes start with an asterisk, followed by a string of digits, and end with a hash. They seem like a marketer's dream channel because of their simplicity. Except there's one drawback: USSD is the channel with the least amount of data available for performance marketing.
Dialling a USSD code doesn't allow for any measurement since you can't tell who found your code — and how. This makes it difficult to measure the effectiveness of a typical USSD ad campaign. As performance marketing is non-negotiable for technology-driven businesses, such as banks, it seemed like an unsolvable problem. Until now.
Zenith Bank realised early on that they had two options. They could either switch to a different and measurable acquisition channel, or work with USSD. They opted for a combination of the two, building a strategy that takes advantage of the existing benefits of USSD.
Zenith saw an increase of over 50% in accounts opened via USSD, directly attributable to its digital campaigns
One extra step leads to measurable data
The idea was to promote Zenith's USSD platform by integrating the lead generation from consumers setting up new accounts on a mobile-friendly AMP page. AMP was chosen because of its low data requirements and faster load times compared to standard HTML pages.
Once a person clicked on an ad, they were directed to an AMP landing page where only two inputs were required: their phone number and the state they live in.
Once those two details are inputted, selecting "Proceed" automatically generates the necessary USSD code in the user's phone dialler — eliminating the need for the user to key in a code themselves.
"Being able to measure the performance of digital campaigns is one of our core focuses at Zenith Bank, and the novel approach of using AMP landing pages for USSD helped us do that and more," says Zenith's Head of Digital Marketing Pascal Or. "It provides us with remarketing data and also helps us understand the cost per user for this channel in a way that wasn't previously possible."
The AMP page serves as both an acquisition and remarketing mechanism. Cell phone numbers entered into the page can be cross-referenced with those of people who ultimately open an account. Those that don't complete the user journey are remarketed to.
This simple step, integrating USSD with AMP, proved invaluable: the remarketing campaign increased the number of accounts opened by 50%.
Testing measures immediate impact and builds future campaigns
The AMP landing page opened the door to A/B testing different ad messages and value propositions. By showing two versions of the same web page to different groups of people, the team was able to compare which one resulted in more conversions and lowest cost per lead.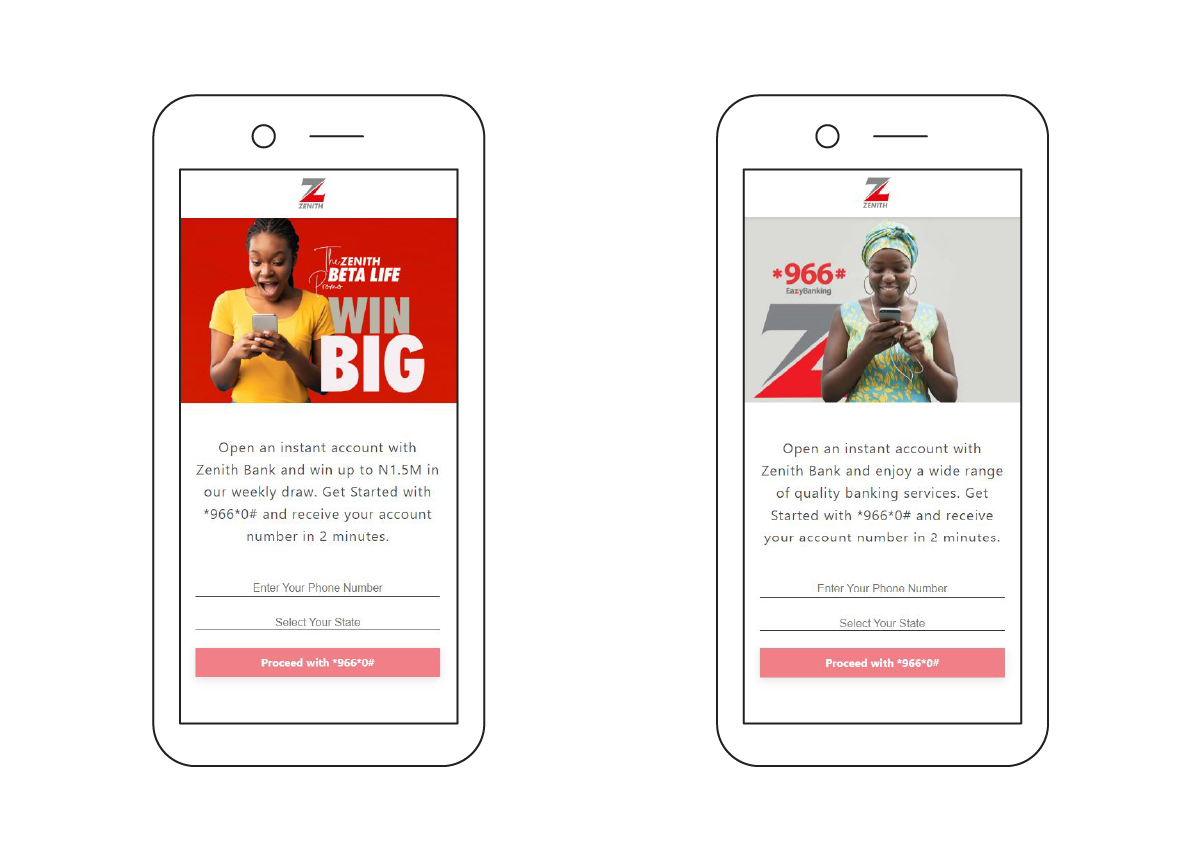 As the team predicted, cost per lead was lower for the promotional offer which used a striking red background, and a strong call to action of "win big", when compared with the standard page with no CTA or red background.
The test results provide a deeper understanding of how different messages impact the brand's success metrics, allowing the team to repeat successful campaigns. This type of testing isn't possible with a direct USSD solution, because the technology wasn't built for measurement but rather for ease of use at scale.
And being able to test and measure a platform like USSD, which is so widely used in Sub-Saharan Africa, makes a huge difference.