Myths have persisted throughout history and changed narratives. Take the story of Medusa. In Greek mythology she's depicted as the villain, turning heroes into stone with a single look. Few people know she was once a beautiful priestess, cursed to become a monster with snakes for hair. Yet the myth of her as the anti-hero continues to this day.
Fast-forward several thousand years and there are still topics that are surrounded by myths, such as the role of automation in marketing. Over 80% of Google advertisers already use automated bidding to optimise performance and free up time for other tasks.1 But some marketers are still hesitant to fully commit to automation because of common myths surrounding it: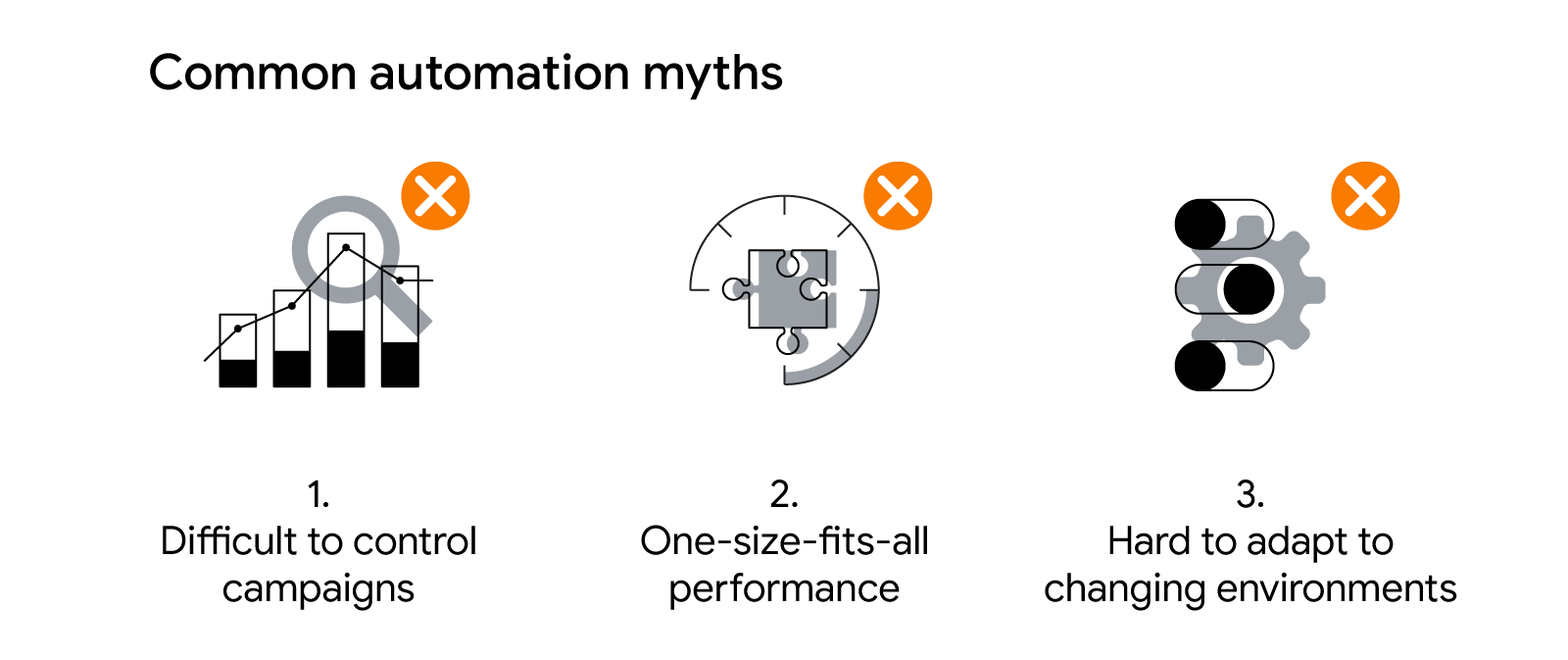 Here, we clear the air and highlight how automation can be beneficial to marketers — especially in times of change and uncertainty.
Myth 1: Automation makes it difficult to control a campaign
There are trillions of searches a year, with new queries appearing every day. It would be incredibly difficult to manage all that complexity manually, especially across a multitude of channels. Automation simplifies the work so marketers can more easily find the right people at the right time.
This doesn't mean handing over full control of an advertising campaign to technology. "Marketers are still at the steering wheel of key parts of the process, but now they have a much more powerful engine driving them forward," says Michael Beresin, partner at digital marketing agency Labelium.
Google is constantly adding new customisable features to help marketers manage, refine, and stay in control of campaigns powered by automation. For example, we just launched explanations for Performance Max campaigns, which diagnoses the reasons for performance change and shows relevant recommendations for next steps to take.
Myth 2: With automation, everyone gets the same performance
The job for the advertisers is not done once automated tools and features have been added to campaigns. There is no one-size-fits-all approach. It's marketers who are in control, providing the inputs that are at the heart of success.
Start by working with cross-functional teams to set up key business goals, such as reaching new customers or increasing sales. "The launch of Performance Max surfaced the silos that existed in many companies. Now, different departments have to agree on the one number they want to go up," Beresin explains.
Once goals are set, look at what data and systems are needed to achieve them and to help measure success. First-party data is especially valuable since it is proprietary, relevant, and unique to your business. When it comes to the measurement stage, it continues to be people who set the pace. They are the ones who identify and remove outliers and analyse the results.
Marketers are still at the steering wheel of key parts of the process, but now they have a much more powerful engine driving them forward
Another part where marketers' input is at the heart of successful performance is the creatives: the text and images that make up ads. Automated solutions, such as Performance Max and responsive Search ads, require a good variety of high quality copy and designs to generate the most effective combination of assets for each advertising channel and search query.
Myth 3: Automation can't adapt to changing environments
Today's marketing environment is affected by many outside factors, such as the economic climate and changing consumer behaviours and demand. This means you may see campaign results fluctuate as the algorithm powering automation adapts and adjusts to changes in conversion data.
However, automation is designed to adapt efficiently to change and is critical in helping to navigate unpredictability. Smart Bidding, for example, is an automation tool that can adjust bidding throughout unforeseen fluctuations to optimise for goals set using real-time signals like a user's location, the query itself, and conversion data. If a sudden change is expected ahead of time, for instance during a promo period, seasonality adjustments can be used to inform the bidding strategy.
In times of economic uncertainty businesses often have to manage twice the complexity, especially when it comes to media planning and strategy. Automation can help manage some of this to give marketers the time to focus on making the strategic decisions that matter the most.