Fashion retailer Lindex wanted to launch a three-week campaign in the Czech Republic that drove more online conversions at a lower CPC. They used Google Marketing Platform to centralise measurement and improve optimisation, going beyond last-click attribution to give it the full picture of the customer journey and drive efficiency.
About Lindex
Fashion stores in 18 markets
Online fashion store for 30 countries
Headquarters in Gothenburg, Sweden
Goals
Increase online conversions
Increase media buying efficiency
Approach
Used Google Marketing Platform for centralised measurement and optimisation
Identified channels across pathway to purchase
Results
35% increase in e-commerce transactions
37% more revenue
32% better media spend efficiency
With almost 500 physical stores across 18 markets and an online presence in 30 countries, Lindex is a leading European fashion retailer. For the launch of its 2018 summer collection, Lindex partnered with digital advertising agency Adexpres on a three-week campaign for the Czech market. The campaign's framework was built to have full funnel impact, with the ultimate goal of producing more online sales.
The fashion retailer and agency established the campaign's KPI as the number of total conversions from all traffic sources. Although the overall budget for the summer campaign was 30% lower than the previous year, they hoped to increase the efficiency of their media buys – as measured by transaction volume – by at least 20% year over year.
With transactions stemming from a variety of sources such as direct display, organic search and newsletters, Adexpres wanted to go beyond last-click conversion analysis to gain a more complete picture of the contributions of all channels at play within the Lindex marketing mix. Adexpres used Lindex's Google Marketing Platform account – including Google Analytics 360, Display & Video 360, and Search Ads 360 – as a centralised platform for measurement, audience creation, media buying and campaign optimisation.
The team began planning the campaign by analysing previous media campaigns in Campaign Manager and site visitor behaviour in Google Analytics 360. Adexpres aggregated granular sources into 18 actionable channels, 10 of which were operated by the agency.
They then used attribution modelling to understand where in the user journey each marketing channel was most important. They identified that programmatic display, direct display and video served as upper-funnel channels, while social, programmatic display remarketing and generic search emerged as mid-funnel channels. Social retargeting, brand search, organic search and direct traffic rounded out the journey as lower-funnel channels.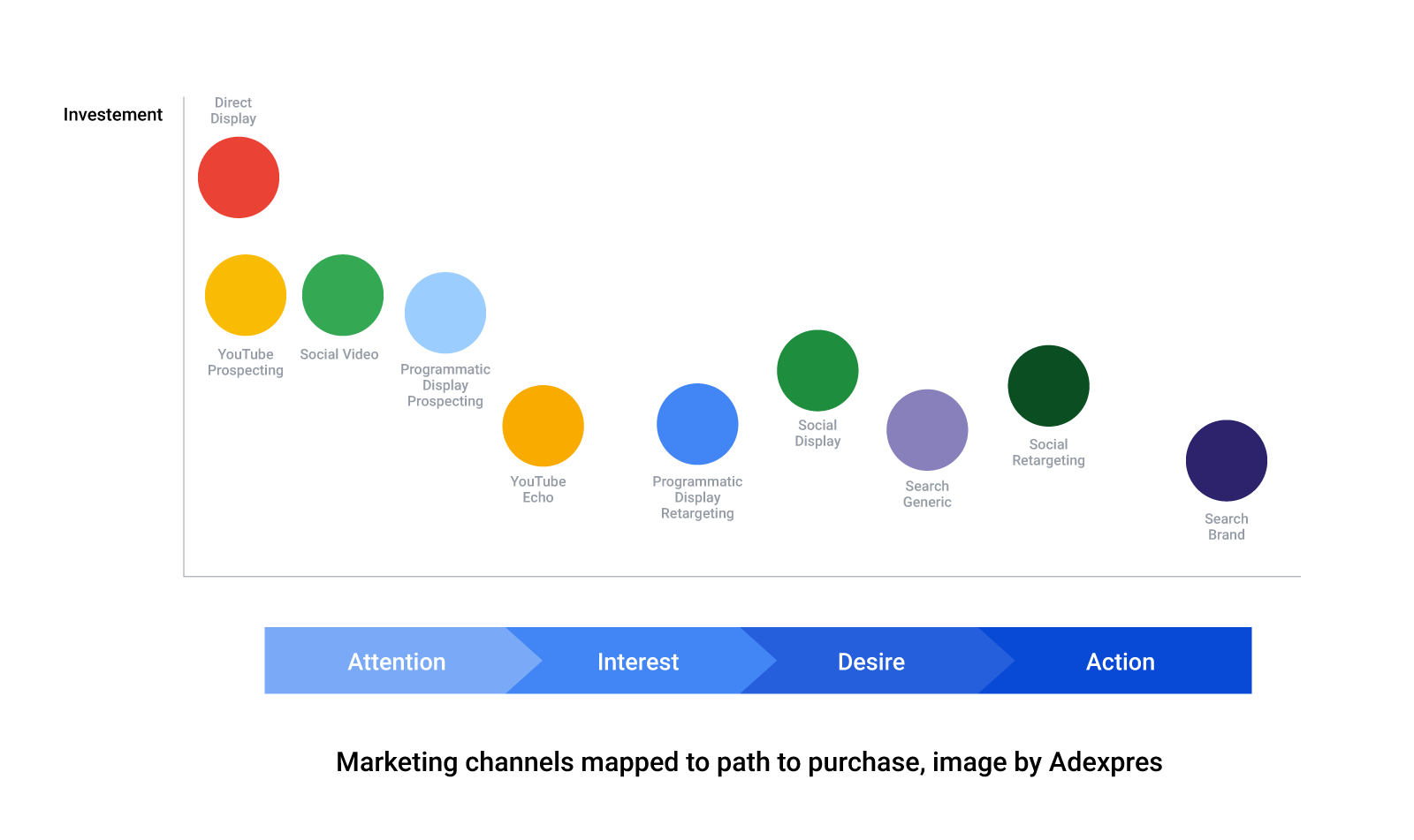 Historical data from multi-channel funnels in Analytics 360 showed a strong correlation between programmatic display buys and increased transaction volume and value. Insight such as these enabled Adexpres to intelligently divide the budget between channels, with nearly 60% of the budget dedicated to upper-funnel media and the rest split between mid- and lower-funnel media. In this way, lower-funnel activities could be supported by upper- and mid-funnel communication to drive direct sales online.
The analysis also informed the campaign's pacing. The lag to conversion analysis revealed an average two-week delay from the first contact to purchase, so the Adexpres team allocated higher video and display spend in the beginning of the campaign.
Additionally, Adexpres used Google Analytics 360 to analyse the two-month period that directly preceded the start of the campaign. Days before the campaign was scheduled to start, the team noticed a drop in the newsletter conversion rate, which in turn contributed to drops in the conversion rate and number of transactions on the the website. By investing in programmatic display and search, they managed to compensate for the drop in newsletter conversions by boosting transactions and revenue from the search channel.
To achieve the goal of 20% more conversions within the specified budget, Adexpres used automated bidding strategies in Display & Video 360 and enhanced cost per click (ECPC) in Google Ads. Within Display & Video 360, the target for prospecting campaigns was cost per action as a visit, while for retargeting it was cost per action as a transaction.
"Through close cooperation between our RTB and PPC teams, we helped Lindex understand how their customers behave online, tailor their campaigns and look at the right metrics. At the same time we got better at making attribution data actionable and shared that know-how within the team."
– Jiří Šindelář, Programmatic Team Leader, Adexpres
The results
Thanks to the new analysis, Lindex gained 99% more transactions per each Czech koruna spent while generating more than twice the revenue of the previous year's summer campaign. In absolute numbers, the activity generated a 35% uplift in e-commerce transactions, 37% more revenue at 32% more efficient media spend year over year.
"The campaign increased transaction, sales, and the awareness of our summer campaign. The proof of the efficiency of the campaign will be brought into our media strategy going forward."
– Caroline Öhgren, Country Manager Central Europe, Lindex