How can UK banks weather the storm of disruption by using technology to deliver against the core needs of their customers?
New research, conducted in partnership with LiveMinds, and bespoke Google analysis has shown how traditional banks can use technology and digital to meet their customers' changing needs by:
Enabling customers to connect with human help more effectively
Delivering personalisation of value and rewards across the customer lifecycle
Digitising routine tasks and actions to give people more autonomy over their banking
The market backdrop
The banking industry has long been characterised by rigidity; underpinned by customers' reluctance to switch. But, we're now seeing it evolve into a dynamic space reshaped by new fintech brands, technology innovation, and by a changing regulatory environment.
This new reality is brought to life by some recent Google analysis: in 2018 Starling and Monzo were the second and third most searched for banking brands (offering current accounts), behind Barclays, with searches for Starling growing 290% year-on-year.1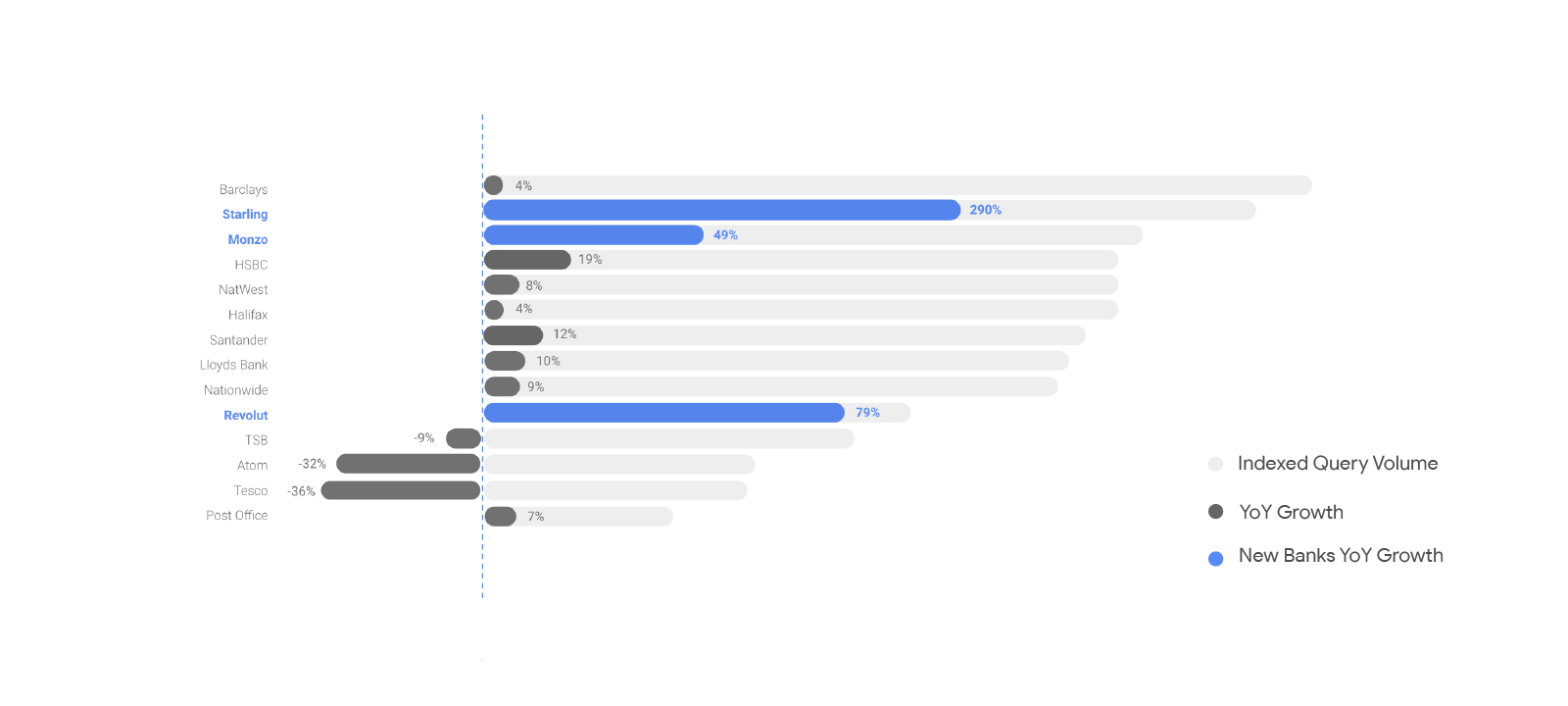 What does this mean for the evolution of a traditional bank, whose scale and heritage can represent a challenge as well as a competitive advantage in this new context?
Research
To get under the skin of these questions we turned our attention to the banking consumer.  What do they care about? What role does technology play in their financial lives? What are their expectations of service and experience? To answer these, we conducted research in partnership with LiveMinds.
We took the findings of this qualitative research to help us ask new questions of our own data and to add quantitative weight to the conclusions. The results were insightful and sometimes unexpected. The answer isn't simply about indiscriminately digitising the banking experience. In fact, respondents were keen to articulate the key strengths of traditional banks: human service, brand trust, and physical presence on the high street.
In the end a clear story emerged: use technology selectively and purposefully to deliver against the most important needs of customers.
The findings
Three need-states emerged from the research. These are thematic groupings that highlight different customer mindsets and behaviours in banking:
1) Human service seeking
People are looking for human contact and interaction to help with more complex tasks
This human contact gives customers a sense of confidence in the bank and a sense that their issue is being handled properly
Some customers fear that over-digitising processes in their banking experience will lead them to making mistakes or the wrong decision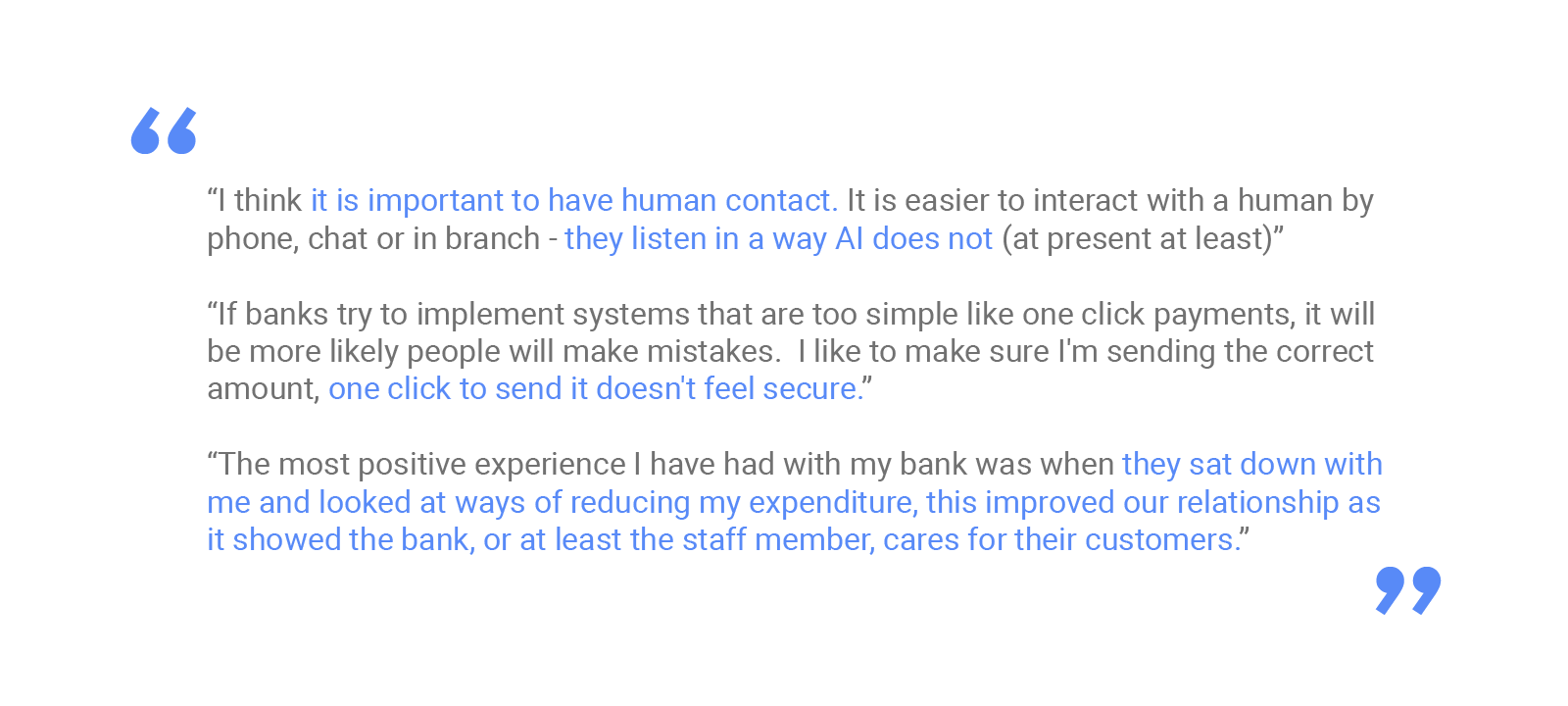 The human and the physical in banking are still extremely important to customers, but they're now often turning to digital to help them connect to human help when they need it.
We're seeing a sustained rise in searches for 'bank branch near me' despite the backdrop of headlines about branch closures. This is a pattern we see in other convenience categories like coffee shops and parking. This suggests that there's an expectation that the branch experience should be as convenient and accessible as other services and products customers are turning to their mobile for.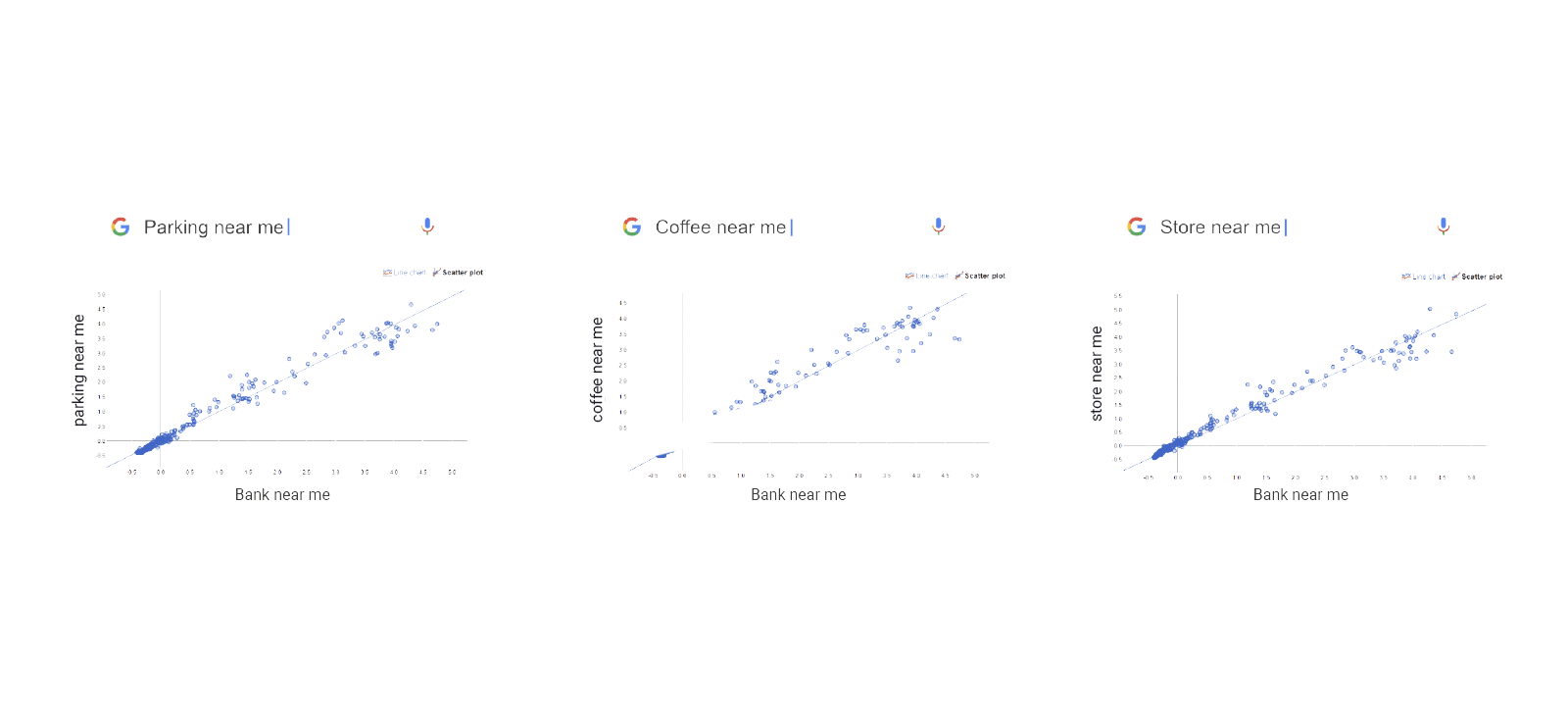 The opportunity we see here for traditional banks is to better connect people to people by leveraging digital and technology. A great example of a brand doing this successfully is Starbucks who help their customers use their physical stores more effectively with their pre-ordering app.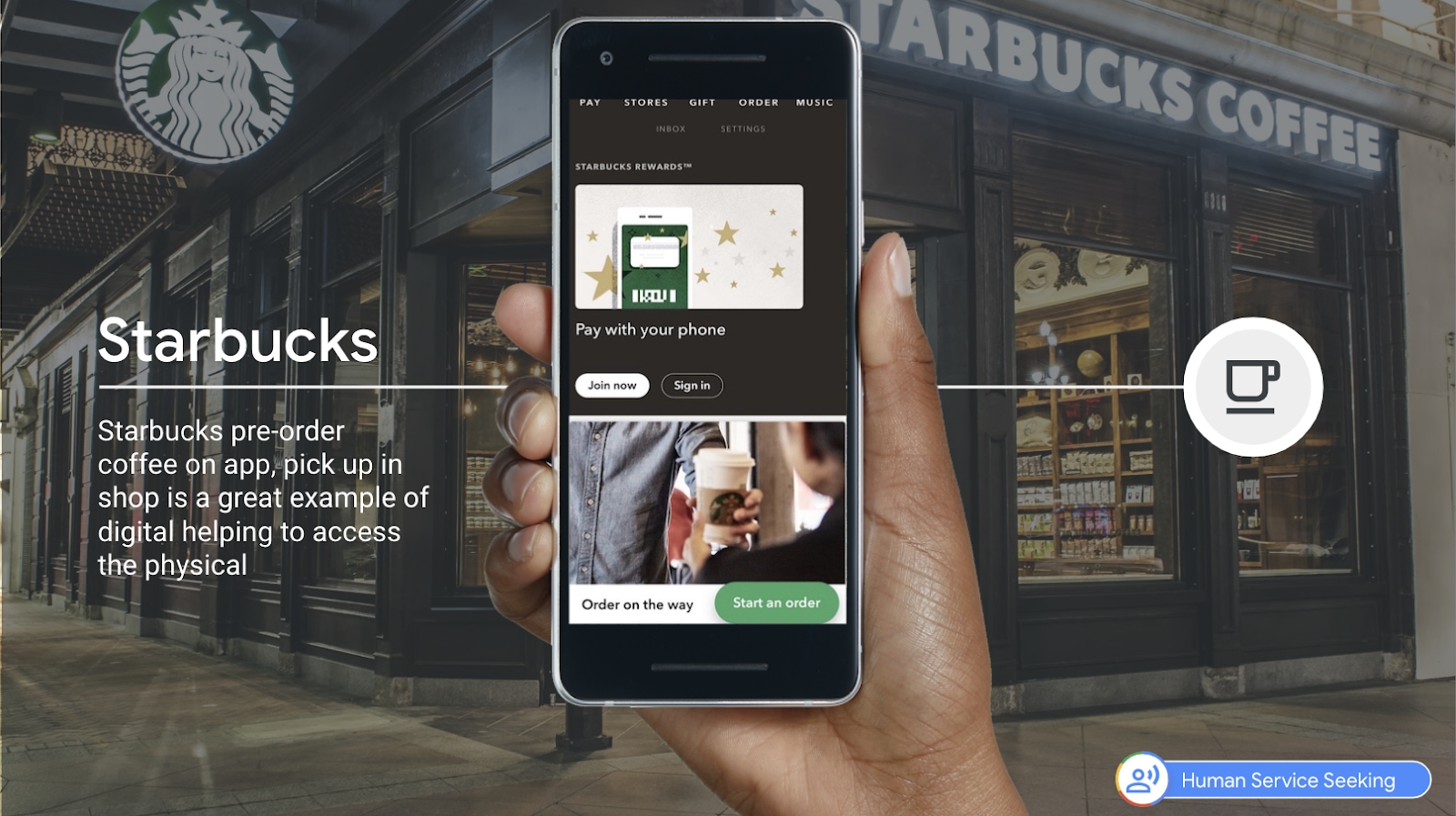 2) Value chasing
This need state is characterised by customers looking to get value out of their relationship with their bank, especially for their loyalty or in return for sharing personal information
Customers shared that they are willing to be open with data so long as in return they receive better or more relevant offers and rewards
This isn't just a 'nice to have', customers told us that when their banks offer them products that aren't right for them it can lead to resentment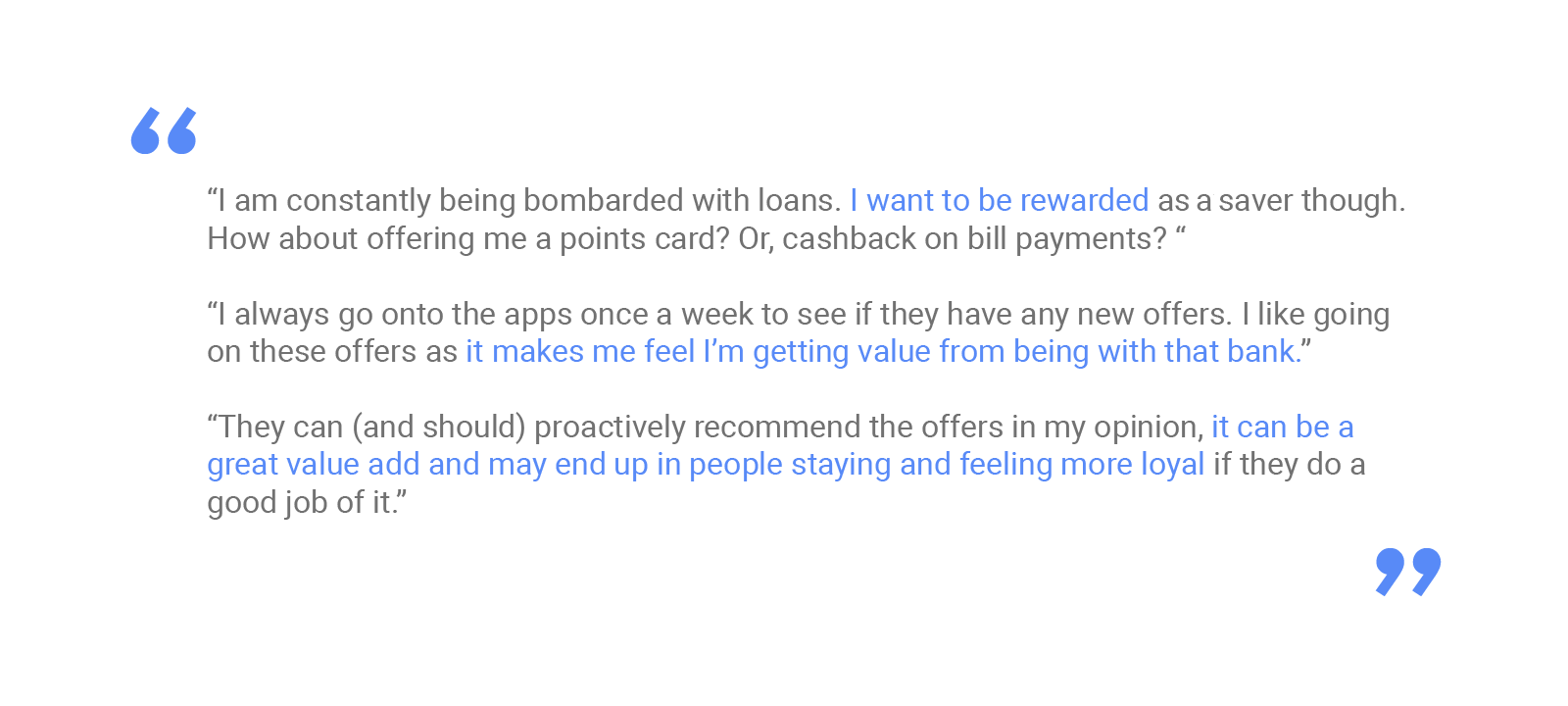 Our internal analysis pointed to this need-state being most prominent when customers were searching for current accounts, credit cards, and savings.2 In fact, a quarter of all current account switching searches are made up of people looking for an offer or reward for doing so.3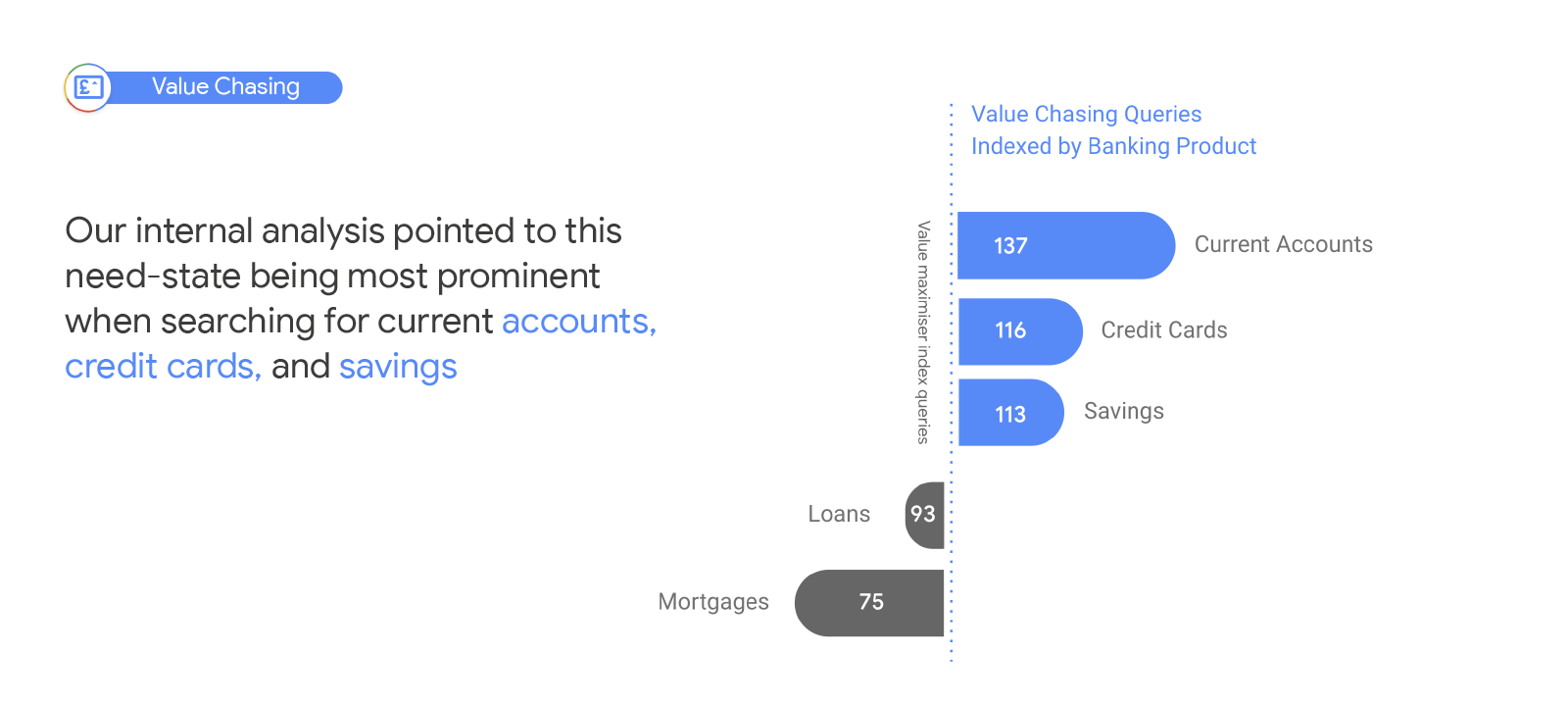 Many respondents told us that they felt under-valued by their banks; that, given their banks see a huge amount of their personal data, they should be capable of delivering a more personalised experience. They wanted more offers tailored to the way they spend, more information to intuitively help them budget and manage their money, and appropriate products and services offered to them.
Banks have a huge opportunity here to use data and digital to deliver more personalised and therefore valuable experiences to their customers.
The opportunity for banks: delivering personalised value at scale. Leverage the trusted relationships and wealth of customer data available to deliver more bespoke offers, rewards, and interactions that people want. 
A brand doing this really well is Netflix, who use your viewing data to make recommendations to their customers.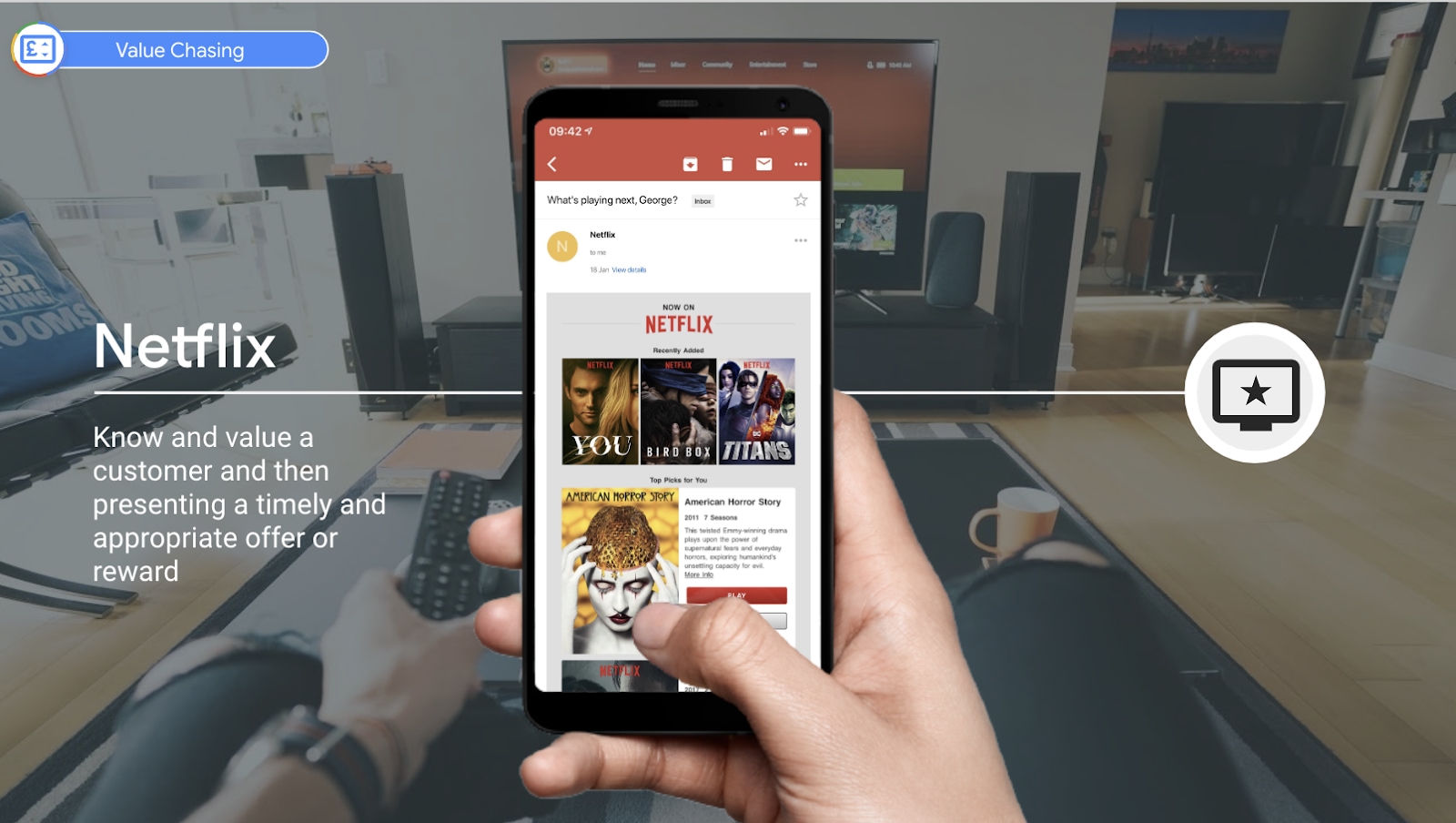 3) Autonomous self helping
When it comes to day-to-day tasks and frictionless experiences, customers' expectations are set and raised from outside the category. In this space it's typically the best in class digital experiences like Uber, Deliveroo, Netflix that they use as a benchmark
Customers in this need-state are looking for the quickest, easiest, means of getting something done on their own; they don't want to have to involve anyone from their bank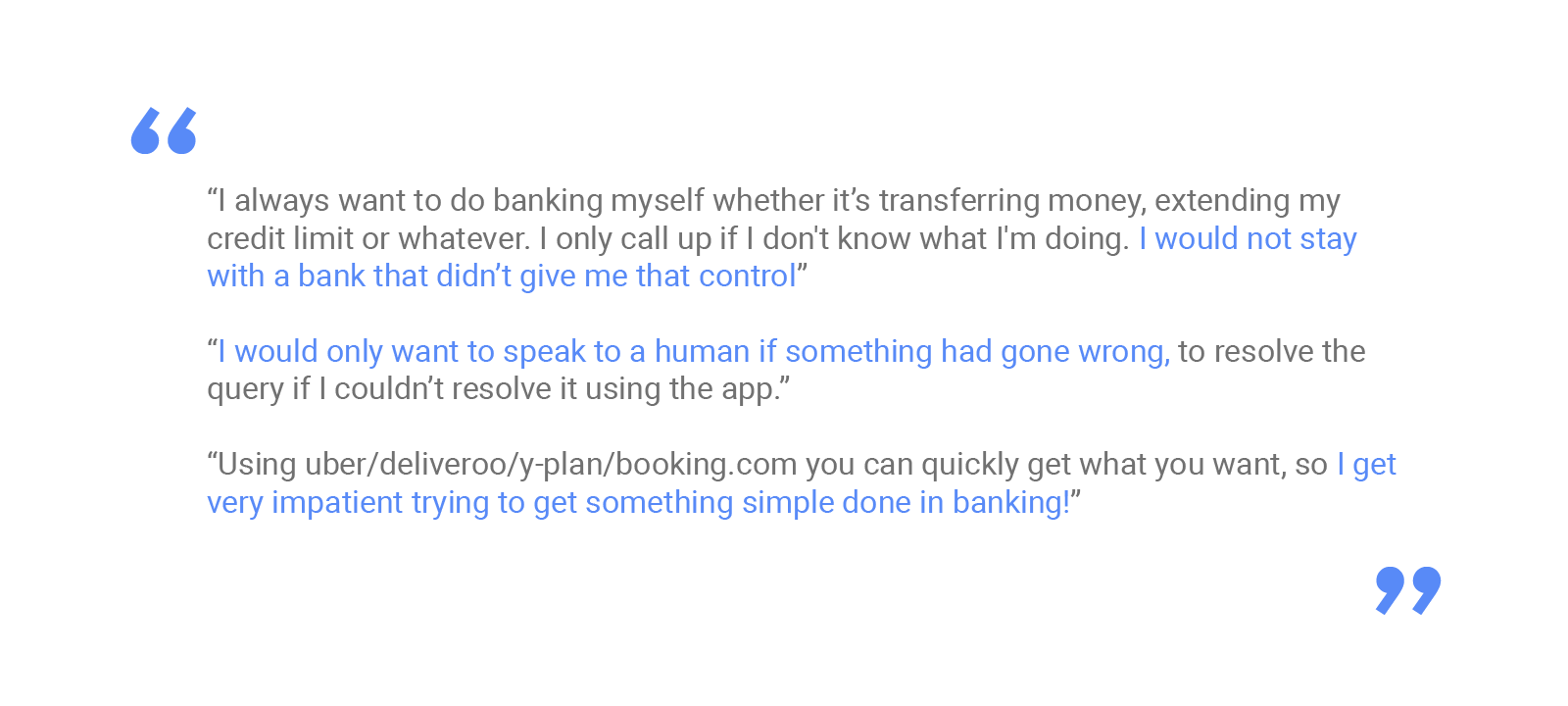 Our Search data shows that queries relating to best digital features and services over-index strongly when people are searching for current accounts.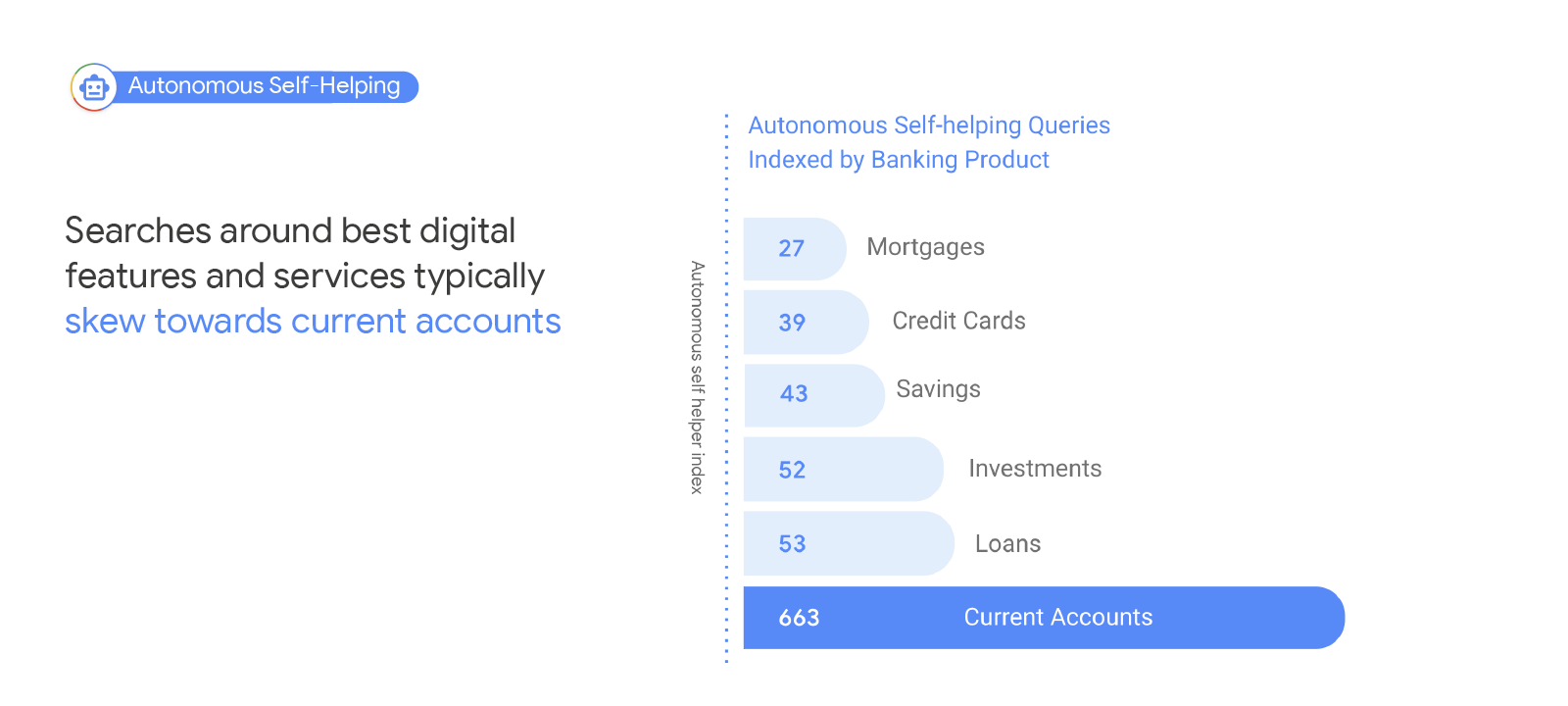 It is perhaps not surprising that customers are looking for ease and autonomy in relation to their current accounts.  Current accounts are the financial product that customers interact with most often to fulfil many routine and everyday tasks.  
The new entrants are leading the way in this space by delivering quick account opening experiences, slick card activation processes, richer statements and account visualisation.
We conducted a Google Consumer Survey to understand what the main drivers were for customers favoring one of the new digital-only banks. Without prompts 20% of respondents told us it was because of how simply and easy they were to use.4
The opportunity for banks: make everyday financial tasks more efficient and frictionless. This is an ongoing challenge for traditional banks dealing with legacy systems, but focusing on digital innovation and experience is essential to keep up with increasing customer expectations.
A brilliant example of this is Barclays allowing customers to freeze and un-freeze their debit card from their app if they can't find it. They have taken the friction out of the process of cancelling and ordering a new card.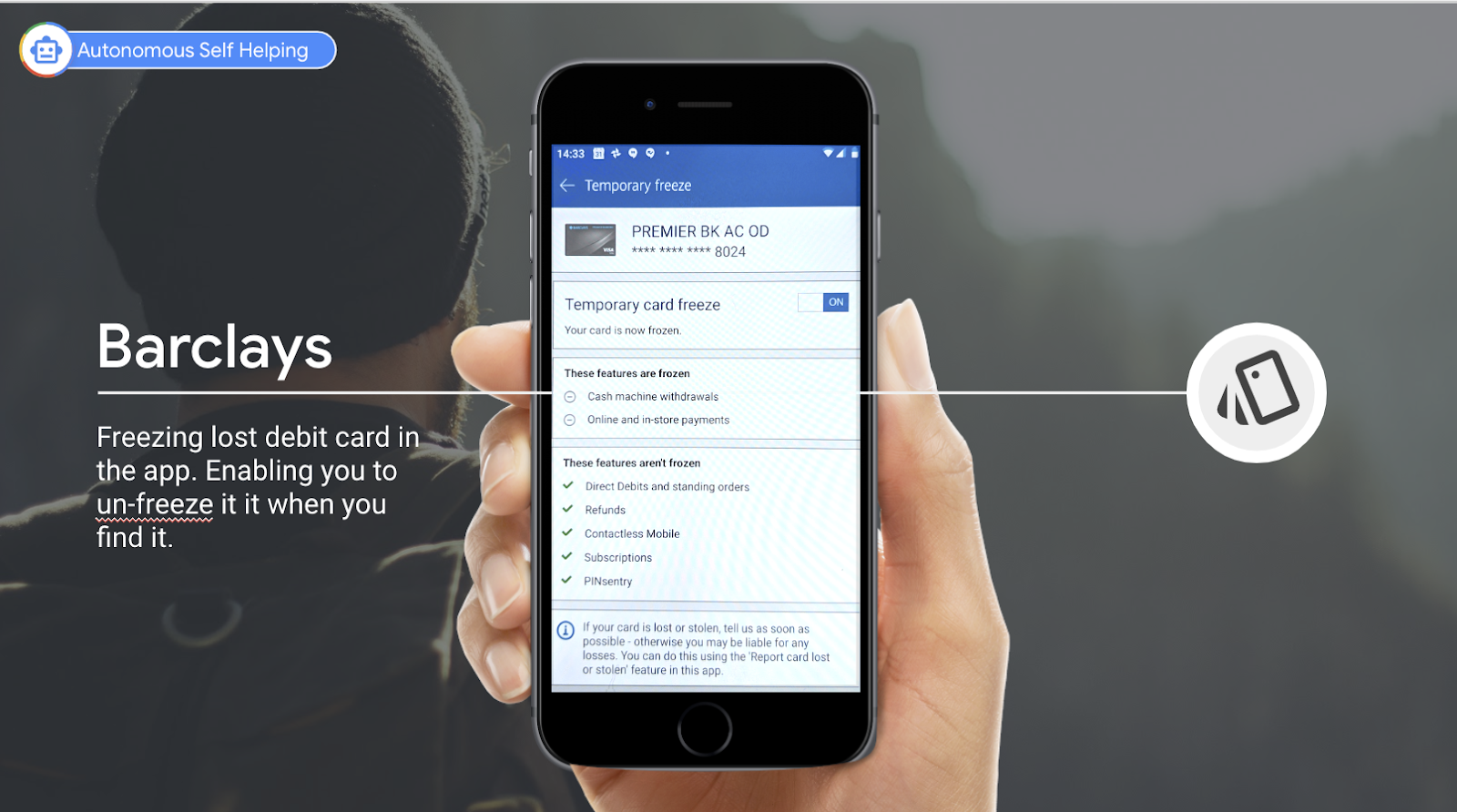 Conclusion
Our research showed us that customers are looking for access to human help at the right time, for value and recognition from their bank, and the ability to independently get routine tasks done as quickly as possible.  
To most customers branches and human interaction in banking have not been rendered obsolete; in fact, they really value the human contact and help available from their banks. However, it is making this as accessible and timely as possible that matters most. When it comes to routine, day-to-day tasks they want to be empowered by technology to be autonomous. But, when they need help they want it to be as convenient and accessible as possible. Digital and technology have an important role to play here in developing solutions and experiences that deliver on these core needs.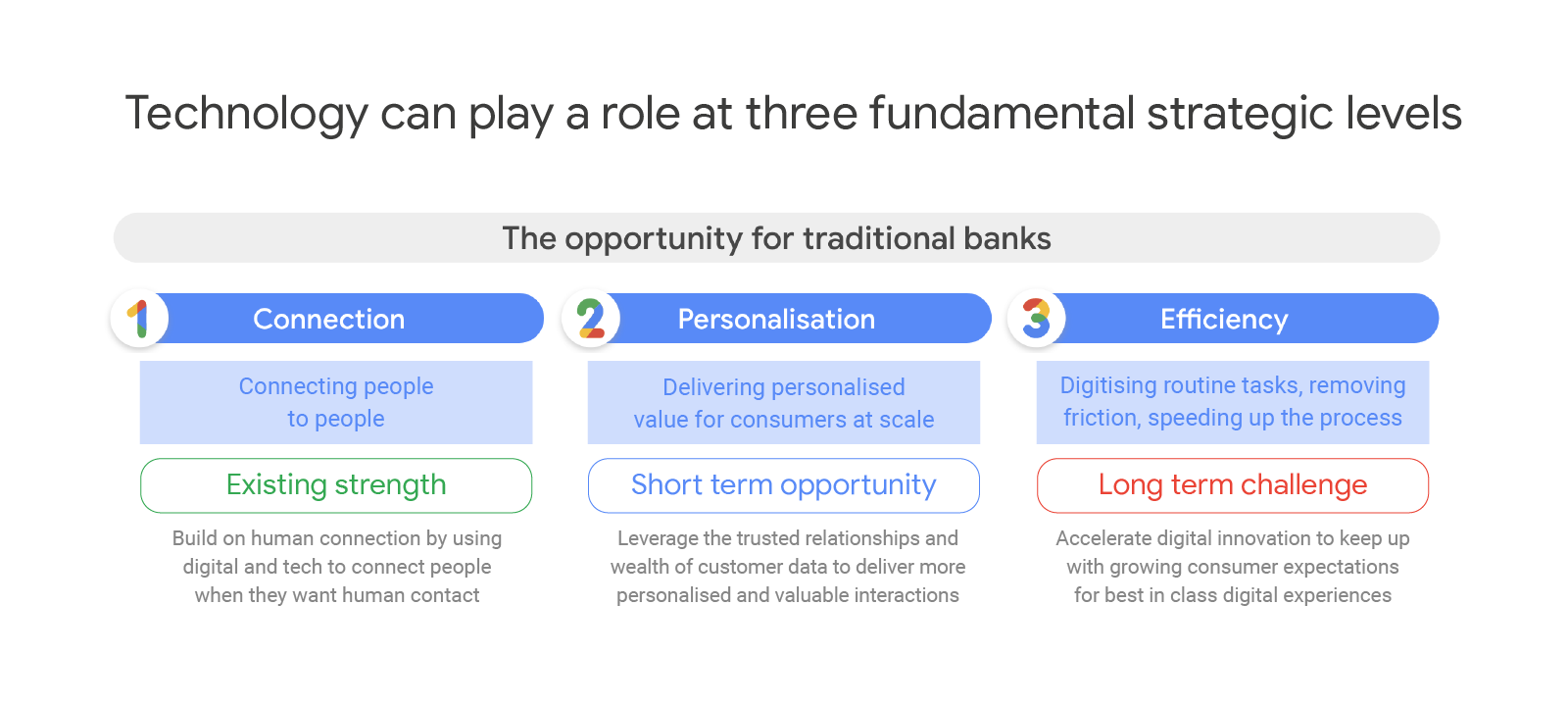 At Google we're working with our customers in the banking sector on how our advertising, Cloud computing and machine learning technologies can support them on this journey.