Thousands of times each day they search for answers to all kinds of "how-to" beauty questions, from how to groom brows or make teeth whiter to how to make their hair grow faster or choose a hair colour. A deep-dive into search queries provides a unique glimpse into users' intentions – what's currently hot, what consumers' needs are and what they are frustrated about. And consequently, this data helps businesses to find new opportunities and better connect with their customers.
Let's have a look at the top rising beauty terms that Poles are typing into the Google Search bar and what they tell us about recent trends.
Nail it!
Haircare and make-up may be big topics in search, but it's nails that are the most thriving beauty category in Poland – with 43% year-on-year growth in search volume.1 But it's not just about how fast this category is rising; it's also interesting to see exactly which nail-related topics are on the rise. And there is a lot happening here: nailcare is a perfect example of how diverse and versatile beauty trends can be. Let's start with the easiest trend within the category of nails: colours. Nail colours that gained the most interest in search in 2016 were both the classic ones – red, bordeaux and nude – and less standard choices, like grey.2 However, plain nails are not enough anymore. In 2016, a nail craze exploded that can best be called "special effects". Queries like "ombre nails", "mirror nails", "chameleon nails" and even "how to get cable knit nails" were booming. Each of these styles may not last long, but they will probably be replaced by new ideas: as we can see, there seems to be no limit to what nail decorators can dream up.
The third trend related to nails is about something more than just styling. In 2016, products like hybrid manicure sets and UV lamps were growing in search at a rapid pace – up to 100% versus 2015.3 In general, everything that helps to create a professional manicure at home is on the rise. This DIY trend can have a real impact on the nail business: professional products are becoming widely available beyond just nail salons, and customers have an alternative to professional (and expensive) nail services.
Male beauty: It's not all about the beard
When asked about male beauty trends, many of us would probably answer "beards". This is definitely true for 2016 where searches for beard-related topics were twice as popular as the two years before, and the trend is still rising. Businesses have already tapped into the opportunity that the beard trend presents, and the many newly launched beard products have aroused interest among consumers. We are increasingly searching for specialist beard-care products like beard oils, special brushes and beard grooming sets, to mention just a few. Even more fascinating is an increased interest in barber shops (+100% more searches in 2016 than in 2015) – a service that was previously very niche.
Interest in beard grooming is a long-term and seasonal trend: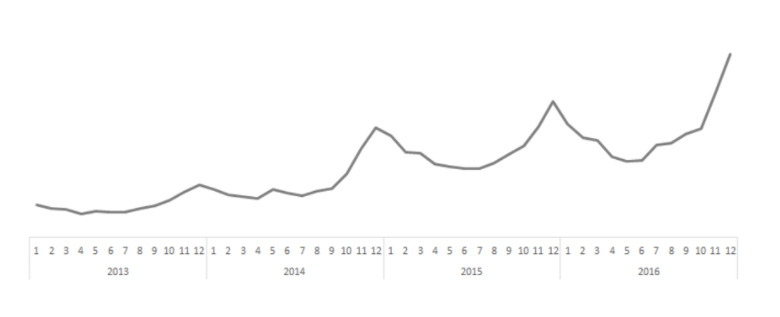 But male beauty is not just about beards. There's a lot more to it: tattoos, men's fragrances, toiletry bags, hairstyles (especially undercut) – all of these topics are booming, showing that searching for beauty and care is definitely not something reserved just for women.
Or maybe it is? If we take a deeper look into how male beauty searches change shape over time, we'll see that it's a very seasonal trend: in December, the search volume is a striking 60% higher than in other months. Yes, male beauty products make a perfect gift for Christmas, so you can probably guess that they are searched not only by men but also by their partners.
Beauty moments that matter
It's obvious that we want to look perfect at important life events. But what exactly are the moments that we're getting ready for with special make-up and styling? The search data shows that (not surprisingly) weddings are the special occasion for which beauty products and ideas are most commonly searched. But it's less obvious moments that are gaining popularity: we're starting to look for special styles for Christmas, summer holidays and Halloween as well as specific seasons in the year. Really, it can be any moment when we want to create a special atmosphere or express our mood. "Christmas Eve hairstyle", "autumn nails" or (however creepy this may sound) "Halloween perfumes" – these are just a few examples of queries related to the new beauty moments that matter.
Less obvious moments are starting to become important for beauty: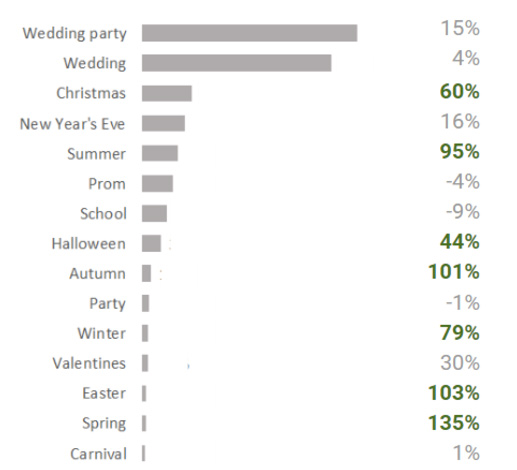 What it means for businesses
1. Beauty trends are extremely specific
Saying that a given beauty category in search is growing is like saying nothing at all. Beauty trends are very specialised. For example, within the nail care category there's a vast number of detailed topics that are trending – from DIY hybrid nails to sophisticated nail designs and effects. To really understand the beauty category – and its consumers – one has to delve deep into the details. Search data lets you analyse these nuances quickly and at no cost.
2. Beauty trends are proliferating
Once interest in a specific beauty area takes off, a number of related topics and products start to attract interest. When ombre hair started to become popular, there soon appeared a trend for ombre nails as well. When consumers got interested in brow styling, demand (and searches) for numerous products and topics followed – like brushes, pomades, looks, etc. – creating opportunities for beauty brands.
3. Different moments, different styles
Poles are becoming playful when it comes to styling for different occasions and seasons. It's not just that we want a special look for weddings or prom parties. We also look for inspiration for Christmas nails, autumn make-up, summer hairstyles, etc. It's easy to imagine that there are still many more occasions to create looks for. From a consumer perspective, it will be hard to get bored of this trend. And from a business perspective, it will be hard to exhaust all the opportunities it provides.