Every year, Google examines Internet search data relating to travel trends. The research, which includes data from 16 CEE countries, provides a comprehensive overview of the search habits of Google's regional users.
2016 data: The most popular search categories, peak times and destinations
Google's data for 2016 shows that out of all the travel-related searches carried out in Hungary were 49% related to the travel destination, 24% to accommodation and 9% to flights. There was an increase in all three of these categories compared to 2015.
Google has also reviewed potential seasonal trends that could be discovered under each category. The results show that spikes in travel-related searches tend to begin as early as May, with the majority of people searching for package holidays and apartment rentals. However, based on search volume, the summer months are still when users most search for travel-related topics. During these months, users mostly searched for information regarding last-minute trips and tourist activities at their desired destination.
In September and October (off peak), users were most interested in car rental, car and taxi services, and travel by bus or train. There was a significant increase in the volume of travel-related searches in December for the popular ski season. However, this increase pertained only to the category of car and taxi services. By January, the majority of searches focused on flights and travel packages.
Last year, most travel-related searches from within Hungary were for the countries Croatia, Italy and Greece, while Vienna, London and Prague were the most popular cities based on search volume.1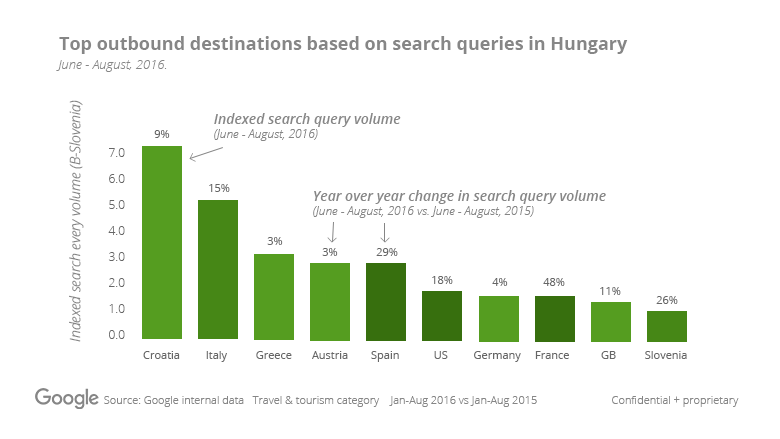 Q1 2017: The most popular foreign destinations & Hungary as a destination
 In the first quarter of this year, Italy was the most searched for country from within Hungary, followed by Spain and Austria. Compared to the same period last year, interest has increased most for Greece – it was searched for 36% more as a destination than previously.
In regard to cities abroad, similar to last year, Hungarians were most interested in London, followed by Barcelona and Rome. An interesting addition is the far-away Dubai, which ranked fourth on the list.
Hungary as a destination was searched most from Great-Britain, Germany and Italy in the first quarter of this year. Furthermore, looking at the popularity of the cities of the region, Budapest was the second most searched for destination among CEE cities in Q1 2017, after Prague.
The significance of mobile and its growth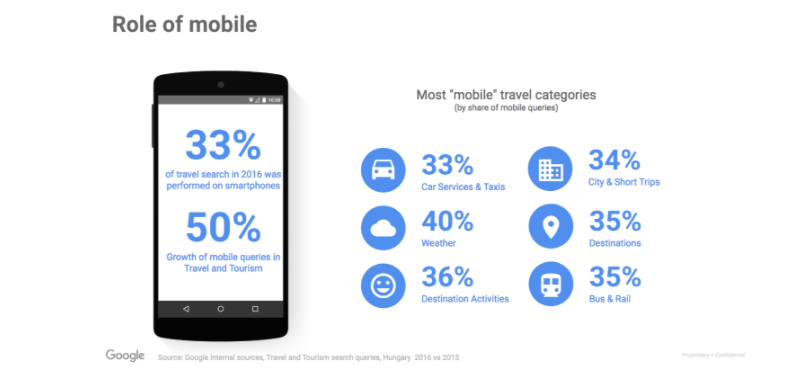 More and more, we're seeing that mobile plays an important role in the lives of users, and organising travel plans is also a part of this. In 2016, from the total travel-related searches originating in Hungary, 33% were via mobile, which shows a 50% increase compared to the data from 2015. Searches for car services (car rental, taxis) are the most significant, followed by information on weather forecasts and activities at the destination.2
Growth has continued in the first quarter of 2017 – out of all searches between the months of January and March, 36.1% were through mobile.