It could have been so different. On Boxing Day 1920, a record number of fans crammed into Goodison Park in Liverpool to watch a women's charity football match. But the big crowd caught the attention of the U.K. Football Association – and within a year, women were banned from the professional game.
With the sport deemed "quite unsuitable for females", that ban would last half a decade. But now once again, the records are booming.
The Women's Euros in 2022 were watched by 365 million people globally – more than double the number of viewers compared to the edition before. And on YouTube, watch times for videos with "women's football" in the title were up 75% year over year.1
This year's Women's World Cup can be a catalyst for change, with brands and media owners playing a critical role.
These figures point to a Women's World Cup this summer that will break new ground in terms of reach, engagement, and impact. For brands and media owners, this presents an enormous opportunity – not just to support the women's game and reach valuable audiences, but also to help break down barriers that are holding women and girls back in sport and beyond.
Equality on the pitch and off
Engagement around women's sports is growing, but there remains an important gap to close. While over half of U.K. internet users say they watch men's only sports competitions, that's just 19% for women's only equivalents.
According to Women in Sport, a U.K. charity aiming to break down gender inequalities within the sports sector, this has a knock-on effect. A lack of representation of women's sport and female sporting role models is a significant reason why 3 million fewer women play sport than men, and nearly 60% of girls aren't meeting the daily recommended exercise guidelines.
And this can impact more than just health and fitness. Playing team sports can also help girls become more confident and less self-conscious, with higher self-esteem.
Time to turn a corner
Around previous major women's football tournaments, we've seen search interest in the football category for "female" and "near" increase in the U.K. That's why this year's Women's World Cup can be a catalyst for change, with brands and media owners playing a critical role.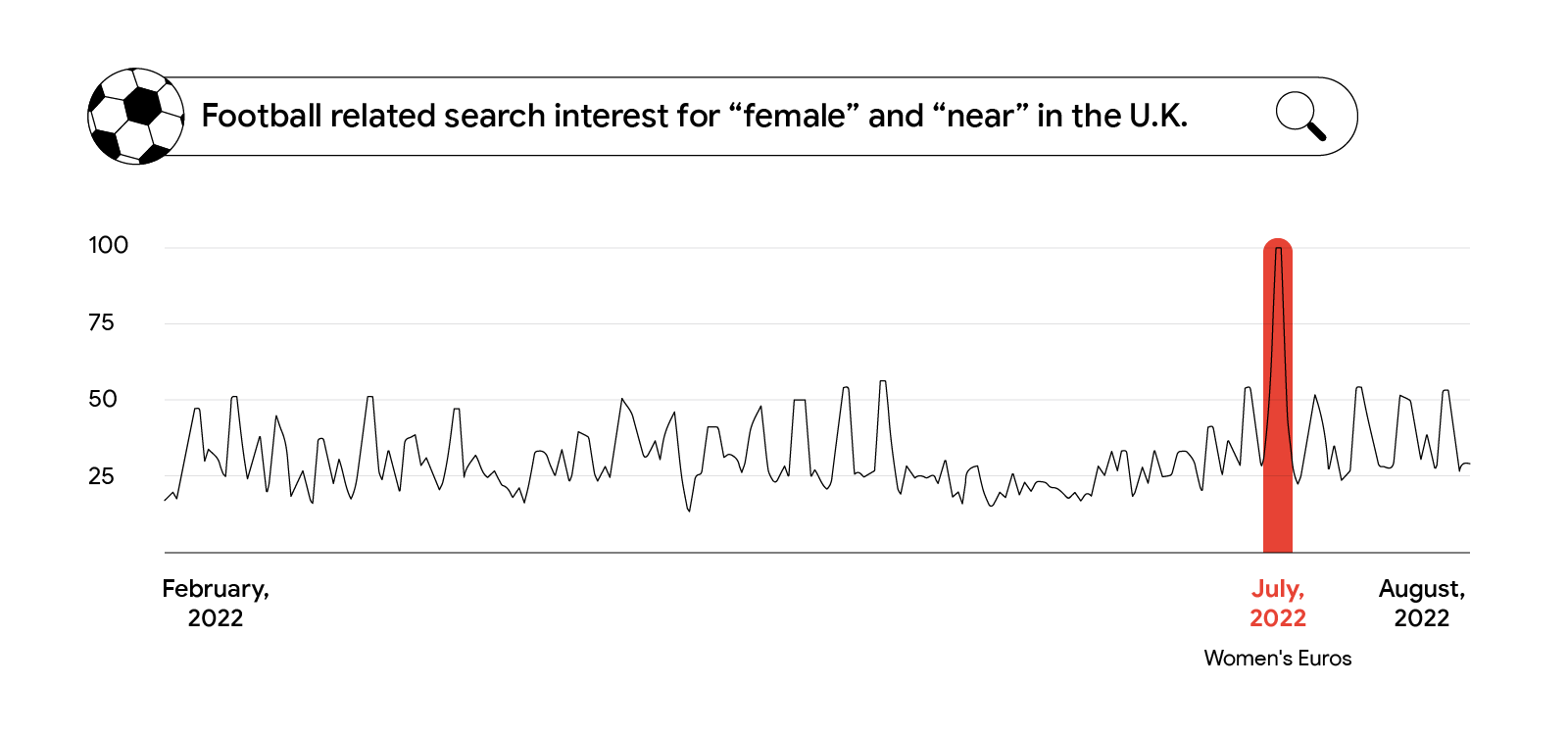 But over a third of people who do not follow women's football cite lack of media coverage as a key barrier. Along with the fact that less than 10% of global media focuses on women's sports, this presents a clear opportunity for growth.
For example, YouTube partnered with streaming platform DAZN to show the 2021/2022 UEFA Women's Champions League on the platform for free. As a result, viewership across used channels increased by 56% for the season's final year over year.
3 ways to connect with audiences this Women's World Cup
1. Go beyond the 90 minutes
What happens beyond the 90 minutes of the big match is just as important to fans as the game itself. Sixty-two percent of U.K. internet users say they enjoy watching other types of sports content outside of live coverage.

On YouTube, brands can connect with audiences by partnering with creators that capture the mood and culture of the sport — for example, U.K. based channels The Wingrove Family, Ella Toone, or Ben Black.
2. Kick up your message
The surging popularity of football attracts both new and existing football fans. And with women's football fans more likely to consume content via online streaming compared to other sports fans, digital platforms such as YouTube are the perfect place to connect with them.
According to ComScore, YouTube reaches 97% of the U.K. population each month, and its various multi-format ads are designed to help you drive relevant reach and awareness across platforms, including connected TV.
3. Hit your goals
In the lead up to the Women's Euros in 2022, search interest for the "sportswear" category was up 35% compared to the year average. Similar shifts are likely to occur this coming tournament, and brands can prepare themselves by harnessing Google intent signals to connect with those who are actively researching your products.
Pairing this strategy with YouTube formats, such as Video Action and Discovery campaigns, can then help you encourage action while still building your brand.