It takes more than one clever ad to grab attention and drive sales during the busy holiday season. In the fierce and fast-growing luxury fashion market, Mr Porter wanted to make the most of its 2018 holiday campaign by showcasing its style offerings on a wider scale. Learn how the brand partnered with Unskippable Labs to test the impact of video ad sequences and reach new shoppers outside its core audience.
Cutting through the holiday noise is a tall order for any brand — especially in a flourishing market like luxury fashion. Online search interest for menswear in the U.K. alone grew 33% last year,1 and online luxury sales have grown 27% year-over-year since 2010.2 But with so many options to choose from, people are becoming less brand-loyal in favour of brands and creative that speaks to their personal needs.
Mr Porter had big ambitions to reach a wider audience with its 2018 Christmas campaign, and knew one-size-fits-all creative wasn't going to cut it. So, rather than simply uploading one core ad to YouTube, Mr Porter partnered with the Unskippable Labs team to set up an experiment and answer two key questions:
Can using a sequence of online video ads drive greater awareness among new audiences?
If so, what's the best combination and order of creative assets to achieve the greatest impact?
The results of their experiment revealed how brands can set themselves apart and reach new customers among intense competition, and how video ad sequencing can drive greater impact than a single piece of creative.
Building tailored creative to reach shoppers
For the first time, Mr Porter curated a suite of creative assets to appeal to both new male and female shoppers in their test. They were then able to package these up for existing customers too. From the test, they essentially learnt that tuning their ads for the audience and telling a sequentially story was essential. Here's how they did it.
First, the brand shot a two-minute hero video with different narratives for each audience. Male shoppers saw how to properly "look the part" by upping their personal style, while the creative for female shoppers focused on helping them choose the perfect holiday gift. The results proved that sequenced storytelling was effective at driving upper funnel metrics (ad recall & brand awareness) and user engagement (CTR).
'The Build' (3-step sequence video) proved to be most effective for ad recall and comparable awareness for female audiences, while 'The Quick Build' (2-step sequence) proved to be the most effective at driving ad recall and brand awareness for both female and male audiences.
From there, the brand cut a shorter, 15-second holiday montage to serve to both audiences, as well as two different 15-second cuts from each hero film (personal style and gifting).
Experimenting with video ad sequencing
Mr Porter then arranged its creative assets into four different sequences: The Quick Build, The Build, The Straight Shot, and The Reminder.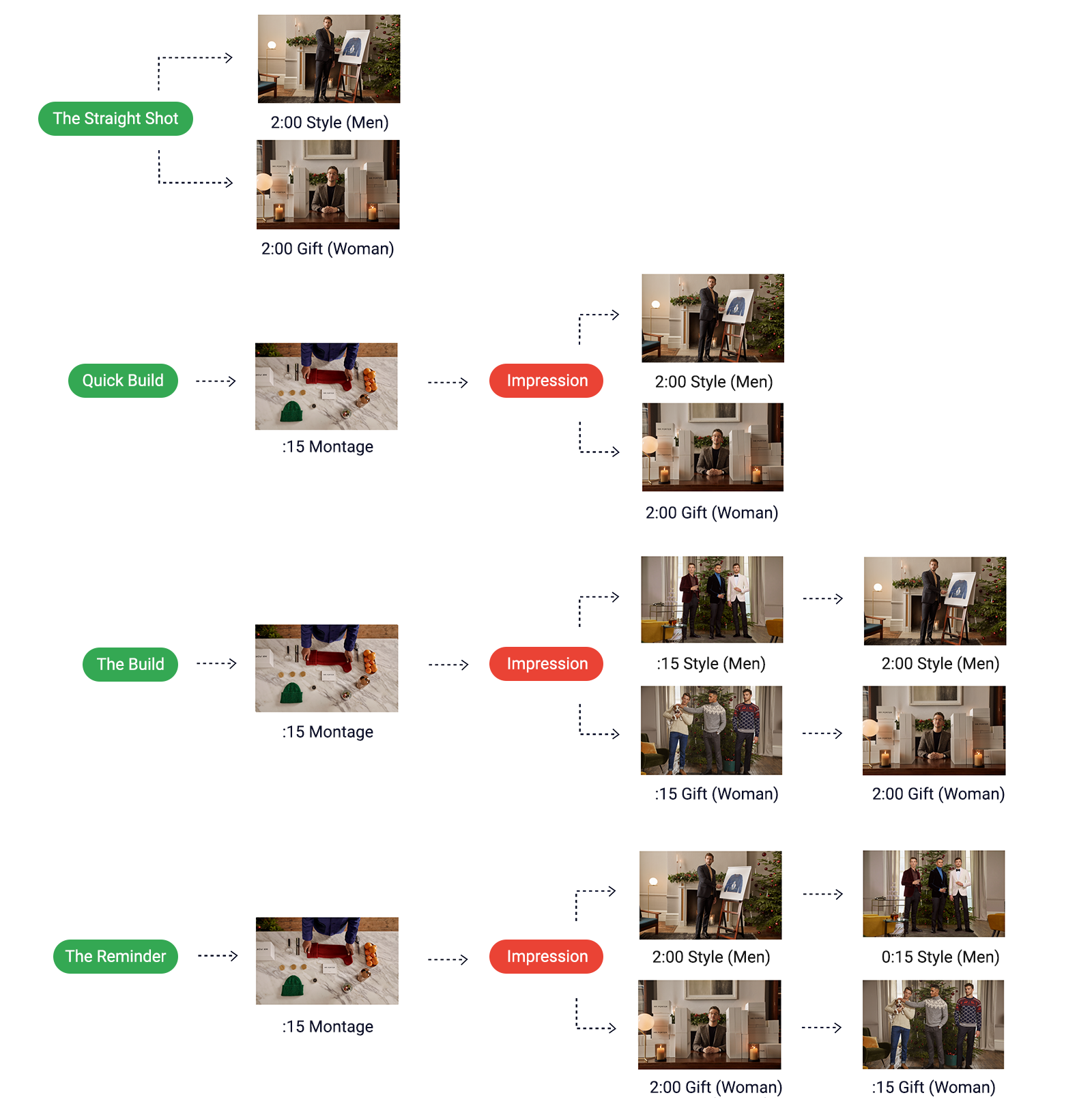 The campaign
Mr Porter served all four ad sequences to potential new and existing male and female customers in the U.K., U.S. and APAC, measuring media metrics such as view-through rate.
The experiment
To gauge the impact of sequential storytelling, the brand used Brand Lift surveys and Google Ads Video Experiments to specifically measure lifts in recall and awareness driven by The Build and The Quick Build for new male and female customers exclusively in the U.K., as a pilot test.
Mr Porter makes a lasting impression on new shoppers
Once the campaign was finished, Mr Porter had set a new benchmark for holiday season success. Compared to its past holiday campaigns, The Build and The Quick Build sequences, on average, drove 16.3% higher awareness for new female shoppers, and The Quick Build sequence alone drove 10.4% higher awareness for new male shoppers.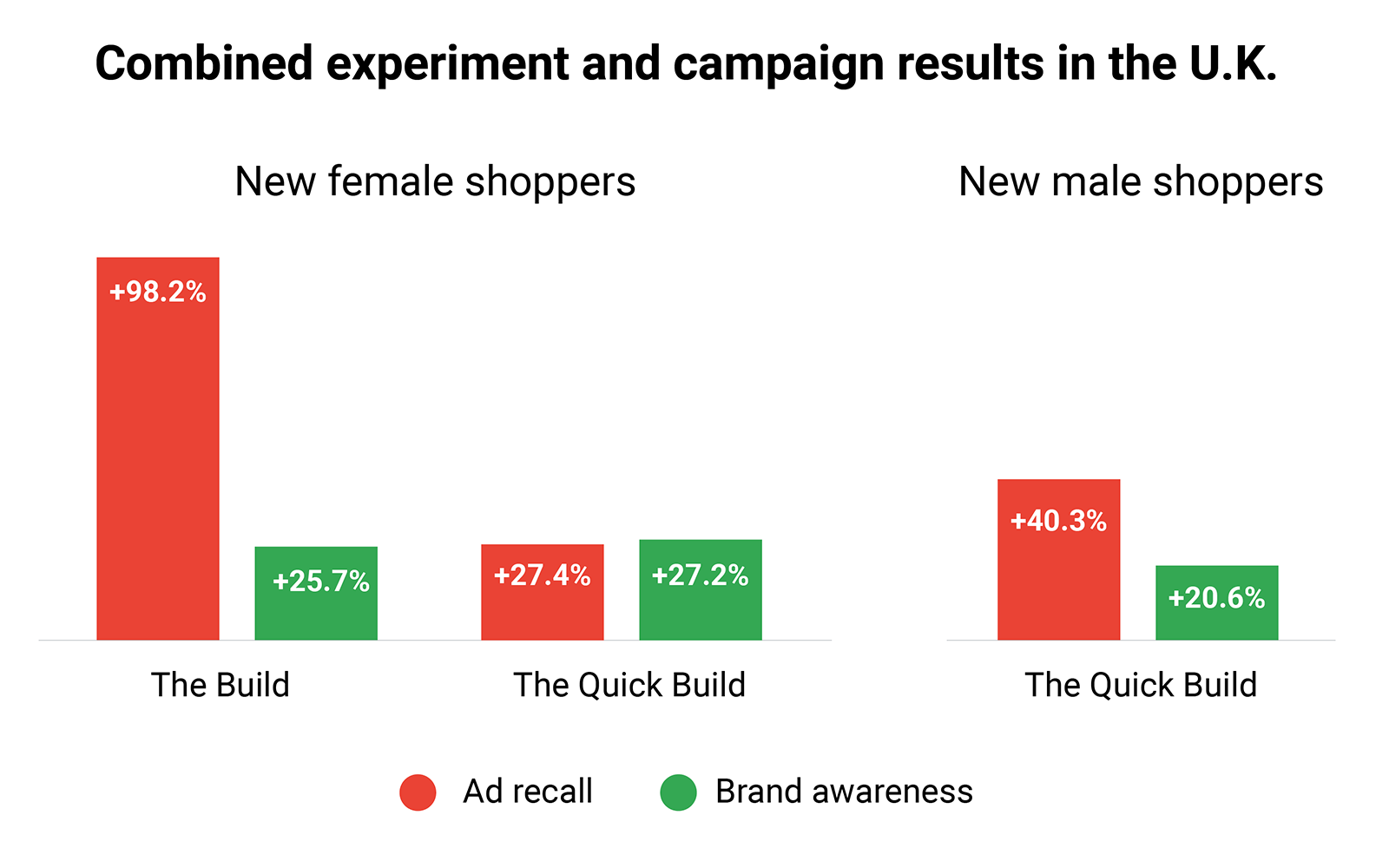 Mr Porter also found a clearly receptive audience abroad — view-through rates on both sequences were nearly twice as high for male and female shoppers in the U.S. Plus, every one of its ad sequences showed higher completion rates than the 2:00 Straight Shot, which showed the impact of sequential storytelling on keeping viewers tuned-in and engaged.
The results showed Mr Porter that the most effective online video ads were: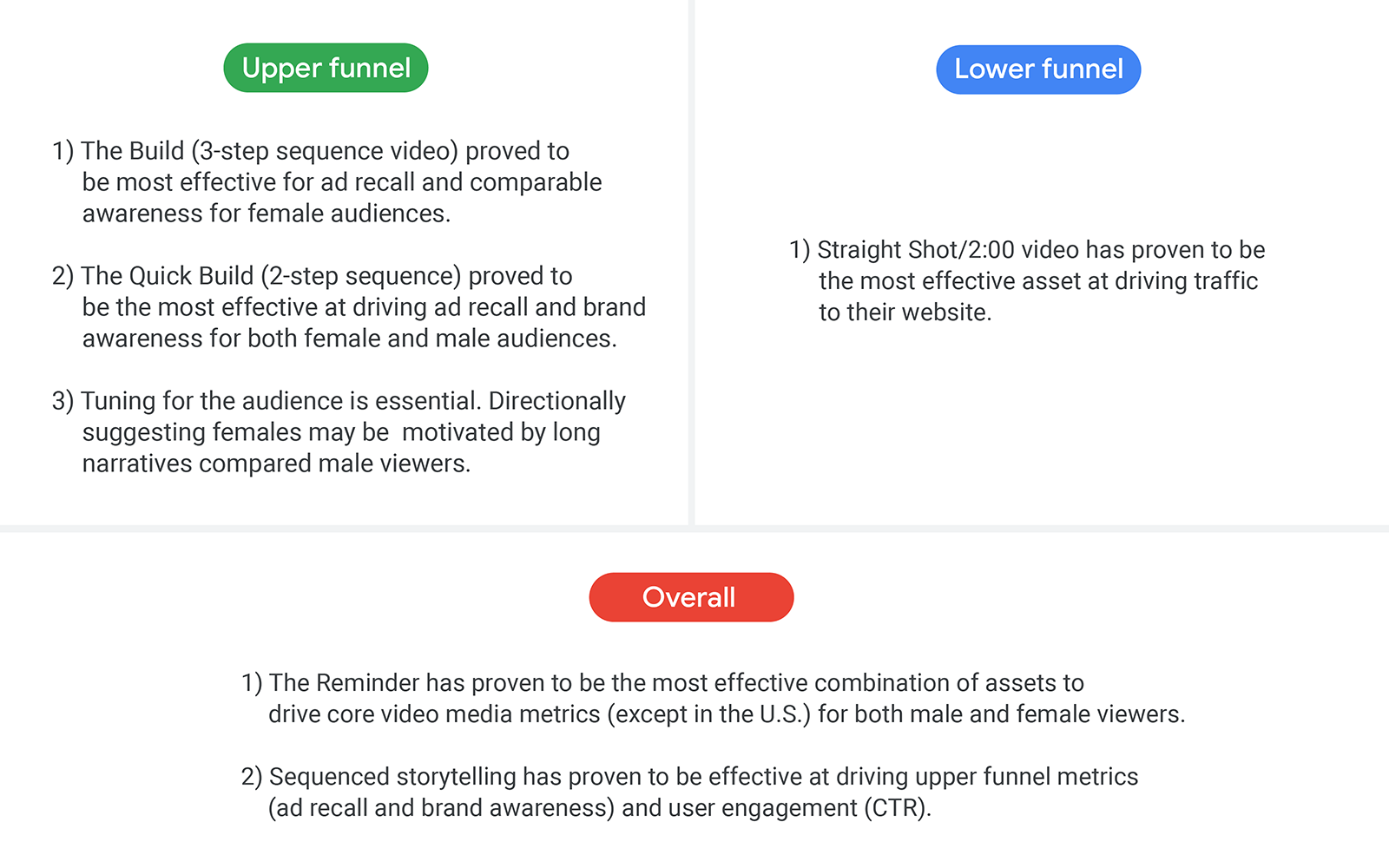 More of today's marketers are using online video to drive more than just awareness. When it comes to sparking lower-funnel action while capturing people's attention — especially during periods of peak competition — it's clear that developing creative with a personal touch, harnessing insights from data to tell more relevant stories, and continually experimenting to find the best approach is a great place to start.
Mr Porter's Senior Brand Media Strategist, Jack Wensley, concluded: "We knew from previous campaigns that multiple assets targeted sequentially had a positive impact on results. We now know exactly what combination and in what sequence assets best drive business results. The results of which have shaped future campaigns."