Despite having a particularly strong brand voice, Virgin Atlantic believed its sale messaging needed to stand out more in an environment where many travel brands were promoting their own offers. The marketing team was looking for formats to help break through the clutter in driving awareness for the brand's autumn sale campaign by delivering sight, sound and motion in innovative ways.
About Virgin Atlantic
Virgin Atlantic was founded by entrepreneur Sir Richard Branson 33 years ago with innovation and customer service at its core. Over 30 years on Virgin Atlantic carries 5.5 million customers annually and was recently named the UK's favourite long haul carrier by Skytrax, Best Transatlantic Airline at the British Travel Awards 2017 and one of the Top 5 Airlines in the World by Airline Ratings.
Established: 1984
www.virginatlantic.com
Goals
Drive awareness for autumn sale campaign
Stand out in crowded market
Approach
Tested Bumper Ads in Gmail campaigns against multi-image ads
Results
Bumper Ads generated 6.22% CTR (versus multi-image ads at 5.92% and benchmark of 2%)
Bumper Ads produced 30% more saves than multi-image ads
The team felt it was important to capture the user's attention in an engaging way, while at the same time respecting the shorter attention span of their audience.
They turned to Bumper Ads to accomplish this. In addition to leveraging the format across YouTube, they decided to maximise these assets and use them as Gmail advertising as well. 
To test effectiveness, Virgin Atlantic's agency PHD ran the Gmail Bumper Ads campaign against a multi-image Gmail ad, setting the benchmark for click-through rate (CTR) at 2%.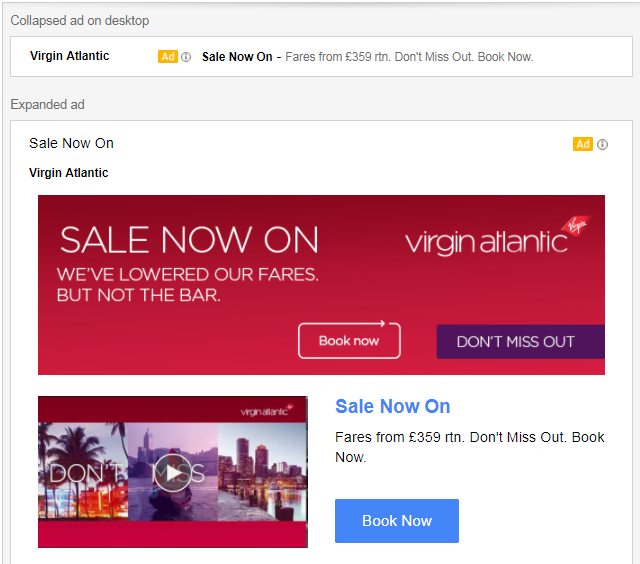 "This offered us a great opportunity to leverage an existing asset and test its effectiveness, which was more successful than we had anticipated!"
– Jessica Marke, Media Planning & Insight Manager, Virgin Atlantic
The bumpers achieved a 6.22% CTR against the multi-image ad at 5.92%, with 30% more saves of the bumper format than the multi-image ad. Thanks to the powerful results of the campaign, Virgin Atlantic and PHD have made video a larger part of their planning discussions.