In today's participatory culture, getting eyeballs is no longer enough. Now, brands aim to engage consumers on a deeper level to foster long-term loyalty. So how do you encourage existing fans and potential new customers to like, share, comment on and contribute to your narrative? In this article, Charisse L'Pree Corsbie-Massay, Ph.D., assistant professor at Syracuse University's S.I. Newhouse School of Public Communications, lays out three ways marketers can harness the power of sharing to create effective brand engagement campaigns.
Think about the last thing you shared. Was it an article, post, picture, link or ad? Why did you share it? And more importantly, how did sharing it make you feel?
Recent research reveals that we feel rewarded when we share our personal thoughts and experiences, similar to the neurological feelings we have when we eat food. This simple phenomenon results in countless selfies, food pics, check-ins, comments and posts about seemingly dull daily moments in people's lives. In other words, people like to share. Consumers like to participate. And, increasingly, they want to be engaged.
Brands are also embracing this concept by creating campaigns that feel more like shareable experiences and less like commercials. This article describes various ways brand managers can harness the power of sharing to develop more effective brand engagement campaigns.
What is brand engagement?
Brand engagement campaign encourages both loyal fans and potential new customers to like, share, comment on and contribute to that brand's narrative. The campaign's success is often measured using social media engagement metrics. If the campaign goes viral, you've got a hit on your hands.
But simply providing the framework for a campaign to go viral does not ensure that it will. Media use is goal oriented, and brand managers who understand consumers' needs can better design campaigns that encourage engagement in our increasingly interactive, mobile and social media environment.
The decision to like, comment on, share and contribute can begin with the desire to satisfy essential needs both personal and social in nature. Personal needs, such as self-esteem, belonging, control and purposefulness, can become social needs, such as awareness of current events and interpersonal communication, in the interactive media environment.
Here are three strategies that marketers can use to develop meaningful brand engagement campaigns:
1. Make it topical
Successful brand engagement campaigns often have an element of immediacy. By tying a campaign to a current event or a pseudo-event created specifically for the campaign, brands establish relevancy. In turn, consumers engage by sharing their opinions and feelings about the event, and this satisfies a need to belong and be heard.
Example: Oreo's Daily Twist To celebrate its 100th birthday, Oreo set out to prove it was as relevant as ever, especially among millennials. Scouring pop culture for the top headlines, the century-old brand created a new piece of real-time, share-worthy content every day for 100 days, covering topics ranging from Gay Pride to the Mars Rover landing. For the 100th day finale, Oreo invited fans to submit and vote on their own content. Through this intensive real-time approach, Oreo ensured its own daily relevance, resulting in an impressive 150% increase in Google searches, 280% increase in Facebook shares and 510% increase in retweets.
2. Make it personal
Sharing information is integral to our self-concepts and can even validate our existence in small, everyday ways. In successful brand engagement campaigns, the brand serves as a muse, inspiring consumers to share their thoughts, ideas, opinions and experiences. For loyal consumers, brand logos stimulate areas of the brain associated with emotion and memory , and fostering this association through interactive and social media can strengthen the relationship between the self and the brand. Many brands do this by encouraging user-generated content.
Example: Coca-Cola's Happiness Flag Coca-Cola, long known for its feel-good commercials, recently collaborated with FIFA to celebrate the 2014 World Cup. Fans around the world were asked to submit soccer selfies and tweets through Facebook, Twitter and Instagram. The more than 200,000 submissions, driven in large part by mobile engagement ads, were then compiled into the largest mosaic flag ever, the size of a soccer field. The flag was unveiled prior to the opening match and essentially digitally transported participating fans to the pitch in Brazil. Interestingly, Google searches for "Coca-Cola" spiked during the week before the World Cup, after the flag was released online but before its display during the first match (Brazil vs. Croatia) on July 12 (Figure 1). The release of the searchable Happiness Flag online led to increased engagement; the actual televised broadcast did not.
Figure 1: Worldwide Searches for "Coca-Cola"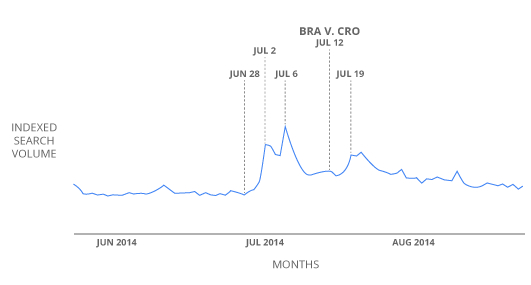 3. Make it shareable (and customizable)
As media moves toward on-demand content, advertisers must keep up. The availability of information— the quantity, quality, immediacy and accessibility— changes consumer expectations of content in a conversation that moves in many directions, independent of time and geography. To fulfill these expectations, brands must provide consumers with options for their preferred medium (text, image, video) and platform (YouTube, Twitter, Instagram, etc.) while retaining control over the message. Consumers are encouraged to engage in a very specific, yet open-ended way. Successful brand engagement campaigns tailor sharing strategies to ensure that messaging is consistent while also providing nuanced and valuable methods of communication.
Example: Lay's Do Us a Flavor To mark its 75th anniversary, Lay's turned to its fans to invent the next great potato chip flavor. On July 20, 2012, the company welcomed new flavor ideas via Twitter; over the next three months, Google searches for "Lays" more than doubled (Figure 2). During the ten-month open call, nearly 3.8 million fans submitted their creations via Facebook— 4x the number the brand anticipated. In February 2013, the flavors hit stores, generating a second surge in Google searches as fans and curious newcomers alike shared the chips IRL (in real life). Loyal fans and newcomers posted hundreds of tasting videos to YouTube, on their personal pages and on Lay's official brand page, which also included a link to vote. Cheesy Garlic Bread ultimately won, but Lay's was the real winner: In the end, more than 5 million consumers had engaged with the brand on social media platforms. The 2013 campaign was so successful in the U.S. that Lay's repeated the contest in 2014.
Figure 2: U.S. Searches for "Lay's"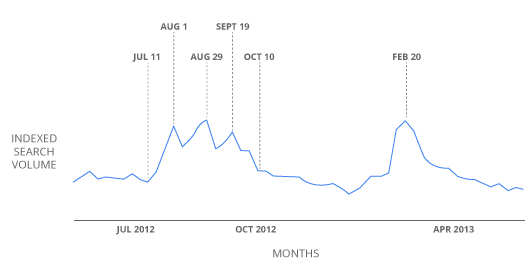 Conclusion
People need to comment, critique and contribute. We believe our voices are valuable, and we use media to affirm these needs. In this participatory culture, getting eyeballs is no longer enough for brands. Now, the goal is to engage consumers on a deeper level and foster long-term loyalty. Incorporating these inherent needs, such as the need for belonging and for self-validation, into the design process can elevate engagement campaigns to cultural phenomena that are wins for consumers and brands alike.
Acknowledgements: Thanks to Laura Osur, Samantha Pell and Gabrielle Woody for their contributions to this article.