As social distancing has become the norm in many parts of the world, people have initiated a profound, if temporary, reprioritization. On a fundamental level, physical and social isolation have compelled people to rethink what it means to connect, not only with family and friends but with themselves. That need for connection is more important than ever, and people are finding new ways to care for themselves, find romance, and foster community.
Focusing on health
People everywhere are looking for ways to manage anxiety. There was a 4X surge in search interest for "headspace," a meditation app, in early March, with a more than 100X increase for "headspace for healthcare workers."1 In response, Headspace is offering a set of free online meditations, as well as free access to Headspace Plus for U.S. health care professionals working in public health settings and NHS health care professionals in the U.K.
This surge of interest in physical and mental health has taken precedence over consumption for the time being. Our ability to communicate status and identity through the things we buy, the places we go, and the things we do is limited. Brands can help fill that void either by helping people to find ways to express themselves virtually or by shifting the conversation to inward well-being.
3 ways people are fostering connections in isolation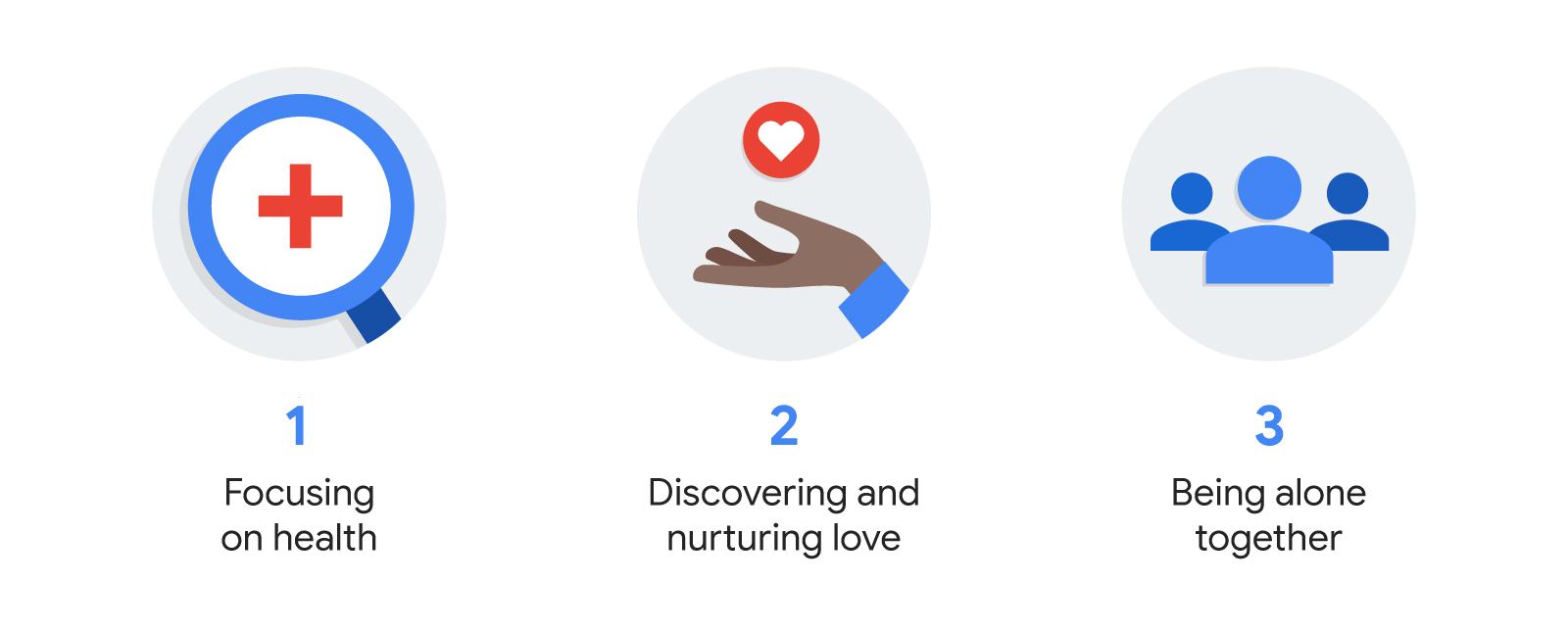 For companies seeking to be helpful in this difficult time, surfacing ways to foster connections ... can provide critical value to consumers.
For couples, we've seen emerging search interest in "couple quarantine activities" and "couples quarantine."3 There have also been spikes in people searching YouTube for "quarantine with a partner" content, which is often infused with much-needed levity and humor. For example, if you really want to test your relationship, have your partner dye your hair and share it with the world.
For companies seeking to be helpful in this difficult time, surfacing ways to foster connections — romantic, platonic, familial, and otherwise — can provide critical value to consumers.
Being alone together
"With Me" is an existing, organic YouTube video genre that creators have used for the past decade to share solo experiences (such as Cook with Me, Study with Me, Read with Me, Workout with Me, Meditate with Me, and Craft with Me) often in silent, hours-long videos. In this era when staying at home is critical to flattening the curve, YouTube has teamed up with 900 of the platform's biggest creators to promote #StayHome #WithMe, sending views of videos that have #WithMe in the title up 600%.
To help brands (and consumers) embrace #StayHome, the Ad Council, White House, U.S. Department of Health and Human Services, and Centers for Disease Control and Prevention worked with Google, YouTube, and partners across the industry to consolidate efforts around a single hashtag and iconographic approach. Leading advertising, media, and marketing companies integrated new "roof" iconography into their logos and promoted PSAs focused on social distancing under the "#StayHome. Save Lives." movement.
As we navigate this new normal, we've all found our priorities changing, our behaviors adapting, and our habits evolving. Some of these shifts will be temporary, others will become permanent. To be as helpful as possible, now and in the future, we'll all need to adapt and listen closely to what consumers are telling us they want and need. After all, our human need for connection remains constant.