In this article you will learn:
How brands can make the most of consumers' natural impulse to search for items they see advertised on TV, moments after the ad airs.
Recommendations for how to craft your call-to-action to capitalize on search behavior.
How to make the most of the shopping ads unit to make sure people who search your product get the most useful and relevant information. 
You're watching TV, remote by your side, phone in your hand. You see an ad for a product you've been wondering about, so you search for it on the spot. If you've done this, you're not alone. A majority of smartphone owners search for products they've seen in commercials.
In a Google study of 98 different TV campaigns, every campaign saw a lift in product discovery after its TV ad aired. Three out of four of those queries involved people searching directly for the advertiser's brand.1

We wanted to study how brands could channel this existing behavior to get more out of their TV ads, by capitalizing on the searches that followed. For consumers we also wanted to give them the information they needed right away, in an easy to navigate format.
To examine these challenges we teamed up with manufacturers JBL and Dyson to run a series of tests using their TV ads. These studies are also being used to improve our ad formats, which display product specifications and rich images from the product manufacturer, along with shopping ads from retailers selling those products.
Knowing that search for an item typically sees a lift in the first 15 minutes after a TV ad has run,2 we wanted to see what would happen when a spot directly prompted viewers to search a specific term, "Search Dyson V6 on Google" versus ads with no call to action at the end. We expected a lift in search queries, but we weren't sure how extensive it would be. These two ad variants were run in an A/B test across multiple weeks and factored in variables like time, network and type of content.
In tandem we studied consumer behavior to learn more about the kinds of information they want to see when they search a specific product, and to determine which prompts are most effective. Below are five lessons for marketers and brands to help them get more out of their TV ads and the search lift that follows.
1. End Tags That Prompt Viewers to Search Drive Significant Lift
The final screen is the start of a conversation, an invitation to learn more. There is tremendous opportunity in end frames, especially since we are pointing viewers to search, something they are already naturally doing. In the TV ads we tested, both Dyson and JBL saw a significant increase in search queries as a direct result of the custom CTAs prompting viewers to search for their products. Twenty-seven percent of all JBL Xtreme queries that happened in the five minutes after the spots aired can be attributed to the custom TV end tag, which generated 1.27x more searches than control ads.
In the case of Dyson, 24% of all queries that occurred in the five minutes following the spots can be attributed to the custom "Search Dyson V6 on Google" messaging, generating 1.4x more searches than control ads. "The 24% lift was much higher than we would have thought given that the only thing we were doing was adding the CTA to the end of the ad. Knowing that as a best practice was surprising and really helpful moving forward," said Rachel Kaplan, associate marketing manager at Dyson.

2. Carefully Craft Your CTA
"We think a lot about our end tags to ensure we optimize both web traffic and brand consideration." Jarid Lukin, Vice President of Global Digital Engagement at Harman, said of JBL's participation in the studies. For the experiments, we worked with our user experience research team to test several different prompts at the end of the ads, adjusting everything from the word choice to the typeface and length of time for the message. We learned that many consumers who follow the TV prompt and search for the product are still very much in the discovery mindset -- not yet ready to buy. They appreciated seeing product information and didn't want to be rushed into a purchase. Said a consumer in our user study, while searching for comparison information, "I never go for buying straight away after just seeing an ad".

3. Make it Mobile-Friendly
Of consumers searching for additional information following the TV ads, more than 75% used mobile for their query in the two separate experiments. Dyson reported 79% of all TV-induced searches coming from mobile and JBL said it saw 77% come from mobile.
This is compared to a benchmark of 64% of people searching on mobile in the total campaigns, according to the companies. Make sure you are making great sites with images and an experience that is optimized for mobile. From Dyson's point of view, Rachel said, "We have very high priced products so in the past we have spent time and energy focusing on desktop because we know people are more likely to actually purchase on desktop, but this was some evidence that we should be paying just as much attention to mobile."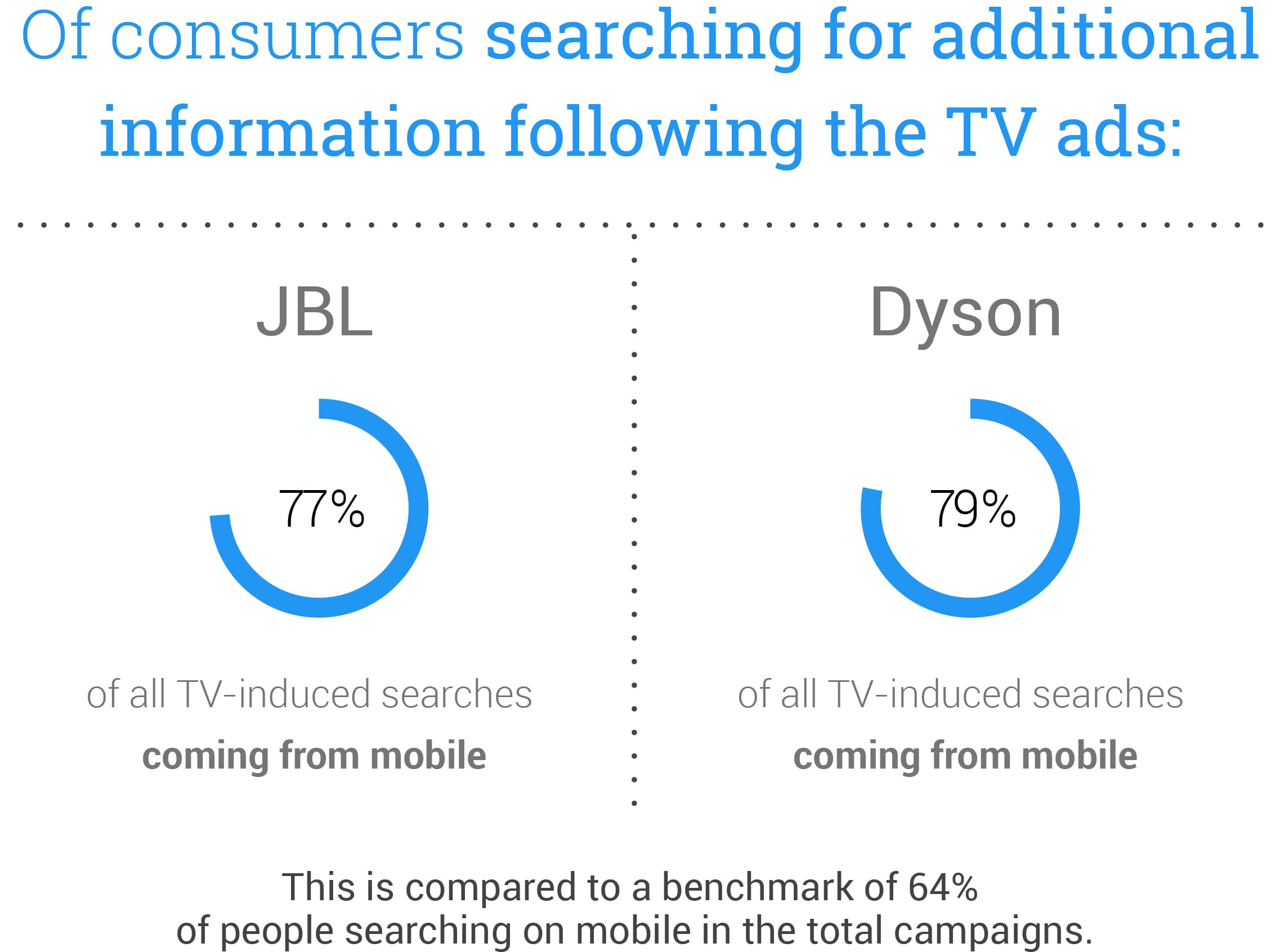 New Google research shows that 53% of visits are abandoned if a mobile site takes longer than three seconds to load,3 so it's important to set up your site to be ready to catch all the mobile traffic coming your way. We also want to continually improve user and advertiser experience on mobile so we tested new designs for our shopping knowledge panel. For instance, we tested a carousel of larger images that will allow consumers to scroll and browse directly in the unit.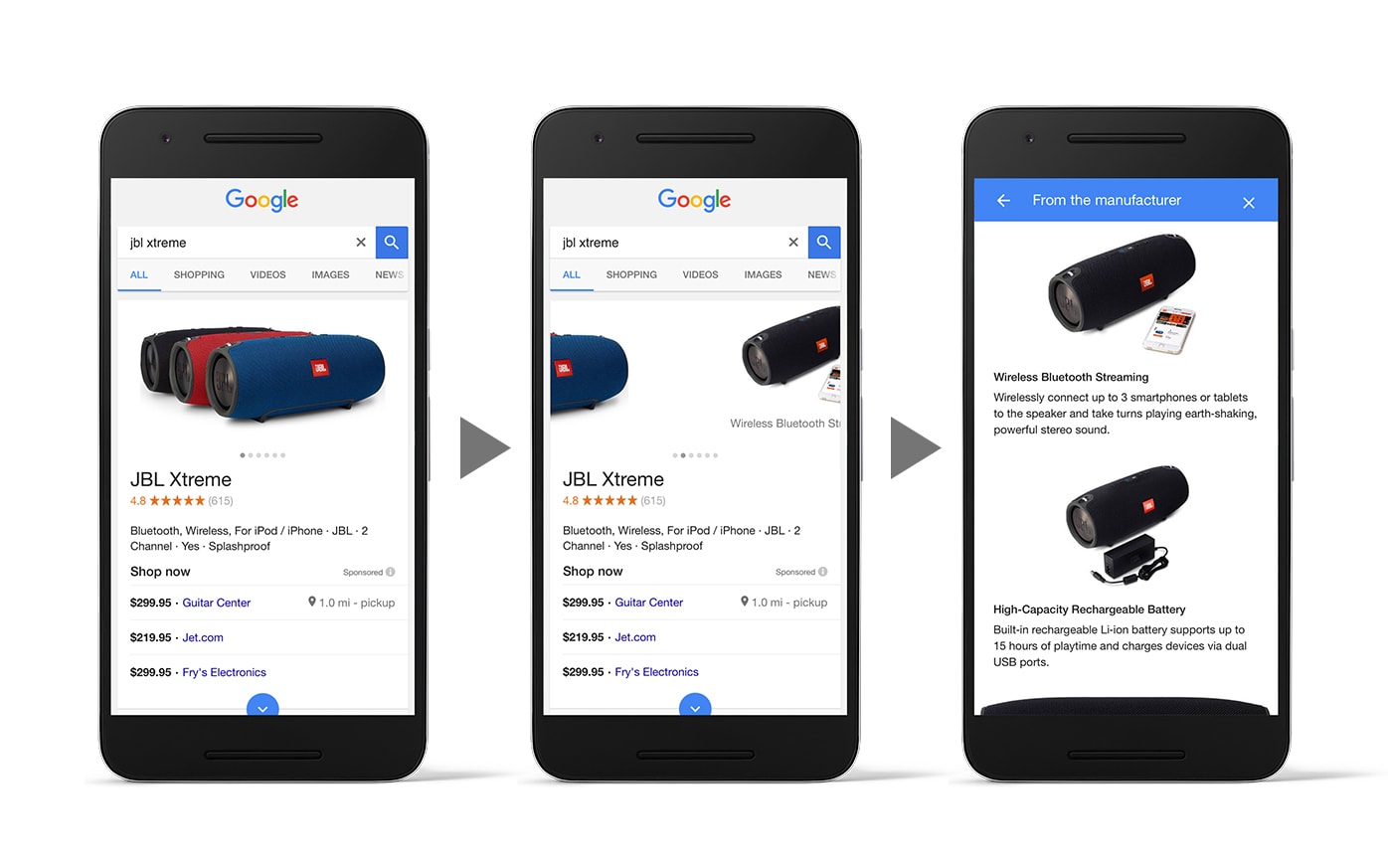 4. Put Your Best Info Forward for Search
Our user studies reinforced that consumers who search a product they've seen on TV are hungry for more information on the product. They want to see specs, features, photos and reviews. At least half of the consumers we surveyed expected to see product information, rather than purchase information when they followed a TV prompt to search. They may not necessarily be ready to buy, but those who click often continue to engage, seeking out further information.
For brands like JBL, "being able to highlight the key differentiators in our products by talking about their unique features is very important to us," said Jarid.
Brands that want to take advantage of our shopping ads can find step-by-step guidance at the Google Manufacturer Center to make sure that when consumers search for a product the first information they see is up-to-date specs and quality images.
Said Rachel from Dyson, "We want to make absolutely sure that every time we have a large TV spend we are fully funding and set up on search because that is almost always the consumer's next step."
5. Measure and Test Effectively
Once consumers see ads and search, they begin to look for reviews and they check where to buy. To help your brand tap into this behavior and use search as a mechanism to measure your TV ad effectiveness, you can use tools like Google Marketing Platform's4 TV Attribution measurement to collect minute-by-minute search query data for keywords associated with your ads as well as website visits and conversion data. Use this information to test everything, from your creative, to consumer behavior to the most effective timeslots. In-depth analytics will help you measure the effectiveness of your ads and show you which ones drive the best response with search.