This might sound familiar. You're on your phone and a pair of shoes catches your eye. Deciding to make an impulse purchase, you log on to a retailer's site. But at checkout, the retailer doesn't apply your rewards number or any of the deals it was advertising elsewhere that day. You know there are savings out there, but you don't have time to look them up. So what do you do? You abandon the cart.
Another sale lost because a retailer didn't personalize the process.
According to Boston Consulting Group, there is close to $400 billion dollars at stake in U.S. retail, which BCG believes will go to the 15% of companies that get marketing personalization right. We partnered with BCG on a study of 300 retail marketers and 2,000 consumers to quantify the business impact of personalization on retailers and evaluate the investment opportunity. We also conducted separate research to better understand what people actually want from a personalized experience.
Shoppers will exchange information for value
Over half of U.S. consumers say they are interested in seeing personalized content when shopping.1 And they say they are comfortable sharing their information as long as they feel like they're getting value in return.
People get value from personalization that: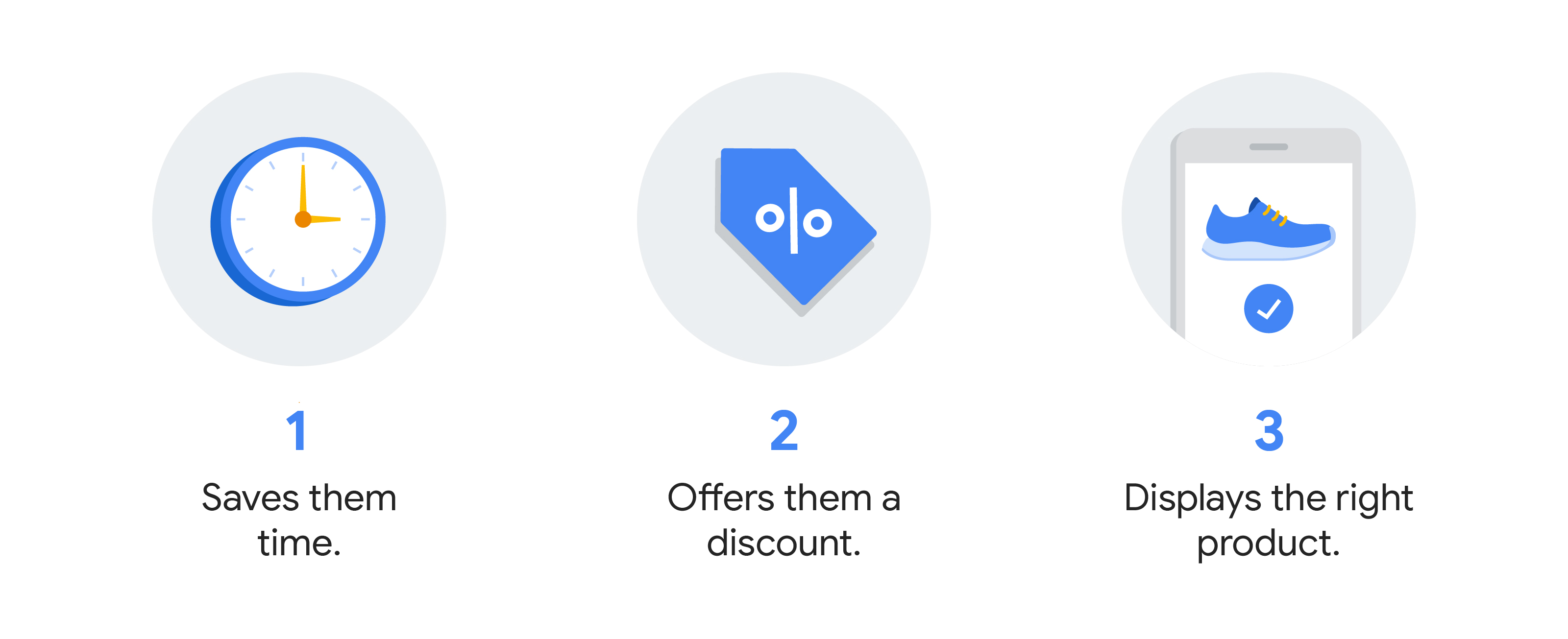 A study that we fielded with Ipsos found that shoppers value experiences that:
Save them time, creating seamless experiences that make it easy to engage and buy. 80% of global shoppers say getting it done as quickly as possible is important to them when deciding which brand or retailer to buy from.2
Offer value, giving them a discounted price for products. 87% of global shoppers say knowing they got a good deal is important to them when deciding which brand or retailer to buy from.3
Surface the right product or service assortment, without making them dig for it. 62% of global shoppers say receiving recommendations is important to them when deciding which brand or retailer to buy from.4
Get marketing personalization right, win more customers
Retailers currently delivering on this consumer desire for personalization are increasing revenue and brand perception. Customers indicated that they are more than twice as likely to add items to the basket and 40% more likely to spend more than planned when experiences are highly personalized.5 They also rated retailers providing highly personalized experiences 20% higher on net promoter score (NPS)6, which measures how likely it is that a customer would recommend a product or service to a friend or colleague.

The time to invest in marketing personalization is now
While some retailers are setting themselves apart as leaders in marketing personalization, most retailers aren't even on the board. According to BCG, "most retailers are nowhere close to delivering the personalized experiences that their customers expect. The vast majority have not even taken the essential first step of defining what personalization means to their customers and businesses." In fact, 85% of retailers reported that they don't believe their company is doing well in personalization.7
On average, retailers are only investing 0.7% of their revenue in personalization, while best-in-class retailers are investing 30% more. Retailers, on average, expect to increase their investment in personalization by 18% through 2022. But best-in-class retailers plan to increase their investment by 30%, which will boost their investment advantage considerably and likely widen the performance gap.8
Put personalization dollars to good use
So if retailers are ready to invest in personalization, where should they start? Or if they're already personalizing, where should they increase investment? According to our research, these are the three key areas where people want their shopping experience improved:
Loyalty and rewards programs: 53% want the loyalty or rewards programs they're a part of to activate automatically at checkout.9
Relevant promotions and deals: 49% want to receive promotions or deals specific to their past purchases.10
Wish lists: 44% want a "wish list" where they can save items they're interested in.11
Between consumer desire for personalized shopping experiences and the clear performance growth achieved by those already personalizing, retailers can't afford to leave their piece of the $400 billion at stake in their cart.